Open Door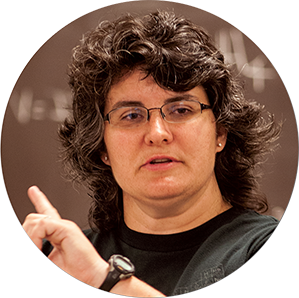 There's one thing you can say about Professor Diana Cermak's office that can't be said about any other office on campus—it sits at the most western point of any academic building on the campus. Located on the first floor of the chemistry wing of the Umbeck Science-Mathematics Center, the office has been home to Professor Cermak for 17 years. Before coming to Knox, she earned her Ph.D. in organic chemistry from the University of Iowa and her bachelor's degree in chemistry from the University of Minnesota-Morris. Although she may be far from the center of campus, she frequently works with students in her lab, where they create new, interesting compounds. "My biggest goal with my research is educating new chemists and engaging them in my research projects so that they can leave Knox as well-trained research chemists ready to take on their next challenge," she says.
Welcome to her office.

A variety of cards from past students, including thank-you cards for writing letters of recommendation, holiday cards, and so on.
The periodic table of human qualities and emotions, which she quilted herself. "My favorite elements are C for courage, H for honor, P for power, and O for optimism," she says. The quilt won first place for design at a local quilt guild show.
A Magic 8 Ball jokingly used to answer student questions like "Can I pass this test?"
A stack of CDs by various bands, including Carrie Underwood, Sara Evans, and The Band Perry.
Bottles of champagne (or sparkling grape juice), one for every completed student Honors project that she advised.
Jars containing crystals of the new compounds that she and her students have made in recent years.
A girl scientist Lego set. "It was a Christmas gift from my children. I like the little flasks, although [the girl in the model] does biology, chemistry, physics, and math all at once. She's definitely a multitasker."
The farthest door . . . "Go down the farthest west hallway to the farthest door to the farthest office."