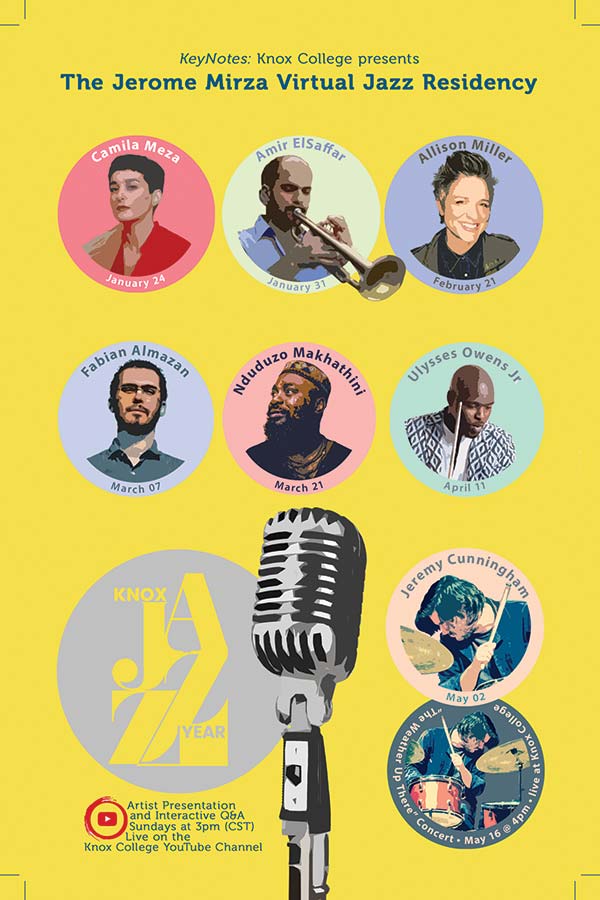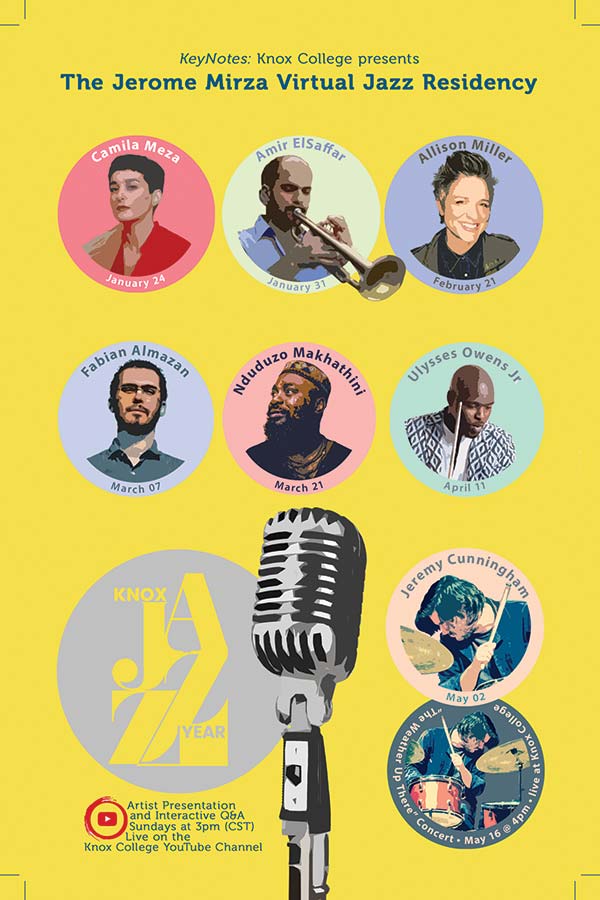 The Jerome Mirza Jazz Residency traditionally brings top jazz musicians to the Knox College campus for workshops, lessons, and a concert with students. This year, the entire Knox community can enjoy the event. "KeyNotes: Knox College presents the Jerome Mirza Virtual Jazz Residency" spotlights seven different musical artists from across the globe in free online events for both Knox students and the general public.
A committee, including Knox students, Associate Professor of Music and Residency Artistic Director Nikki Malley '98, and Managing Director of the Knox Jazz Year Andy Crawford '00, reviewed a total of 52 submissions from accomplished jazz musicians to develop this year's lineup.
The Mirza Jazz Residency is funded by the Jerome Mirza Foundation of Bloomington, Illinois. The foundation, which supports programs in education and the arts, was created by a bequest from Jerome Mirza, an attorney who served as president of the Illinois State Bar Association and Illinois Trial Lawyers Association and who wrote several books on personal injury law. Mirza's daughter, Candace Mirza of Wilmette, Illinois, is a 1981 Knox graduate.
Camila Meza presents "Storytelling Through Music"
Sunday, January 24, 2021. Watch an archived recording.
Amir ElSaffar presents "Beyond the Other Shore—Transcultural Music Making"
Sunday, January 31, 2021. Watch an archived recording.
Allison Miller presents "Creative Making RIGHT NOW!"
Sunday, February 21, 2021. Watch an archived recording.
Fabian Almazan presents "Developing a Voice: Approaches to Self-Teaching"
Sunday, March 7, 2021. Watch an archived recording.
Nduduzo Makhathini presents "Improvisation in Jazz as Divination: A (South) African Context"
Sunday, March 27, 2021. Watch an archived recording.
Ulysses Owens Jr. presents "The Musician's Career Guide: Turning Your Talent Into Sustained Success"
Sunday, April 11, 2021. Watch an archived recording.
Jeremy Cunningham presents "Breaking Down the Fourth Wall"
Sunday, May 2, 2021, 3 p.m. CDT
The Weather Up There, in concert,
Sunday May 16, 2021, 4 p.m.
Visit knox.edu/jazzyear to learn more about the artists.