Family & Friends Weekend 2012
Knox welcomed 580 brothers, sisters, moms, dads, grandparents, relatives, and friends to the Knox community during Family and Friends Weekend, October 12-14. They sat in on classes, attended presentations highlighting student research and summer internships, listened to student bands at Rocktoberfest, and shopped and ate at the shops on historic Seminary Street.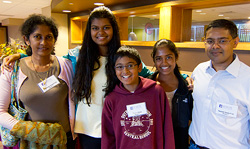 Check out a few highlights from the weekend:
Save the Date: October 11-13, 2013
Please plan on joining us next year for Family and Friends Weekend on Friday, October 11, through Sunday, October 13. Due to other events in the area, please book your hotel accommodations early.
Please Give Us Your Feedback!
If you attended Family & Friends Weekend, please share your comments and ideas to make next year's event even better! Contact Jeri Candor at jcandor@knox.edu.

OFFICE OF ADVANCEMENT
2 East South Street, Box 230
Galesburg, Illinois 61401
309-341-7222, www.knox.edu