Amott NCAA Appointment
Knox received a valuable appointment last month when President Teresa Amott was appointed to the NCAA DIII Presidents Council. President Amott will serve as a valuable voice representing student athletes from the Midwest Conference.
The President Council is Division III's primary governance body, overseeing the Division III Management Council and the Division's committee structure.
Thanks to Our Graduating Student-Athletes
As our athletic program at Knox continues to improve, I want to take a moment and personally thank the student-athletes that will be graduating in June. Their contributions to our program are immeasurable, and we wish them all the best as they take their Knox degrees to the next stop on their journey. Please join me in congratulating the following students.
We have several student-athletes who are four-year letter winners: Hamad Alizada (football,) Maddie Boehm (women's swimming and diving), Sam Coffey (football), Brian Cole (cross country, men's track and field), Max Dorsey (men's soccer), Charles Edemba (men's soccer), Ilir Emini (football), Charlie Harned (men's soccer, men's basketball, men's tennis), Aaron Hoover (football, wrestling), Jazmine Kenny (women's swimming and diving), Laird Nicolette (women's swimming and diving), Peter Liao (men's swimming and diving, men's track and field), Nathaniel Logie (men's soccer, men's track & field), Brennan McGlauchlen (football, men's track and field), Grace Neubauer (cross country, women's track and field), Abdul Oganla (men's soccer), Marty Salazar (baseball), Victor Schultz (cross country, men's track and field), Melissa Silva (women's swimming and diving, cross country, women's track and field), Casey Stachelski (volleyball), and Armand Stricklin (football, men's basketball).
Other student-athletes who will earn their degrees in June include: Jasmine Binion (women's basketball), Jamie Blue (women's basketball, volleyball) Mickella Duffy-Web (cross country), Patrick Ford (men's track and field), Saundra Gavazzi (women's basketball, women's track and field), Caitlin Hemby (women's track and field, women's basketball, cross country), Matt Hemmingsen (football), Dorniak Justyna (women's tennis), Margaret St. Clair (women's tennis), Lindsey Morgan (cross country), Ella Petersen (volleyball), Khan Rohail (men's tennis), Morgan Tonner (women's swimming and diving), Nyan Win (men's swimming and diving), and Jordan Zanger (football, men's track and field).
These 36 outstanding men and women will join the illustrious list of former student-athletes who serve as ambassadors for our program, and we look forward to their continued involvement in the years ahead.
Sports Update
Baseball: The men's team finished the season strong. It began with a comeback win over Iowa Wesleyan, by scoring 10 unanswered runs after falling behind 4-0. Matt Mueller hit a three-run homer to start the rally in the fourth. The team came through with a victory over Cornell, with sophomore Auggie Ward getting the W, and a sweep over RMU-Peoria, with sophomore Matt McCaffrey leading the offense with three hits and scoring two runs. First-year Kyle Yang earned his first collegiate win. The sweep started a seven-game win streak with a 4-1 toppling of Millikin with juniors Ken Bartelt and Alec Jordan earning the victory and save. The Prairie Fire then got a four-game series sweep of Illinois College with home runs on the Saturday game by junior Ryan Weitendorf, first-year Trisyn Ruiz and junior Drake Sykes. On Sunday, Sykes hit two home runs, scored four times and knocked in four while senior Marty Salazar completed his college career with a victory. Junior Ryan Weitendorf and first-year Matt Mueller hit home runs.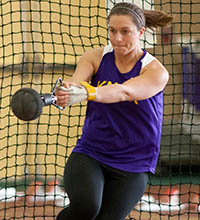 Track & Field: Sophomore Frances Larsen won the women's 3000 meter steeplechase at the Western Illinois University Lee Calhoun Memorial in mid-April, and secured the third best time in school history. Others who made the Knox all-time top 10 list included first-year Malik Hamilton (sixth-men's 100 meter), first-year Njoh Malafa (sixth-men's 200 meter), and senior Brennan McGlauchen (sixth and ninth-men's hammer.) At the Dubuque Invitational, McGlauchen set a new Knox record in the men's hammer throw with a toss of 151 feet 6 inches. First-year Zachary Barnes turned in the third best Knox time in the men's 800 meter run. Val Varanese placed second in the women's 100 meter dash to enter the Knox top 10, and took the number two all-time Knox spot in the 200 meter dash. Malafa finished third in the men's 200 meter dash. At the Beloit Relays, the men's team finished eighth out of 13 teams and the women tied for 10th. Senior Brian Cole won the men's 10,000 meter run, good for seventh on the all-time Knox list. Larsen set a new Knox record with a second place finish in the women's 3000 meter steeplechase with a time of 12:20:49. Barnes finished second in the men's 400 meter dash. At Eastern Illinois, athletes earning top 10 berths in Knox history included Val Varanese in the women's 100 meter dash, Jessica Fritts in the hammer throw, Saundra Gavazzi in the javelin throw, Njoh Malafa in the men's 200 meter dash and the 4x100 meter team of Malafa, Hamilton, Shadrack Ofori-Boadi, and Martwain Holmes finished in fourth place with a time of 43.15, putting them in second place all-time at Knox.
And finally, at the Midwest Conference Championships, Knox earned the following honors:
Brennan McGlauchlen took sixth place in the men's hammer throw with a toss of 157' 4". The toss was the best of his career and is now the new high-water mark for Knox.
Saundra Gavazzi placed sixth in the women's javelin throw with a heave of 92' 3".
Val Varanese placed second in the women's 100 meter dash with a new school record time of :12.46, beating her old time of :12.49. She also finished fifth in the 200 meter dash with a time of :25.98, also a new school record.
Frances Larsen turned in the tenth best performance in school history in the 3000 meter steeplechase with a time of 13:12.85.
Jessica Fritts had the fourth best throw in the hammer throw in school history with a toss of 123' 3".
The men's 4x100 meter relay team of Shadrack Ofori-Boadi, Malik Hamilton, Martwain Holmes, and Njoh Malafa placed fourth and turned in the fourth performance in school history with a time of :43.41.
The women's team finished in ninth place out of 10 teams with 16 points while the men's team finished tenth with 12 points.
Men's Tennis: At the Midwest Conference Championships, the men's tennis team won the Midwest Conference Award for Sportsmanship. The championships saw first-round victories by junior Rohali Kahn, sophomore Errol Kaylor and the doubles team of first-year Minh Le and Kaylor. During the regular season, the men beat Illinois College, with Kaylor, Khan and senior Charlie Harned winning singles matches. Doubles teams Kaylor and Le combined with Harned and first-year Brendon Alaniz for wins.
Men's Golf: At the Midwest Conference Championship, first-year Duncan Wheeler tied for third overall individually with a three-day score of 236. Wheeler finished in a tie for 18th at a match against Elmhurst and sophomore Patrick Martin paced the team in a match against Monmouth.
Softball: The softball team earned its first win of the year in a dramatic 2-1 walkoff win over Beloit. Sophomore pitcher Alannah Sanchez, who only allowed four hits in the game, drove in junior Chelsey Howard for the game-winning run with a double in the bottom of the seventh.
Student-Athlete Profiles
Rebecca Katz, Cross Country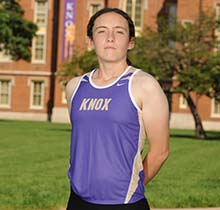 Rebecca Katz knows a lot about distance. The sophomore cross-country student athlete holds Knox's top six best times in the women's 6000 meters, with the fastest being 23:25. "When I started doing cross country my first year, I looked at the list of the top 25 times overall and started working toward making that list. All of a sudden I jumped into the top 10 in the second to last race. And on the last race I broke the record."
She also figured Knox was the perfect distance from her home in Columbia, Missouri-close enough to get home when she wanted, yet far enough away to have some independence. "Knox fit all the boxes for me," Katz says, who is pursuing a major in chemistry, with a creative writing and religious studies minor. Though she has been running track since middle school, being on a team was not part of her college plan. She toured a lot of Midwest schools. "Once I talked with Coach Moreno, I felt it would be exciting to keep competing."
And she's learning a lot about her running style. "Cross country is different than a sport like soccer. You don't have a scoreboard. And I don't wear a watch. But I can always tell when I'm having a good race." When she set the school record, "I could tell I was running fast. They called out my time at the mile split, but I thought they said 6:24, but it was 6:04 and I broke the record by 30 seconds."
Katz is collecting great experiences as a student and an athlete. Last year she took part in a chemistry summer program at Princeton University. She quickly found a running club and ended up participating in the River to Sea Relay, where seven runners combine to run 72 miles from the Delaware River to Manasquan Beach in New Jersey. Through the same chemistry program, she will be going to the Czech Republic this summer, focusing on computational chemistry and fluid dynamics.
Not surprisingly, she says she doesn't need a car in Galesburg. Though she does have a bike, she's been known to take a long walk with friends to the Steak 'n Shake. "You see more when you slow down," she says, "even though I try to speed up and run fast." She runs 80 to 88 miles a week, and tries to fit in trips to the Beanhive for coffee, do some reading and hanging out with friends on campus. Her favorite book is Book Thief, and she is a big fan of the movie, Big Hero 6.
"At Knox, everyone is willing to talk and explore what we want the world to be like," she says. "Knox has been good for me. It's a good community. The people make Knox great."
Harry Carpenter, Swimming and Diving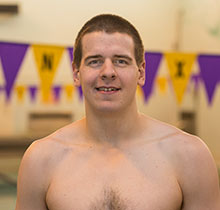 You don't find a lot of swimmers who try out for a track team, but for sophomore Harry Carpenter it was another example of how the Knox culture allows students to explore new horizons. Figuring it was a good way to stay fit in swimming's off-season, he joined the team and quickly found new friends and experiences that he will always cherish.
Coach and Professor of Economics Jonathan Powers, or JPow as Carpenter likes to call him, is credited with sealing the deal for Carpenter to attend Knox. "He's a very nice guy, a great coach and very understanding of the importance of academics," Carpenter says. "As a coach, JPow wants everyone to have a positive experience that they will always cherish. He allows his swimmers to do what is comfortable. He shows empathy and respect, and he is a fun guy with a sense of humor."
Carpenter is majoring in computer science, and minoring in economics and business. "I took Principles of Microeconomics with JPow, and that course encouraged me to declare an economics and business minor since he made it easy for me to learn the subjects."
His passion for computer science and swimming came to life at Oak Park & River Forest High School near Chicago. As a junior, he took computer science classes that inspired him to choose it as his college major. He swam all four years in high school. He also qualified for the senior championships in the 1000 and 1650 freestyle distance races for his club team in Oak Park. He stayed in the pool for water polo as well, and played the clarinet in the marching band.
In just his second year, Carpenter earned personal bests at the Midwest Conference Championships in the 400 individual medley and the 200 breast, a new event for him. He also competed in the 1650.
In the rare moments of downtime, he likes to read and watch Netflix, currently devouring Breaking Bad. He's a big fan of the Hitchhiker's Guide to the Galaxy and the Harry Potter novels, and his favorite movie is Star Wars: The Force Awakens. He's looking forward to watching Katie Ledecky and Michael Phelps compete in the Summer Olympics this year.
Carpenter is a brother of the service fraternity Alpha Phi Omega and he has volunteered for multiple charities around the Galesburg area. This summer, he plans on researching supercomputers with a computer science professor.
"I believe it is important to try everything to find something I am truly passionate about, to get the most out of being human, and to make life meaningful," he says. "While I have found my passions for swimming, volunteering, and computer science, I should keep trying new things to open the breadth of opportunity."
Four Questions with Coach Tyler Sheikh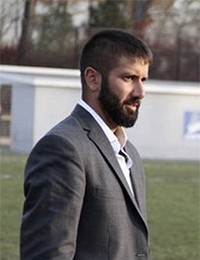 Tyler Sheikh was named the head men's soccer coach at Knox in February of 2015 after a successful season at Illinois College. He was named the 2013 Allegheny Mountain Collegiate Conference Coach of the Year at Mt. Aloysius College (PA) after leading the Mounties to their first-ever postseason appearance and win. In 2015, the Prairie Fire had an undefeated record at home, scored the most goals in program history, ranked third in the country in goals per game and earned the program's first ever regional ranking mid-year.
A self-described Anglophile, Sheikh loves most everything British (especially their TV shows and "football.") He's currently enrolled in a Master Coach/Soccer Leader course through the National Soccer Coaches Association of America and University of Delaware.
Q. You credit a lot of international experiences with your soccer and personal growth. What are some of those highlights?
I grew up in small town New England; Woodbury, Connecticut, known for being the antique capital of the region. There wasn't much excitement or diversity. It was a charmed upbringing, but my parents emphasized education. My folks were teachers, and my two older brothers are currently teachers who are married to teachers!
My father and a few of his brothers first came to the U.S. from Uganda on athletic scholarships. When Idi Amin took power in Uganda and eventually exiled all non-native Africans, my father was without a home. He was able to settle in Florida, met my mother one summer, and the rest is history. My interest in sports came from my father and older brothers. My parents enabled me to travel abroad for soccer tournaments and experience different cultures much like the melting pot of my own household. Interest in high academic liberal arts colleges was first piqued during my brothers' college years when they attended similar institutions to Knox.
Although my own college career was a bit of a journey, I'll always remember playing in a soccer academy in Florida my freshman year and then the D1 experience at Quinnipiac University. It was in Florida and at Quinnipiac where I got my first taste of having international teammates. My teammates in Florida were from all over the world; Japan, Haiti, Honduras, and Brazil. At Quinnipiac my roommates included Brazilian and Jamaican teammates. Other players hailed from Romania, Congo, Canada, Sweden, and Nigeria. You learn so much about yourself in these types of environments.
The chance to teach English abroad in the Czech Republic was great as it helped me grow and gain confidence as an educator. Stateside I worked as a GED instructor to adult mental health students and young men living in "halfway houses." This experience also developed me as an educator, because building rapport was sometimes difficult.
Q. What's one of your best soccer memories?
Before there were soccer academies that now force high school age boys to choose between club soccer and high school soccer, there was only the high school option. State titles were a huge deal back then. Being able to score game-winning goals in the quarterfinals, semifinals, and two goals in a state championship game that we won 2-1 on route to an undefeated season will always resonate with my friends and I. It brought the town together for a night and our long friendships came full circle. My older brother was the coach of that team.
Q. What has shaped your coaching philosophy?
My father and two older brothers all coach so their styles certainly influenced me. I thoroughly enjoy the social side of coaching so the way I was able to interact or not interact with all of my coaches growing up as a player has influenced me as well. My coaching philosophy is one between benevolent dictator and facilitator. If I have to, I can enforce discipline and regimentation where needed, but more often I try to encourage ways for the players and team to arrive at their own high standards. Program culture at the college level is everything so there needs to be some sort of self-efficacy that our players bring to the team. This is especially true at the D-III level where they are participating without athletic scholarship and solely for the love of sport.
When a student-athlete comes to Knox College and plays men's soccer, we want them to believe they can beat anyone in the country. They need to value academics first and foremost. If they don't, then Knox is not a place for them. Of course, they have a love for soccer, but they have to see value in being a member of our program and being a member of the Knox community. We do our best to recruit young men with character. When we see the Knox team going out of their way to work with Galesburg children or start not-for-profits to assist veterans then it's clear our players see value in helping those less fortunate or the value in simply putting a smile on a kid's face. As a coach, I know the bonding and personal growth our Knox players gain from these experiences is invaluable and something they'll reflect on long after graduation.
Q. What are your goals for the team?
Our short-term goals are to win the regular season and tournament championships within the Midwest Conference. Long term we are looking to sustain the short-term standard and make waves in the national tournament. Other program goals include helping young men develop so that they graduate in four years and have a CV worthy of graduate school or job opportunities in their desired field.
Other News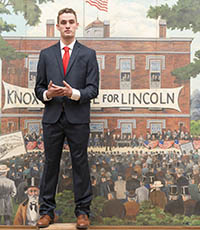 Men's soccer captain Charlie Harned, who also played basketball and tennis at Knox, was selected for the prestigious Fulbright fellowship for international study.
Knox earned spots on the 2016 All Midwest Baseball team. Drake Sykes earned Player of the Year honors in the South Division. The two-time MWC Player of the Week is the Division III leader in on-base percentage (.583) and is ranked second in the country in batting average (.487). He also ranked fourth in slugging percentage at .846 and upped that mark to .925 in MWC play. The junior outfielder has scored 41 runs on the season and hit six home runs in conference action, which are tied for the league lead. Fellow player Matt McCaffrey was named to the South Division team as a third baseman. McCaffrey hit .333 on the year with 28 RBI and seven doubles.
Drake Sykes was also named to the d3baseball.com All-Central Region First Team for his efforts this season. The team is selected by Division III sports information directors and all first team selections will be considered for All-American status as well.
Baseball pitching coach Les Hunter was presented a framed jersey at the baseball team's final regular season game in appreciation for his service to the Prairie Fire.
The Midwest Conference (MWC) has announced that the University of Chicago will join the league as an affiliate member for football beginning with the 2017 season. Beginning in 2017, UChicago will become the MWC's 12th institution that sponsors football. The league will be comprised of 10 full-member schools and football-affiliate member Macalester College.
Knox College will be the site of a basketball camp in June for boys and girls entering third through 12th grades in the fall. The camp is June 20-24 from 1:00 to 3:00 p.m. daily.
This is our last newsletter of the year. We'll return with more exciting Knox news this fall. Enjoy your summer, and...
Go Fire!

Chad Eisele '93
Athletic Director