Knox College graduates Dick and Joan Whitney Whitcomb have committed to be the lead donors with a $5-million gift for a new academic building for studio art and art history.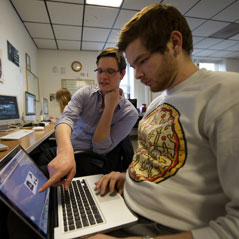 The Knox Student wins first place among non-daily student newspapers in the regional Society of Professional Journalists Mark of Excellence contest.
KARES and the Knox College Office of Sustainability are planning Earth Week April 20-26. Activities include Kelsey Timmerman's EquiKnox Lecture, interactive workshops, and an Earth Day festival.
Continuing Knox College's streak of success in the competition, Alex Zimay is a co-winner for her story, "Infinite," and Kelly Clare receives an honorable mention for "What Remains, These."
Hundreds of jazz fans, student, faculty, alumni musicians, two jazz headliners. The Knox-Rootabaga Jazz Festival featured Aaron Diehl Quartet, Chicago Afro-Latin Jazz Ensemble, Knox Jazz Ensemble.
Upcoming Events
The comedian, who delivered the 2006 Knox College Commencement address, is chosen to succeed David Letterman as star of television show.
The Department of Theatre's winter production allowed students to earn academic credit for their work on and behind the stage.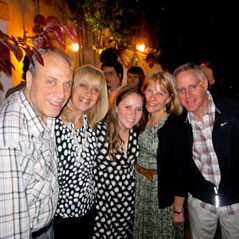 Like many students who have studied abroad, Bekah Lauer felt challenged to explain the life-changing experience to others. A new class, Digital Storytelling, helps students overcome that challenge.
For the third time in four years, both men's and women's swimming teams at Knox College have received Team Scholar All America Awards from the College Swimming Coaches Association of America.