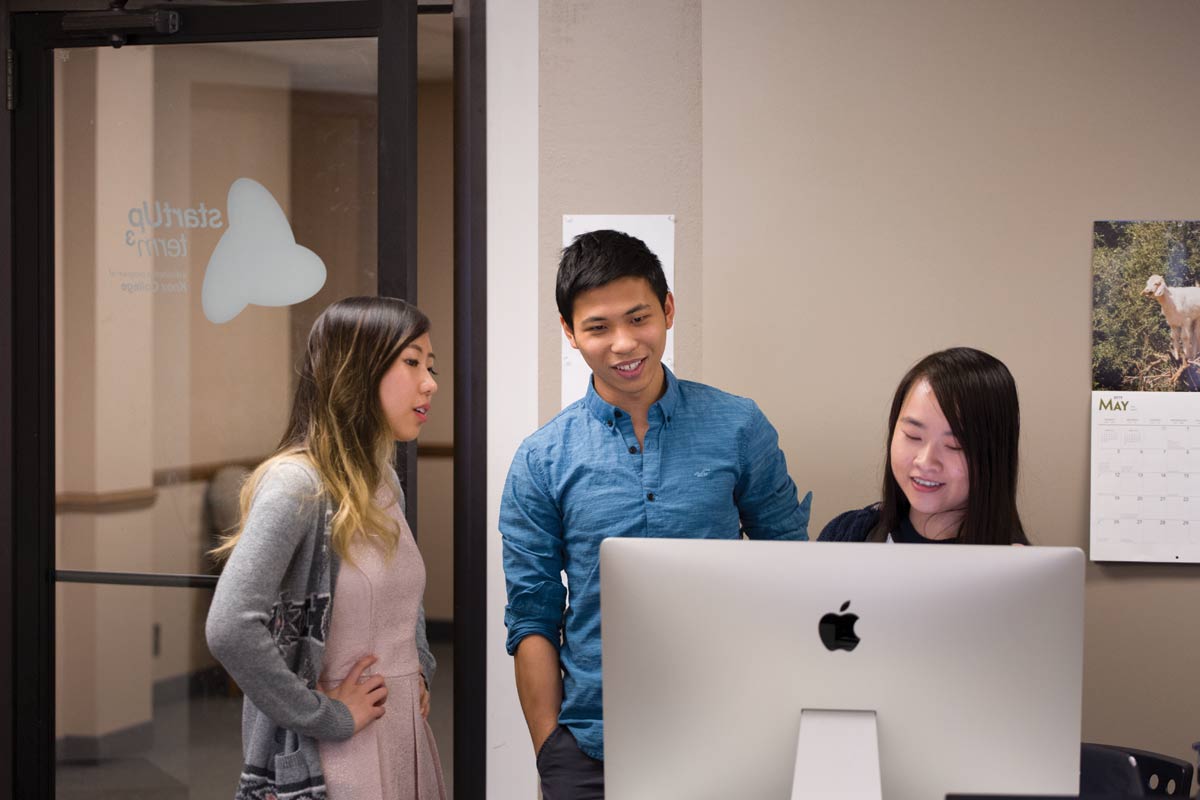 This spring, Knox College students sharpened their entrepreneurial skills in a real-world environment through StartUp Term3, a 10-week academic immersion experience where teams build companies offering a variety of products and services.
Open to students from all academic disciplines, StartUp Term provides an opportunity to transform original business concepts into real services and products. Students accepted into StartUp Term work from office space in downtown Galesburg.
Throughout the process, students were mentored by four Knox faculty members: John Dooley, William and Marilyn Ingersoll Emeritus Chair in Computer Science; Jaime Spacco, associate professor of computer science; John Spittell, Wagner Distinguished Chair in Business; and Tim Stedman, visiting assistant professor of art.
At the end of the 10-week term, students made a final pitch to a panel of judges that included Knox alumni and local entrepreneurs. The judges included Adam Vitale, Knox trustee and president at G & M Distributors, Inc.; Asif Ahmed '91, VP of analytics at Infutor; Eric Miller '02, CEO at DocuWrx; Jerry Vovis '65, Knox trustee and president and CEO of Vovis Enterprises; Krista Anne Nordgren '12, freelance designer and developer and owner at The Mothership; Mike Burke '72, global executive specializing in healthcare medical devices, imaging, and diagnostics; Olivia Keneipp '17, StartUp Term2 alumna and product manager at The Minte; and Rick Rivero '99, vice president of sales and marketing at Connections Marketing.
Here's a look at the teams:
Team Evrhome — Create a trustworthy and easy-to-use platform to connect home- and pet-owners with reputable sitters.
Team Promiere — Provide a mobile tool for all aspects of picking dresses that fit well and are unique for that special event.
Team Tesellate — Provide a modular, affordable, and stylish display unit for sneaker aficionados to show off the best of their collection.
Team Zing! — Help event marketers reach eager attendees, while providing users with a personalized feed of events that are aligned to their interests.
Team Gem — Spur evolution in the restaurant review space by focusing on credible reviewers and providing impartial feedback to the restaurants themselves.
Team Yume — Create a space for prospective and current college students to easily share experiences and discuss aspects of college life that are not necessarily focused on by the current sites in the market.
Team Yume received funds from the Stroben Entrepreneurship Fund, an endowed fund honoring the career of Donald Stroben '52, established by his family and friends, to continue working on their project during the 2019-2020 academic year.