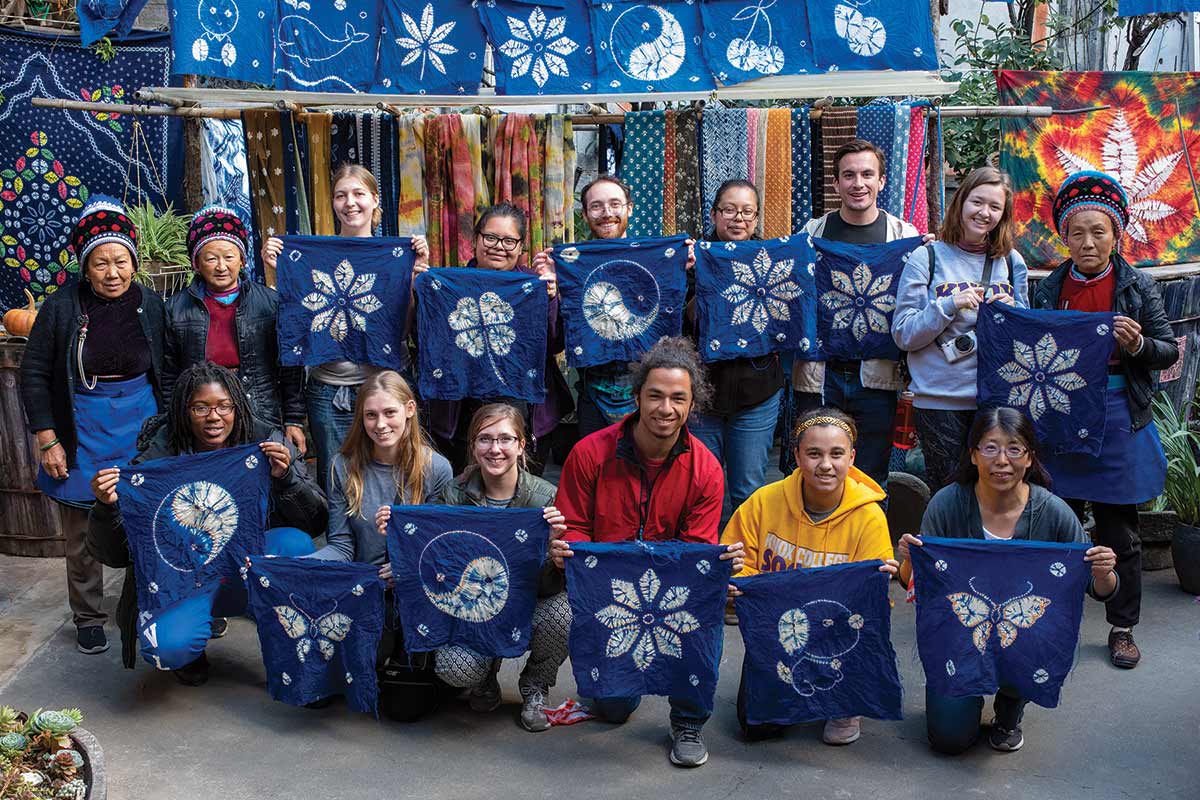 Students in ASIA 237: Arts, Culture, and Lands of South China started the fall term in a classroom in George Davis Hall—and ended it more than 7,500 miles away.
The interdisciplinary course emphasizes "natural landscapes, ethnic minority cultural landscapes, and their visual or artistic representations," says Weihong Du, associate professor of Asian Studies (Chinese) and director of the Asian Studies Program. Du and Michael Godsil, instructor in art, introduced students to visual and performing arts and literature from the region, including painting, dance, theatre, poetry, and folk tales during the on-campus portion of the course. Then they accompanied them to Southern China for 19 days over winter break to experience the culture for themselves, attending stage performances, visiting ancient towns, and participating in an academic exchange with Dali University.
The students' itinerary took them to the cities of Guilin, Yangshuo, Kunming, Dali, Shaxi, and Lijiang. They "studied and participated in local culture and attended artistic events, all while being exposed to the natural beauty of the area," Du said.
"This trip was my first time leaving the continental United States, so the experience was quite eye-opening," said Alec Auston '19, a double-major in biochemistry and economics. "It taught me that there are a lot of amazing cultures and people in the world and that I could learn a lot through interacting with them."
Keara Crook '19, who majored in Asian Studies and biology, was able to practice her Chinese-language skills on the trip and said that she learned a great deal about differences and similarities among ethnic groups in China. "Dialects, clothing, culture, ways of life, and food all vary to different degrees within these minorities, and it was astonishing to see firsthand."
Back on campus, the students continued their examination of Southern China's arts, culture, and landscapes during winter term. Crook created a collection of black-and-white photographs from the numerous snapshots she took with an analog camera and analog film. Auston created a pottery presentation based on landscapes.
Jack Harman '18, a history and theatre major, pointed out that as a liberal arts institution, Knox is "all about opening and broadening your world view and horizons."
"While this happens on an intellectual level every day in the classroom, there is simply no substitute for going somewhere completely new to you and experiencing that which life has to offer here."