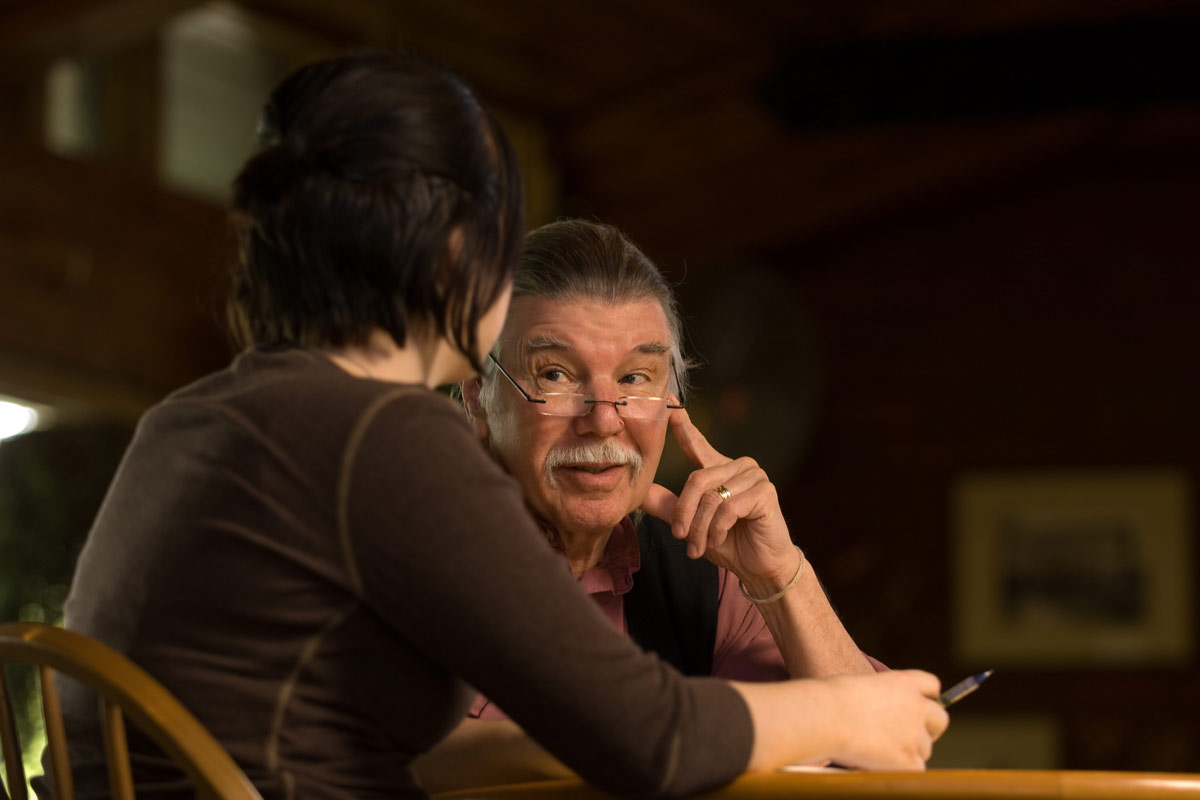 The Knox community mourned the death of Robin Metz, who passed away on Tuesday, November 27 at age 76.
The longest-serving member of the Knox faculty, Metz came to Knox in 1967 after receiving a bachelor's degree from Princeton University in 1964 and a master of fine arts degree from the University of Iowa Writers' Workshop. An internationally acclaimed poet and author, he was the co-founder, and from 1985 to the present, director of Knox's renowned Program in Creative Writing.
Holder of the Philip Sidney Post Professorship of English, Metz taught all levels of writing at Knox, from introductory courses in fiction, poetry, and playwriting, through Senior Portfolio, the capstone experience for all writing majors, as well as literature courses, including Modern English/Irish Literature and Contemporary American Fiction. For many years, he also served as the faculty advisor to Catch.
Metz taught every iteration of First-Year Preceptorial and led students "across the pond" for London Arts Alive. He taught how to write about the "natural imagination" in a renovated horse barn 20 miles from campus at Knox's 700-acre Green Oaks Biological Field Station during numerous Green Oaks Terms and opened his farmhouse in Wisconsin to students during Farm Term. Hemingway, Thomas, Beckett, Sandburg, Tanning, Woolf, and Yeats all came alive through his teaching and travel trips in the U.S. and international locales.
Among numerous awards, Metz won the Maria Rilke International Poetry Prize, Dylan Thomas Poetry Prize, Marshall Frankel American Fiction Prize, Caterpillar Faculty Achievement Award for outstanding creative and scholarly achievement, and Knox's Philip Green Wright prize for distinguished teaching for both junior and senior faculty.
Metz and his wife, Liz Carlin Metz, Smith V. Brand Distinguished Professor of Theatre, co-founded Vitalist Theatre, a critically acclaimed and award-winning Chicago-based theatre company.
To honor his more than half-century legacy to Knox's English department, Robin and Elizabeth Carlin Metz established the Robin Metz Endowed Fund in Support of the Creative Arts to support visiting artists at Knox. You can make a gift at knox.edu/metzfund.