Students in SPAN 221 explored potential careers and visited Plaza Santo Domingo during a winter break trip to Oaxaca, Mexico. Photo by Beatriz Jimenez '19
Do you remember what it was like to learn a new language—say, Spanish? Did you dread the rote memorization (most likely, from a book) so you'd be able to conjugate verbs, learn the gender of nouns, and distinguish between the proper use of ser and estar?
At Knox, students studying Spanish are venturing beyond the classroom to obtain practical, real-world experiences in reading, writing, and speaking the language. They're also picking up marketable skills that may serve them well in their after-Knox lives.
During the 2018-19 academic year, for instance, students taking Spanish classes at Knox:
• Translated various documents, including contract language that is being used by a startup company co-owned by a Knox alumnus.
• Explored potential careers in education, social work, interpreting, and healthcare as they worked in Oaxaca, Mexico, using their Spanish-language skills in professional settings.
• Served as interpreters for immigrant women and children being detained in Dilley, Texas, while seeking asylum in the United States.
"I believe students will feel more engaged in the assignments if they know they are completing something for a real person or agency, and that their work will actually have an impact on someone else's life," says Robin Ragan, professor of modern languages (Spanish). She taught the fall term class in which students completed translations, led the winter break trip to Oaxaca, and joined two of her students in the spring break trip to an immigrant detention center in Dilley.
Students agree with Ragan's assessment. They say that while the projects and trips have been demanding, they've responded with dedication and teamwork.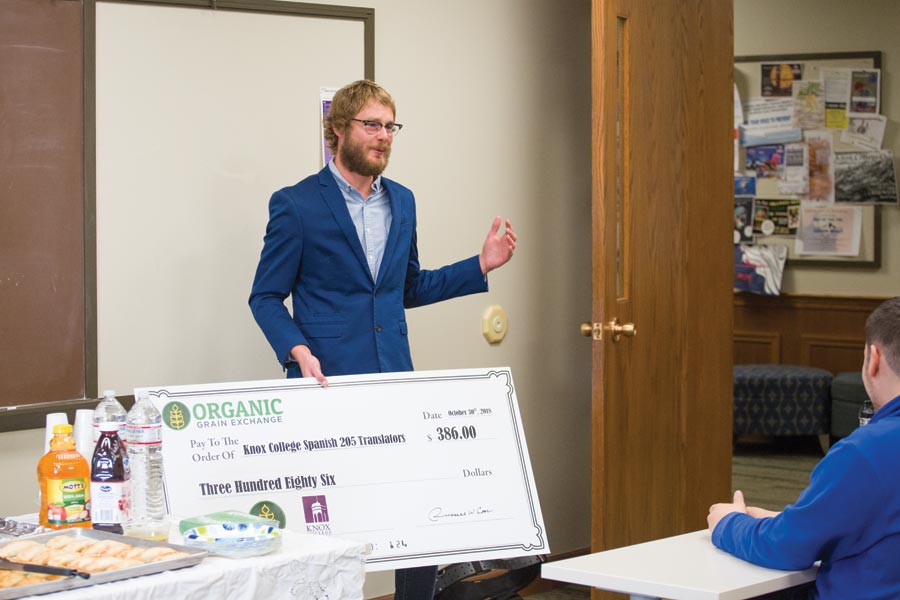 Translating for a Startup Company
Isaac Hughes '21, for example, was one of the students who translated a startup company's contract language from English to Spanish in SPAN 205: Introduction to Spanish Translation. Alumnus Russell Coon '08, an owner of a startup company that connects organic food producers with buyers, had turned to Knox for help with the project, and the students were paid for their efforts.
"The legal jargon made translation slow and challenging," Hughes says. "A lot of the legal phrases that I encountered were totally new to me, so I had to research what they meant in English before even considering how to translate them. This really forced me to be a cautious and thoughtful translator."
To complete the translation work for Coon's startup, Hughes and the other students worked in small teams, each headed by an editor. The class created a shareable online glossary to ensure that the teams consistently translated specific words and phrases that appeared repeatedly in the English-language document.
"This was a very collaborative project," explains Hughes, an environmental studies and philosophy major. "During class, we would meet with our editors and discuss challenging words or phrases of the translation. Every single decision that was made needed to be followed by the whole class, in order to have continuity in the final text. Therefore, we were constantly conferencing and debating with one another, which was my favorite part."
Students who worked on the translation for the startup got to meet Coon in person. "He inspired us all to do a great job on the assignment," Ragan says. "Translators rarely get to meet their clients face-to-face or hear from them how much they appreciated the work."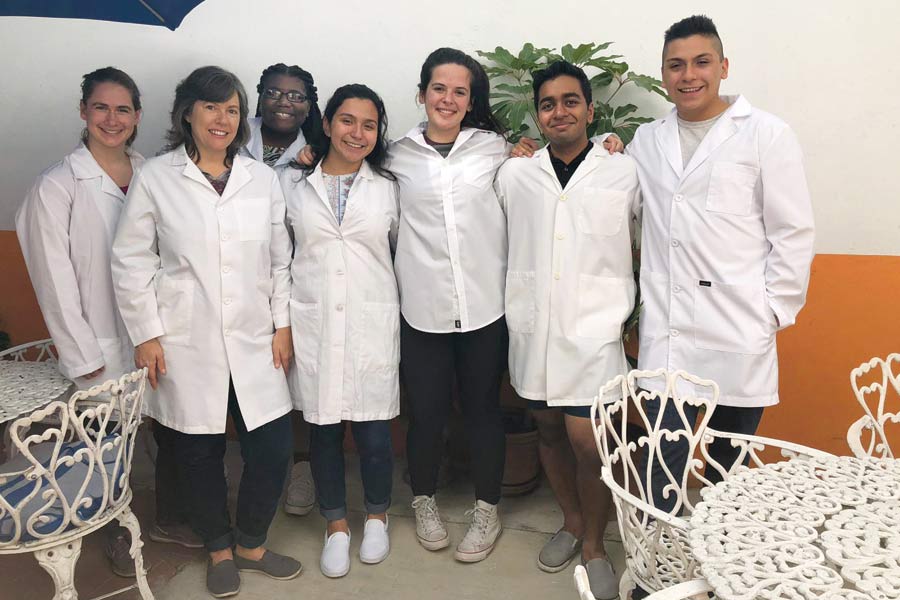 Exploring Careers in Oaxaca
Beatriz Jimenez '19 participated in the winter break trip to Mexico—actually, a travel component to SPAN 221: Healthcare, Social Work, and Education that was designed for students interested in careers in those fields or in Spanish-English language interpreting. "Interpreting has always been one of my interests," she says. "And there is no better way to continue to develop skills in a language than by being surrounded by everyone who speaks it."
During the fall 2018 term, students in the course—some of whom were also taking another of Ragan's classes—met weekly to prepare for the two-week journey. They discussed logistics and examined the area's geography and culture. Once the Knox group arrived in Oaxaca, students started every weekday by shadowing and assisting professionals at Centro de Esperanza Infantil, a nonprofit organization to help children; Hospital Civil (a hospital); Centro de Salud Ejido Guadalupe Victoria (a health center); and Escuela Primaria Andres Portillo (an elementary school). Knox students also met with guest speakers who discussed topics that included health insurance and racism and took weekend trips to nearby villages.
Jimenez, a Spanish and political science major, helped teach English at the elementary school and worked with children and families who received assistance through Centro de Esperanza Infantil.
"I taught children from ages 7 to 12, and I was able to help out in gym and computer classes. I also got the chance to observe the teacher and learn their methods of teaching, and I got the chance to work in Centro de Esperanza, where I played and helped children with their homework," says Jimenez, who hopes to become a Spanish professor.
The trip enabled her to learn about Oaxaca's culture while also gaining teaching experience. "One of my favorite memories was when the children in the school would invite me to sit with them during their lunch period. They called me 'Profe Betty' and were so excited to talk with me. They wanted to learn more about me and how life was in the United States. Their excitement and interest made me feel very special. I got attached to the students despite only spending a few days with them."
For Alyx Farris '21, too, the trip to Oaxaca was an unforgettable one. The art history major spent part of her time there visiting the homes of families who were applying for benefits through Centro de Esperanza. "Essentially, my role was that of a social worker; I filled out a questionnaire regarding the financial status and living conditions of the family and took pictures of their homes," she says. "This experience fits in perfectly with my experience at Knox focusing on cultural diversity, social compassion, and the broader human experience."
Working with Immigrant Detainees
Students aren't the only members of the Knox community who are gaining new insights through travel and experiential opportunities that utilize their Spanish-language skills. Just ask Ragan, who has been teaching Spanish at Knox since 2000.
This past spring break, she and two of her advanced Spanish students volunteered with the Dilley Pro Bono Project, which is associated with the Immigration Justice Campaign and aims to help immigrants who are seeking asylum in the United States. Members of the Knox group had a wide range of responsibilities: scanning and filing documents, participating in presentations to familiarize immigrants with their rights, and preparing detainees for their interviews with asylum officers.
"The biggest responsibility we had was working in a team with a law student or lawyer to interview a woman about her asylum claim, help her understand asylum law and how it applied to her specific case, and then practice the questions and answers with her until she was confident," Ragan recalls. "Once, I had to interview an 8-year-old child, and I felt a tremendous weight on my shoulders to carry out the interview with him about scary topics without scaring him!"
"
. . . There is no better way to continue to develop skills in a language than by being surrounded by everyone who speaks it."
Beatriz Jimenez '19
She says the experience has given her "a much richer understanding of the complexities of our legal system," and it contributes to her work as a scholar-teacher.
"It's important to me to stay in touch with the language skills and knowledge base my students need once they begin looking for work. Work like this puts me in touch with a whole new sector of employment opportunities for my students," Ragan adds. "Moreover, I feel compelled to have firsthand knowledge, as much as possible, about the topics I teach. As a professor of Spanish, the topic of immigration is always on the syllabi or in the readings in some shape or form. And while I can learn a lot from memoirs and literary representations or films, these are often reflective and well-crafted pieces. Working in a detention center meant I had more contact with the immediate chaos of the lived experience."
The "real-life" projects, such as the ones involving Knox students during the past year or so, clearly provide ways for them to hone their Spanish-language skills. Less obvious, perhaps, is the fact that these opportunities also give students practical experiences they can cite in job interviews and on a resume. Their translations, for example, could appear on an organization's web page or in an office brochure or as subtitles on a video, Ragan says.
The experiential, immersive opportunities in Spanish are open to students at the beginning levels, too. In her introductory 100-level Spanish courses, Ragan has her students complete what she calls "cultural notebooks," an assignment that involves attending on-campus events related to the Spanish-speaking world. "To me, it's important that at the earliest levels of language learning, students are able to connect their learning to real people and their lived experience."
Such connections are key for true, lasting learning.
"Languages do have a special role and place in our brains, and they require us to engage with other humans in order to really acquire them," says Ragan. "When students are emotionally invested in the language—because they have an immediate, compelling purpose for communicating—they learn more, and more deeply."