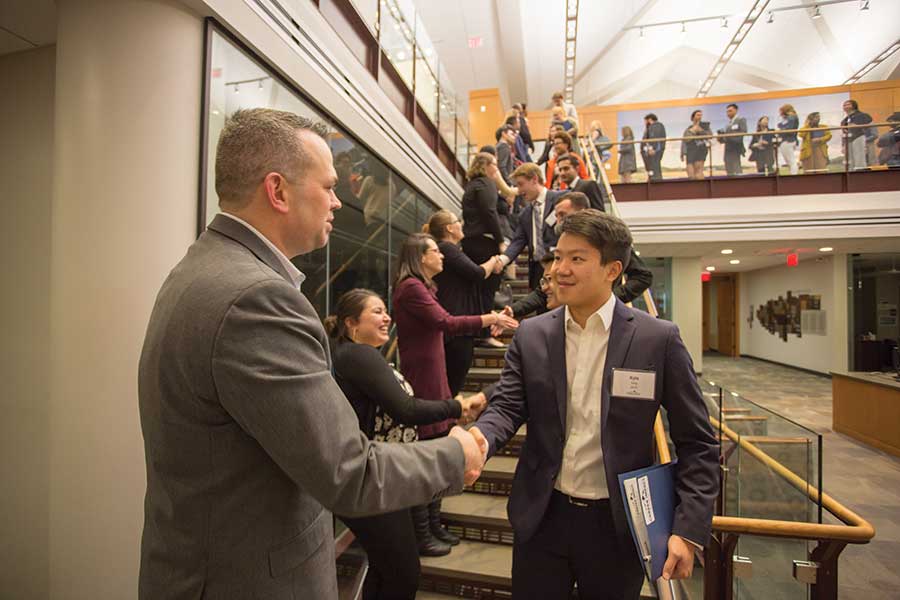 Alumni returning to campus for the sixth annual Career Impact Summit offered students advice about navigating life after Knox and helped them polish skills they will need for both their job search and careers.
A dozen Knox alumni and nearly 100 students participated in the summit, organized by the Knox College Bastian Family Career Center and sponsored by the John D. Carlin Career Development Support Fund.
The event featured keynote speakers, networking opportunities, and breakout sessions covering more than a dozen topics, including careers in technology, the role of personal values in the job search, and preparing for an interview. In a wide-ranging question-and-answer session, alumni talked about such matters as de-stressing, establishing a work/life balance, and dealing with coworkers.
Nhi Nguyen '19 said she especially enjoyed a "speed networking" session that involved all students and alumni "because it really taught me how to create a 30-second elevator pitch."
The alumni presentations often highlighted the value of a liberal arts education.
A Knox education, in particular, "can literally give you the world," Jeff Gipson '94 told students in his session, "Using Your Liberal Arts Education in the Real World." He said employers want to hire people with the skills that students develop here, such as critical thinking, strong oral and written communication, ability to work collaboratively, and intercultural fluency.
In her presentation, "Creating a Competitive Advantage: Becoming Career Ready," Jess Drew '07 encouraged students to think about their talents, experiences, and education and then to consider what would be most relevant to potential employers. "Figure out what kind of life you want to live and how a job will fit into that life," she said.
One of the biggest takeaways for Leela Yeleswarapu '19 came from the closing presentation by Ryan Cannady '99. Thanks to his remarks, she said, she now understands that instead of comparing herself with others, "I need to look within myself and focus on my own growth."
ALUMNI PARTICIPANTS
Aparna Kumar Boehm '12, UX Researcher, Zillow Group
April Morgan '04, Chief Attorney, Chicago Transit Authority
David Koh '86, Pulmonary, Critical Care and Sleep Disorder Physician, Advocate Medical Group
Eric Williams '85, Founder and President, Williams Chiropractic Center
Jeffrey Gipson '94, Senior Product Manager, Emerging Products at PULSE
Jessica Drew '07, Human Resources Generalist, Cure SMA
Joshua Cox '07, Research Associate, Education Development Center
Keshia Gipson '95, School Psychologist, Illinois School District #25
Malinda Riley '93, Senior Principal, Korn Ferry Hay Group
Michael Gilbert '99, Senior Vice President, Commercial Finance, BankFinancial
Ryan Cannady '99, Vice President, Sales, Deere Employees Credit Union
Valerie Jencks '84, Executive Director, Prairie Family Therapy