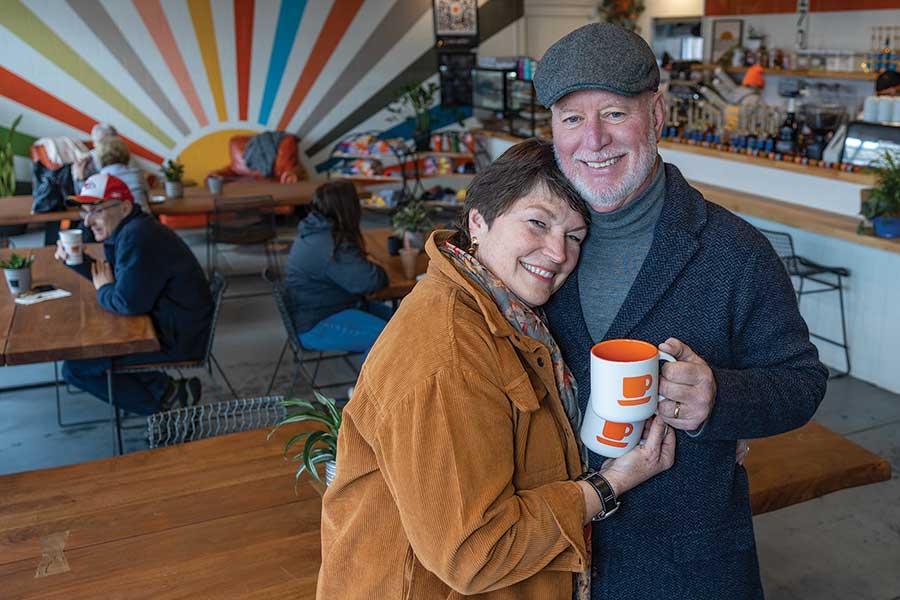 Looking for a warm cup of coffee on that cold winter morning, an orange boba to cool off with in the summer, or perhaps just a fun place to hang out? Knox alum Scott Baldwin '81 and his wife, Melany, have the perfect spot for you—Orange Cup Side Hustle. This gas-station-turned-coffee-hotspot is a cornucopia of flavors and tastes with something for everyone, creating a unique and exciting experience in a rather unconventional landscape.
The coffee shop, located on East Main Street near I-74, is a companion business to the Orange Cup Java Station, a two-way drive-through, found on North Henderson Street.
The couple purchased the original outlet from friends. Scott, an anthropology and sociology major, was born and raised in Galesburg and built a career in the employee benefit industry in Chicago, where he met Melany. Scott grew up near the Knox College campus; his mother, Carol, worked in the Admission Office and his father, Richard, worked in Facilities Services. "Purple and gold is simply in my blood," said Scott, who played basketball for the Prairie Fire and was a member of the Phi Gamma Delta fraternity.
The Orange Cup has been adopted by the Galesburg and Knox community since its opening in 2017. Several Knox College students work there, and the space has also hosted student club events and meetings. Scott noted, "We love having Knox students come over. Saturday mornings usually have tables full of them! It's wonderful!" Orange Cup has provided beverages for many Knox events on campus such as Flunk Day and Senior Day.