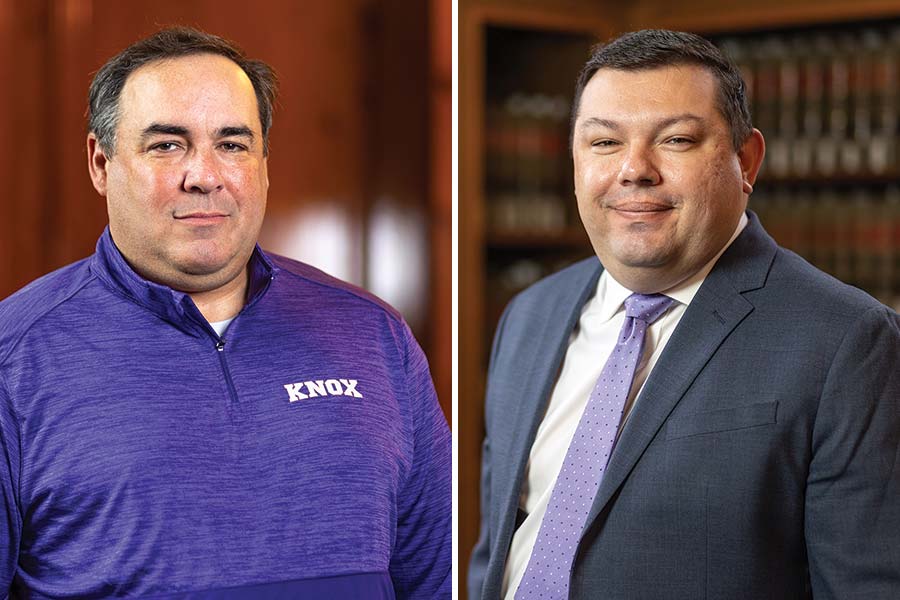 Alec Guroff
Chief Financial Officer and Vice President for Finance
"No one should ever come to Knox because we have a really good finance department," said Alec Guroff, the new vice president for finance and chief financial officer. "However, having a good finance team is our goal: one that supports the strategic and operational goals of the College."
Guroff joined Knox in September 2022. He earned a B.A. in politics from Princeton University, an M.A. in Russian Studies from Johns Hopkins University School of Advanced International Studies, and an MBA from the University of Chicago Booth School of Business. Prior to joining Knox, he provided finance, accounting and consulting services to nonprofit organizations in the Washington, D.C., area.
And what brought him to the Midwest and to Knox? "I grew up in Grinnell so I have some familiarity with small, liberal arts schools in the Midwest," Guroff said. "When I met with President McGadney, I thought it would be a great opportunity to contribute to building on what Knox offers, expanding on the number of people taking advantage of what Knox offers, and living up to the vision that the Board has to grow and elevate Knox."
He's looking forward to seeing how Knox and the Galesburg community can work together, creating win/win opportunities.
"The goal of our department is to be responsible stewards of the College's resources and to provide the information necessary to College leadership and the Board to make informed and intentional decisions."
Brad Nolden
General Counsel and Vice President for Administration
A self-proclaimed generalist, Brad Nolden relishes the opportunity to learn about a lot of topics in many different areas. As the vice president for administration and general counsel, he is the primary legal advisor for the College and is also responsible for the Office of Sustainability, Campus Safety, Auxiliary Businesses, Building and Facility Services, Human Resources, and Information Technology Services.
It's a large portfolio, but Nolden is prepared for the challenges. "What appealed to me about the job was the ability to continue to practice law in numerous disciplines while getting to learn about the unique challenges faced by institutions of higher learning.
"I consider myself a problem solver," Nolden said. "This position at Knox lets me do the day-to-day work I love to do, but also work on strategic and business matters for the College, which is really exciting to me."
A native of Joliet, he earned a B.B.A. in finance from the University of Iowa and his J.D. from the University of Missouri School of Law. For a number of years, he was a municipal lawyer, "riding the circuit," as he says, working with 10 different municipalities. He most recently served as the city attorney and administrative services director for the City of Galesburg.
Nolden's very involved in the Galesburg community. He was recently named to the City of Galesburg Firefighters' Pension Fund Board and is finishing up his last term on the Galesburg Chamber of Commerce. He's on the Galesburg Crimestoppers board and a member of Lions Club. He also helped found a local chapter of a nonprofit called the Front Nine Foundation.
"We identify families in the area who have children with major medical incidents," he explained. "If insurance isn't covering everything they need, we step in and try to help fund their expenses. Once we pick a family, they are partners for life, so we continue to work with them and invite them to come and give us updates."
He looks forward to many years working with his Knox family and focusing on success for faculty, staff, and students. "My teams will be focused on customer service and delivering the assets and facilities necessary to help our campus community succeed. These internal and administrative services are essential to the continued success of Knox."