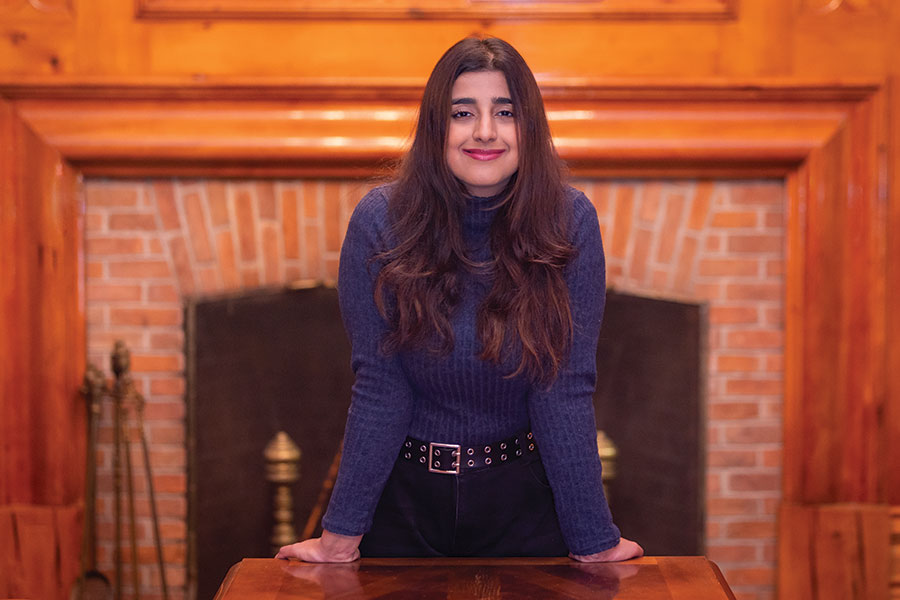 Vitals
Hometown: Karachi, Pakistan
Majors: Psychology and Biology
Pronouns: She/ Her
Campus Involvements: President of Student Senate, General Disabilities Peer Mentor, PR Chair for UNICEF and Islamic Club, Vice President for International Club, Aaina, and STEAM Club
Three Facts about Eeman
Eeman is absolutely obsessed with biology. She enjoys learning about genetics and evolution.
She loves talking to new people and is especially interested in meeting with people who have different viewpoints than her own.
Growing up in a culture where mental health is heavily stigmatized, Eeman wants to break the stereotypes and encourage people to reach out and seek help.
Could you describe your career in the Student Senate and how you became the president of the organization?
I saw potential in the Senate and decided that I wanted to be a part of it. Over the course of my time serving as a senator, we came up with the outflow dispensers, the condom hotline, and the mental health hotline. It is important to recognize that change is slow. The Student Senate opened up an avenue to make a change. It gave me the power and ability to carry out tasks to benefit the community. When the position of president opened up, I saw it was a great opportunity that I couldn't pass.
What is something you've learned since coming to Knox?
In a new setting, away from home, with new people and new ideas, embracing change helped me learn and formed a pathway to grow and become a better version of myself. I also learned early on that Knox is one of the most diverse places I can find, and I recognized that I ought to exploit that. I now have friends from Japan, Uzbekistan, Korea, and so many other places. I have learned a great deal from them. I think it is important to put yourself out there and experience the global culture that Knox has.