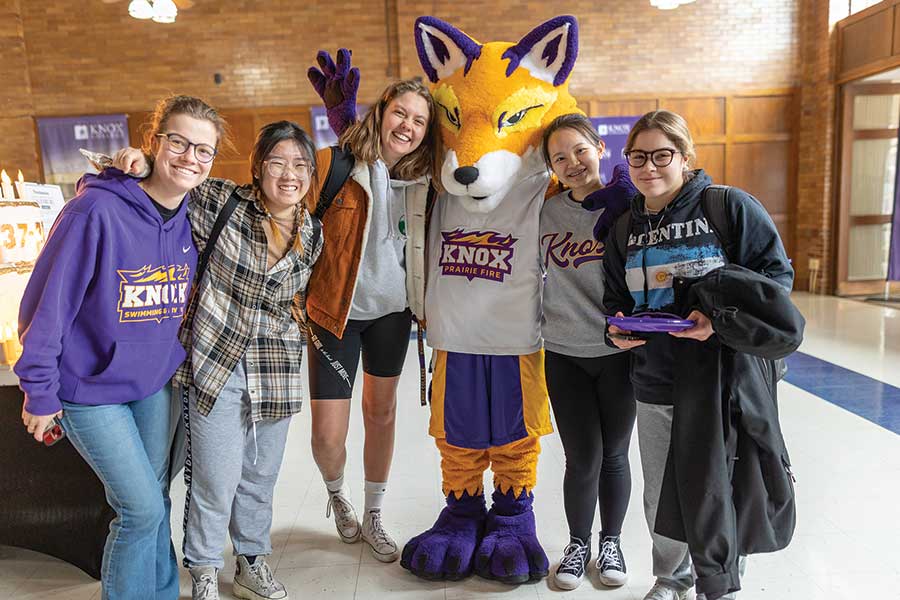 For the first time, Knox College celebrated #KnoxProud Day, an annual day of fundraising, on Founders Day, February 15. More than 1,600 donors contributed over $1.3 million. The funds are used to provide scholarships, opportunities for faculty professional development, athletics, immersive experiences and internships, health and wellness initiatives, and improvements to the residential experience
"Combining these two important days is a wonderful way to celebrate the past and present—while encouraging investment in Knox's future," said Monica Keith, vice president for advancement.
In-person and online events gave students and alumni the chance to learn about Knox's history. Professor Emeritus Lance Factor led the Knox Together Virtual Series webinar, "The Secret Code in Old Main," which explored the history and mysteries of Old Main.
Restaurants in the Galesburg area offered Knox-themed menus to celebrate. On campus, a long-standing tradition featured cake: the Founders Day wooden cake along with edible cupcakes. The enormous wooden cake, designed by former business office manager James Cuthbertson for the 1952 Founders Day celebration, was on display in the Oak Room in Seymour Hall. Knox employees distributed swag. Students reflected on the day and engaged with the College's history through trivia and other events.
"Not only did we get to see students celebrate all things Knox, but it was exciting to see alumni of all ages and from all over show their Knox pride, too," said Christina Smith, director of college engagement. "Ten different Knox Clubs celebrated the day across the country, and alumni of all ages gathered to share drinks and food, bowl, meet over Zoom, and more. Some different class years even met over Zoom to reminisce about their time at Knox. The Knox connections truly last a lifetime."