While some college students spend their summers relaxing by the pool or at the beach, a number of Knox students conduct scientific research or work on creative projects during the summer months; many often work with faculty on specific projects in the faculty member's field of study.
While Daniel Bien didn't spend his summer at the beach, he did get his feet wet working with Katie Adelsberger, professor of environmental studies, on a project that focused on microplastics pollution in area water supplies. "I worked on the sediment side of microplastic recovery," said Bien '22, a major in environmental studies and political science. "I had to develop a proper field collection process that involved using a small shovel trawl," Bien continued. "So essentially, some of my sediment collection had bits of water and was a very muddy sample which was then dried in the lab process."
Microplastic pollution is an increasing concern in water ecosystems. Sampling methods for microplastics in water and sediment are just starting to become standardized. Participants working with Adelsberger learned about testing for microplastic pollution by using lab filtration and field sampling methodologies. Along with Adelsberger, they plan to develop a standard protocol for future research in Knox County.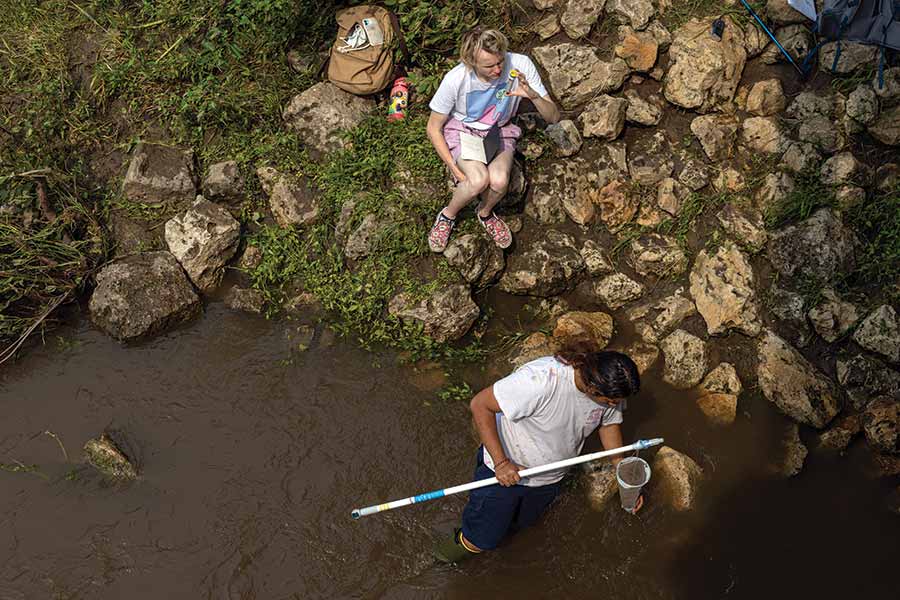 For almost two weeks, the students conducted a literature review to find out about the pollutants and plan how to do microplastic collection and lab work. After they familiarized themselves with the content, the students waded into nearby streams and lakes to gather the samples.
Lemon Marshmallow '24, who has yet to decide on a major, also worked on Adelsberger's project. "This project showed me what it would be like to be in a career field like this," they said. "It demonstrated how much I truly love science, and fueled my excitement to take as many science courses as I can during my time at Knox."
Other students immersed themselves in local history in Abingdon, Illinois. Cate Denial, Bright Distinguished Professor of American History and chair of the History department, introduced her students to the process of cataloging collections at the Abingdon Historical Museum.
"On a typical day, I would write down detailed descriptions of ceramics or books," said Jazzie Lerner '22. "I explored the history of a small town and got some insight into how the people of Abingdon worked together at various times. I realized how much people, regardless of when they lived, have similar worries about their families and the world since I literally held their journals in my hands."
"A lot of students are interested in public history work," said Denial, "which are acts of historical interpretation that occur outside a purely academic setting such as at national parks, monuments, museums, archives, and libraries. The opportunity to work in Abingdon offers students a new way to get hands-on experience in public history."