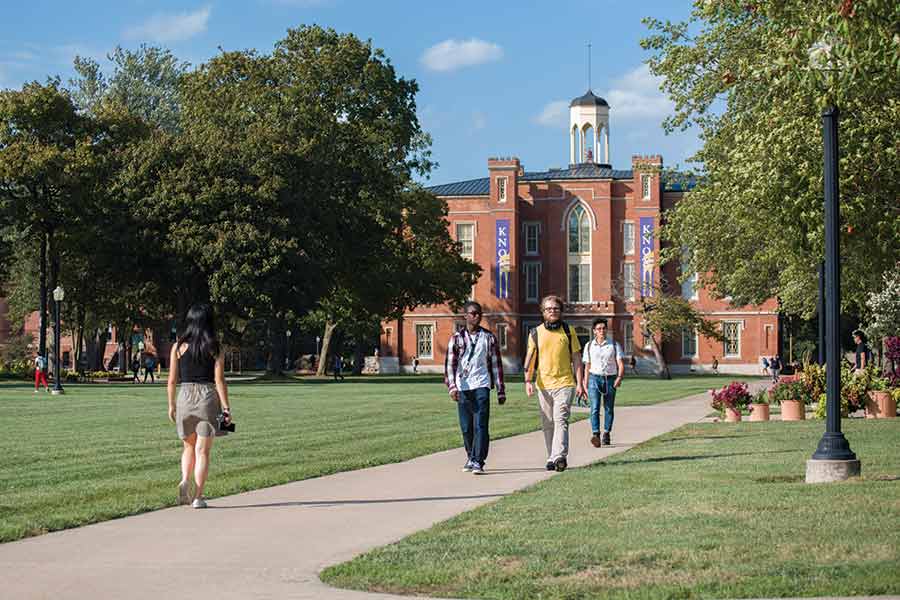 The Andrew W. Mellon Foundation awarded Knox College a grant of $1.2 million to fund projects ranging from archival-based research courses to experiential learning opportunities—all with the purpose of understanding historical and contemporary social justice issues. The projects will focus on "abolition" as both a legacy of the College and a lens to understand its future.
The Abolition Lab projects will be led by a team of seven faculty members and managed by the Associate Dean for Faculty Development Danielle Fatkin. Seymour Library, the Vovis Center for Research and Advanced Study, and the Kleine Center for Community Service will collaborate with the lab. Funding supports experimentation with new courses and programs while also supporting faculty mentorship of student independent study and capstone projects related to the lab.
Faculty and staff will explore a wide variety of projects under the Abolition Lab umbrella. These projects fall into two categories: projects with a strong focus on the College's founding and history to encourage renewed student engagement with materials in the College's archives and special collections while cultivating the skills for assessing them; and projects that explore "abolitionism" in the 21st century, which will seek new ways to inspire student engagement with civic issues using humanities methodologies to pursue social justice aims.
In 2018, the College revamped its general curriculum to include its first civic engagement requirement. The lab will serve as a new vehicle for civic engagement conversations across the humanities. The proposal states that it will "promote sharing of methodologies and interdisciplinary perspectives on civic engagement. It can thus help reinvigorate the course development and approval process to align with social justice priorities articulated for the curriculum as a whole."
Knox grew out of early 19th century anti-slavery activism. A group of abolitionists constructed a new town anchored by a college, grounding their principled opposition to slavery in an ethos of manual work as essential to intellectual achievement. "Knox graduated one of the first Black students in Illinois, Barnabas Root, and the first Black U.S. Senator, Hiram Revels, was also educated at Knox. Knox graduates populated the ranks of teachers in 'freedmen's schools' across the Reconstruction-era South," wrote Provost and Dean of the College Michael A. Schneider in the grant proposal.
In recent years, the College has had among the most diverse student bodies in the Midwest; in 2020, nearly 40 percent of its U.S. students were students of color.
Schneider observes, "Our work under the grant will challenge us to question how faithfully we have pursued the activism of our founders and, more importantly, what should be the focus of our educational mission, in light of that activist legacy, today and in the future."
The Abolition Lab will support multiple projects over a three year period, and develop innovative courses and educational opportunities that will have an impact on the curriculum for many years.