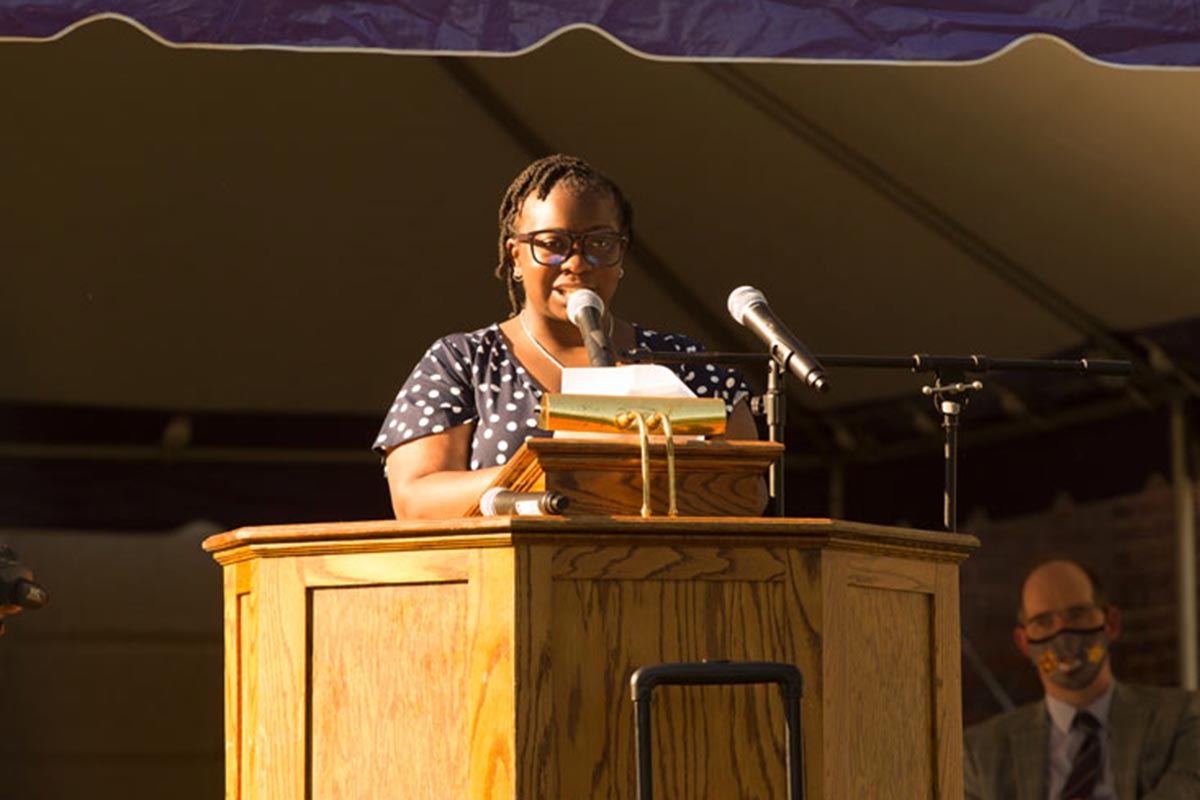 Matrice Young '21 worked at Seymour Library as an undergrad: an experience that was pivotal in her decision to study for a master's of library and information science (MLIS) at the University of Iowa School of Library and Information Science.
Why did you choose to pursue your master's in library science?
At Knox, I worked as a circulation assistant, and I worked on projects like digitizing photos, copy cataloging, and assisting librarians on some of their research. I didn't know the MLIS was a possibility until I got to Knox and spoke to the librarians. I knew I wanted to help people and I saw that the librarians did a lot of that.
How did Knox prepare you for this career?
I majored in creative writing and minored in educational studies and Africana studies at Knox. I did a research project in special collections, looking at authors who had gone to Knox, or were from Galesburg or the Midwest. It was interesting to see how much history we have that most people don't even know exists.
For my independent study project, I made a resource guide, a way to organize and showcase library resources available to faculty and students for education, research, and study. I wanted to figure out how to get more creative writing and English majors into the archives. I tried to find people from marginalized groups—all the women I could find and a few marginalized people, including a Native American man and a man who was deaf. I wanted to make these histories more available for other people.
What do you see yourself doing in the future?
I want to go into curation or collection development, work as a community archivist, or work in special collections and archives in a public library. I'm interested in how we make an academic library and special collections more accessible for a wider range of audiences. The collections are not just for academic communities, they are for the local communities as well. It's not just the college's history, it's everyone's history.
I want to curate collections that are more than just eurocentric, more than revolving around white individuals, which is what most special collections and archives include. I'm also interested in helping the community preserve their own materials. Most marginalized people don't want to give their histories to the college or university, which is understandable. For example, why would indigenous individuals want to give their history to us when we've already taken so much from them? I believe that we should be helping the communities these collections belong to preserve and archive their cultures rather than taking from them. Something I'm still learning about that relates to this concept is the post-custodial archive model. This model separates records management and the physical housing and custody of the items. The individuals who own the materials keep them, and archivists help provide some oversight on managing the records of them. It's one of the best things I've seen for working with the community rather than taking from them, especially for an institution that is not primarily community based (such as an academic library), and as such, it's something I'd love to be involved in if I'm not working within the community primarily already.