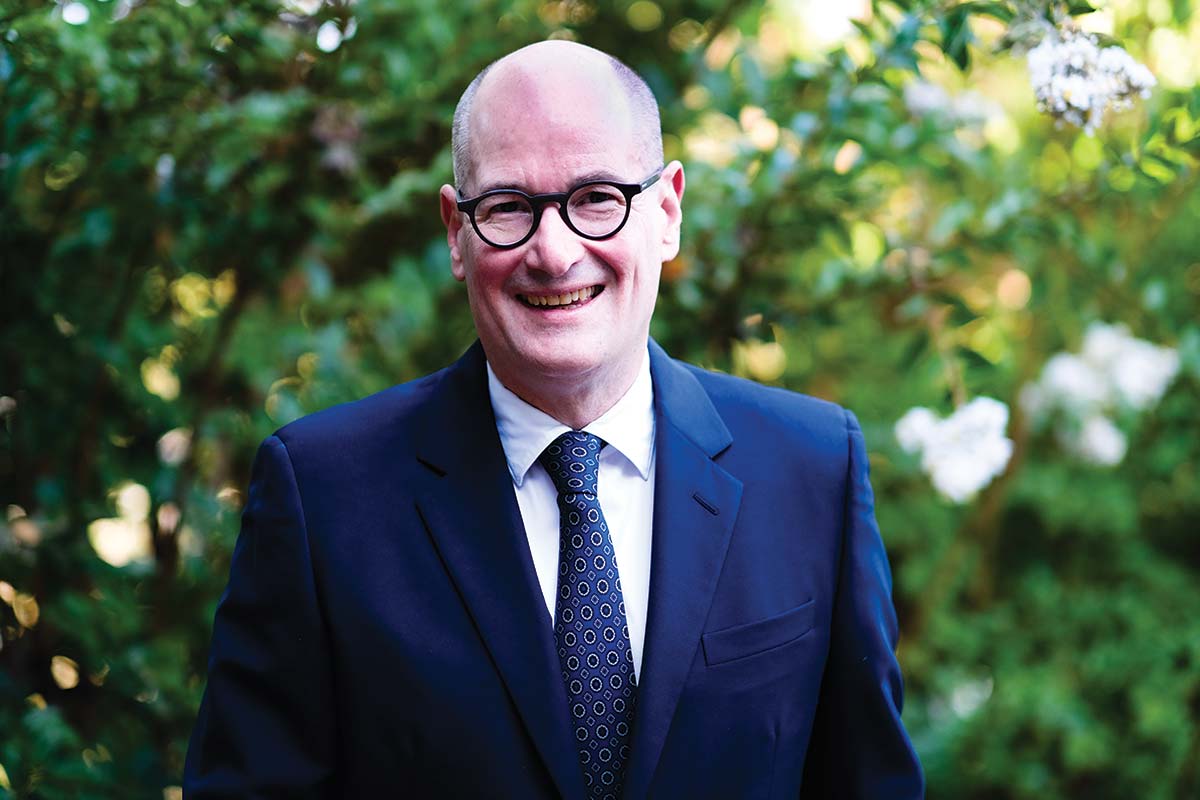 Tony Etz '83 grew up with purple and gold running through his veins; he is a fourth generation Knox alumnus. His grandfather, Robert Murphy '31, was a longtime member and former chair of the Knox Board of Trustees, and his great grandfather was a first-generation college student at Knox, coming from the family farm in Geneseo, Illinois. Tony's uncle, Jim Murphy '82, also attended Knox.
"I was very close to my grandfather and saw how he valued the College and what a responsibility his leadership roles were for him. I feel the same," said Etz. "I always knew how special Knox was, and how deeply my grandfather held the College in his heart. Following one year elsewhere, I was fortunate to transfer to Knox. It was the key that fit my lock. I made a lot of good friends and was able to get involved in a lot of activities, like Union Board and Catch. I didn't have a clear academic direction when I came to Knox, but I became an English major because I found strong connections among the faculty in that department."
Following his graduation from Knox, Etz attended the Writers' Workshop at the University of Iowa. "At Knox, I had great opportunities to explore leadership. I also appreciated the mentorship I received from (Professor) Robin Metz and a number of different professors. The entire English department was very encouraging, and that's how I ended up going to the Iowa Writers' Workshop. I did like the process of being in a workshop and writing, and my experience at Knox prepared me for the education I received at Iowa."
After earning his M.F.A., Etz moved to New York for a stint working in the film business. He then moved to California to produce television movies and miniseries but wanted a career change. He landed at Creative Artists Agency (CAA) as an agent and has had a successful career there for the past 27 years, representing talent and packaging television shows. He also teaches media classes as an adjunct professor at the University of Southern California.
What do you look most forward to during your tenure as Board chair?
Without any question, the partnership I am developing with Andy McGadney, the new president of Knox. We have worked together since we both officially started our new roles in July, and I have become increasingly excited by the opportunity his presidency offers us. I am fully convinced we made the right choice for a president, and look forward to helping Andy realize the full potential of Knox College.
In what areas would you like to see Knox progress during your time as Board chair?
We have a great Board, and a great group of people on the Board. Now, we have to do more to diversify our Board, not only in terms of ethnic or gender representation, but also in terms of economics and non-graduates of the college. We would benefit from more diversity of viewpoints across the entire spectrum, and we have to try to enhance this diversity quickly.
The trustees have created a subcommittee that is going to take a very hard look at these issues. They are already working, and our goal is to have some recommendations within the first few months of 2022.
What do you believe is Knox's greatest challenge right now? Greatest opportunity?
Our greatest opportunity rests in what already exists at the College. We have truly exceptional faculty who are dedicated to their students and to teaching. We have fantastic staff who really care about the College. Everyone deeply cares about the students. Starting with this foundation gives the College a huge advantage as we go forward.
Our biggest challenge is going to be the pace at which we accept change. Every college in the United States is confronting the question of how they are going to evolve. The institutions that are going to succeed are the ones that are willing to truly change, and at a pace unusual for higher education. As a community, we have to be willing to lean in to change. I like the John Wooden quote, "Be quick, but don't hurry." That's how we need to think about our pace of change.
What do you see as the essential elements that you bring to your Board leadership?
I grew up valuing Knox and understanding what it meant to the students, as well as the entire Knox and Galesburg communities. I experienced firsthand as a Knox student why my grandfather was so excited about his alma mater. That strong connection is what I bring to my role; I have a genuine respect and appreciation for the faculty and staff, and I love the way that the mission of the College has remained constant as our student body has evolved. We have so many first-generation students now, we are so much more diverse in all the ways that are great—I feel we are as aligned to the core mission of the College as we've ever been.