Baseball was the first sport played on Knox College's campus, but in the institution's first 100 years of existence, it's not the only one that caught students' attention. "As late as October 1893 and October 1894, Knox sent to the Illinois Inter-Collegiate Oratorical contests not only an orator, but also teams for football, baseball, tennis, and track and field events."1
Thirty-six Knox grads who are in the Knox-Lombard Athletic Hall of Fame (HOF) participated in track and field. The first HOF class was inducted in 1987, and four of the 10 members were listed on track rosters for the College. Many played other sports, as well.
In recent years, Knox track and field athletes have put the College on the map for the program's strength. In the program's history, 17 NCAA qualifying performances have taken place, with four athletes garnering All-American status. Most recently, Derrick Jackson '22 recorded two All-American performances in the 2021 season. Since the program's inception, there has also been one national champion—Mike Pankey '89 who claimed the 400-meter dash title in 1989. While the women's outdoor track and field team is still seeking their first Midwest Conference title, the men's outdoor track and field team has won the Midwest Conference Championship six times—1922, 1928, 1929, 1937, 1952, and 1987.
In recent years, Knox student-athletes have had a lot of success in men's and women's track and field. Jackson will be competing in the 2022 NCAA Division III Indoor Track and Field Championships. The Miami Gardens, Florida, native is ranked 20th in the nation in the 60-meter dash with a qualifying time of 6.85. Last May, he also took part in the championship, finishing fifth in the 100-meter dash finals and sixth in the 200-meter dash finals.
"
You want to see everyone get better. That's how you make sure everyone is having a great experience.
Evander Wells, Prairie Fire head track and field coach
Wells makes immediate impact
Jackson is convinced he wouldn't be where he is without Prairie Fire head track and field coach Evander Wells, who was hired in May 2019.
Wells had a successful sprinting career at the University of Tennessee and graduated from that institution in 2010. He was a four-year member of the Vols and a nine-time All-American, as well as an 18-time Southeastern Conference finalist. What he says resonates.
"Coach Wells has played a huge part when it comes to on the track or off the track," said Jackson, who is also on Knox's football team. "We put in twice as much work as we usually would have because of what happened with the whole COVID-19 situation. Our outdoor season was an example of what's to come with a full season.
"It was a pretty decent season. It was my statement year, but I still feel like I didn't hit my highest points when I should have. I'm slowly getting better," Jackson added. "My block starts got better towards the end of the season. I could have been more explosive at the beginning, but we worked every day, and as long as I got a percent better every day that's all that really mattered."
Wells sits on Tennessee's top 10 all-time list in the 60 meter, 100 meter, and 200 meter dashes, and since he's arrived on Knox's campus, almost every member of the track and field program has set personal record (PR) times.
"You want to see everyone get better. That's how you make sure everyone is having a great experience," Wells said. "Of course, you're going to have standouts. You're going to have some athletes win conference and do some great things, but if everyone isn't getting better, they're not going to have a great experience.
"We highlight everyone after each meet who has a PR. We just want to make sure everyone gets recognition for what they're doing. We're all putting in the same work and it's great to see it pays off for everyone," Wells added. "We see a lot of PRs on a regular basis. My first year here, I think we had 33 athletes and 30 of them ran PRs at some point during the season. 2020 was an interesting year because the first half was cut, but we still had the second half and I think just about everyone had a PR at some point in the season. The vast majority of the team gets PRs in their events and that's just fun to see."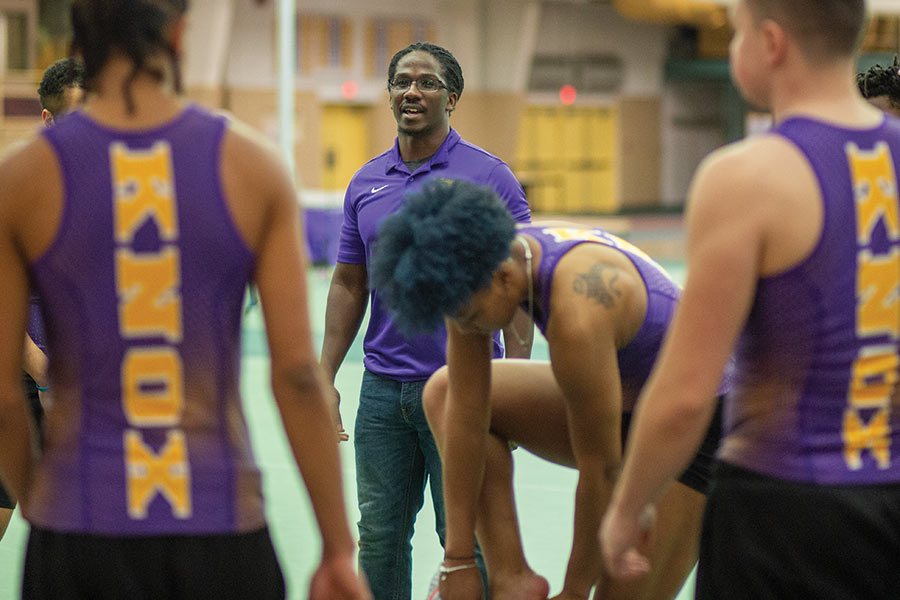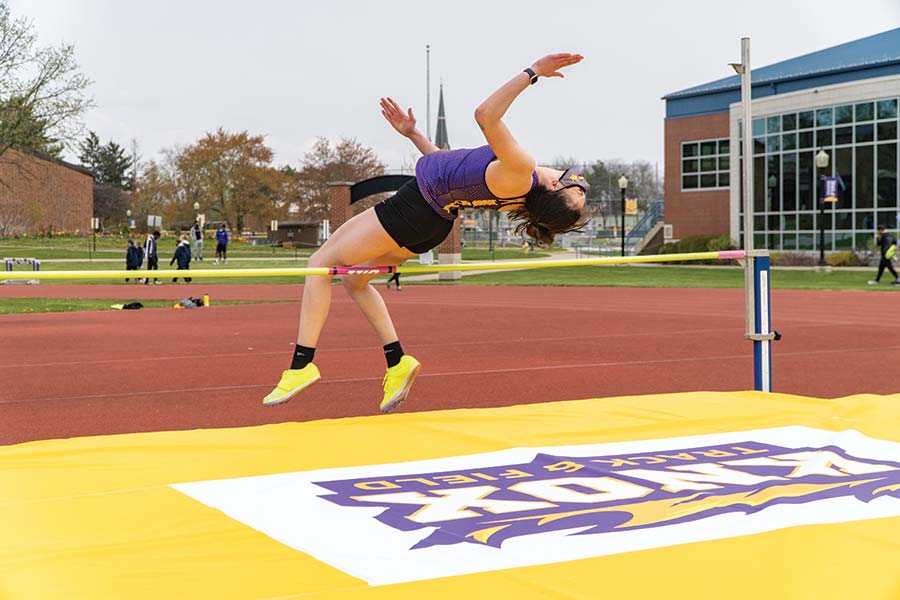 Form, technique tweaks help
From the start, Wells has helped Knox's tracksters improve their form and technique, and with tweaks have come faster times.
"There are always technical parts for every sport and it's just the technique of running and how can each athlete be more efficient," Wells said.
"His number one things are form and technique. Without those you can't run fast," Jackson said. "Coach Wells has taken this program and done a whole 180, and I say 180 over 360 because if you do a 360 you're back in the same spot.
"In one week, we had something like 32 PRs. Everybody has gotten better."
Like Jackson, Lydia Mitchell '22 and Tyrell Pierce '24 are multiple sport athletes at Knox, and the pair agree with his assessment of Wells.
"When I was in high school, I was running a 51 (seconds) in the 400 meter and that was because I didn't really have a good form, and I didn't know how to breathe," said Pierce, a sophomore, who also hits the gridiron for the Prairie Fire. "Coach Wells really taught me how to change my running form, how to breathe and how to be more relaxed. Now, I'm running a 48 (seconds).
"It starts with the mindset," added the Auburn, Alabama, native. "Coach Wells really helped me focus better and on the small little things that help me become faster in track and field."
Mitchell, a senior, focuses on the 200 meter and 400 meter when she has her track spikes on. The Maryville, Missouri, native also hits the pitch for Knox's women's soccer team. Wells isn't the only track coach Mitchell's had while donning Prairie Fire gear, but he's had the biggest impact on her.
"I ran cross country in high school because soccer and track are the same season, so I chose soccer in high school," Mitchell said. "Coming in, a lot of my teammates had high school coaches who knew how to run and to sprint properly, and I never had any of that. I had the endurance from soccer, but I didn't know how to actually run. Coach Wells taught me how to run properly, how to be explosive. It has really helped with my short sprints and my endurance.
"Wells is genuinely invested in us and what we each want to achieve, and he knows my goals aren't the same as Tyrell's or Derrick's," Mitchell added. "Coach has different goals for all of us and makes plans so we can achieve those things."
Room to grow
Knox's track and field athletes have achieved their goals with Wells' help, but there's not much depth. It's one area Daniella Irle, the College's director of athletics, and Wells have focused heavily on. Wells has been hitting the recruiting trail hard, as there's something to say about strength in numbers.
"Numbers is one of the biggest things. We had some conference champs in specific events last year but after that you'll have someone else with a third, fourth and fifth place finisher, so even though we may have the winner in the event they still outscore us," Wells said. "We have to have more depth for each event and bring in more athletes who can score points. We have to continue to bring in good athletes and that's the biggest thing. If we bring in good student-athletes, they're going to do well. The great thing about Knox is we've got everything here to help our student-athletes get better in what they do. We just have to get that right student-athlete here."
"We've been coming at it from a couple of different angles, quality coaches, equipment, and students," Irle said. "We feel like we are another class or two from 40 or 60 instead of 20. We want to grow the size of our program, so we have more depth at events. It helps the College and it helps the other talent."
And what should a prospective Knox student and track athlete know?
"I would tell them that our team is a family, and Coach Wells cares about all of us so much. Just because we have good vibes, it doesn't mean that we don't work really really hard. It's a good environment and you will learn," Mitchell said. "Wells focuses on those little details that you can learn to make habits that will make you successful."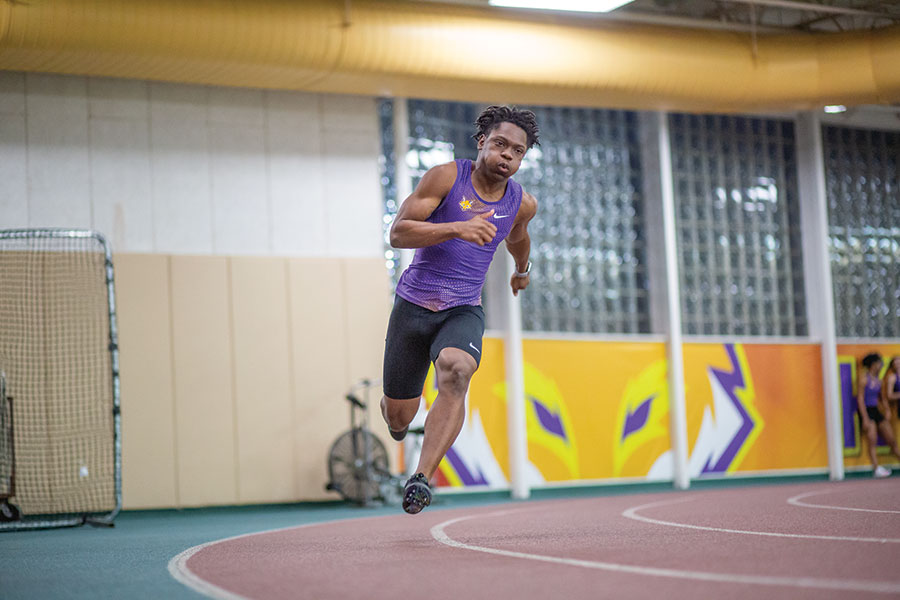 Multiple sport athletes help
Since the College was founded, students have participated in multiple sports, and Wells welcomes those individuals with open arms.
"A lot of it naturally happens especially with a new coach coming in—one of the good things to see was Knox has great athletes in other sports as well so I can take someone who plays basketball. They jump a lot and you can do a jumping event and you should do well. In volleyball you jump, so we can put you in a jumping event and you should do well," he said. "Volleyball is a fall sport. They do get a spring season but it's relatively short, so if I can have a volleyball player come out and compete in track and field, then hopefully they go back to volleyball a better athlete but in the process they help me as well.
"I think one of the great things about DIII athletics is you can come here and make this your experience," Wells added. "If you want to do a fall sport, a winter sport and a spring sport, it's possible. At the Division I level, you're kind of at the mercy of the program that gives you a scholarship."
"We have some really good studentathletes in house and they want to participate in track. They feel it is a program on the rise, and it's fun to be part of a program that is improving and getting better," Irle said. "They're all getting faster, learning, and improving, and that is fun."
1 Hermann R. Muelder, Missionaries and Muckrakers: The First Hundred Years of Knox College (Urbana and Chicago: University of Illinois Press, 1984) 106