In the mid-morning hours of a Saturday last February, then-presidential candidate Andy McGadney answered questions from members of the Executive Committee of the Knox Board of Trustees on his final Zoom interview for the position of president of Knox College. He knew the end of the interview process was near, and the weight of the moment loomed. While Andy waited to rejoin the Zoom session, he and his wife, Camille, attempted to make small talk.
Then the moment arrived: The Board of Trustees voted to appoint McGadney the 20th president of Knox College. Andy and Camille listened to current and former Board members share words of congratulations, inspiration, and they shared their excitement and hope for the future.
Knox Magazine writers recently interviewed President McGadney to explore his path to Knox and his vision and plans to move Knox forward.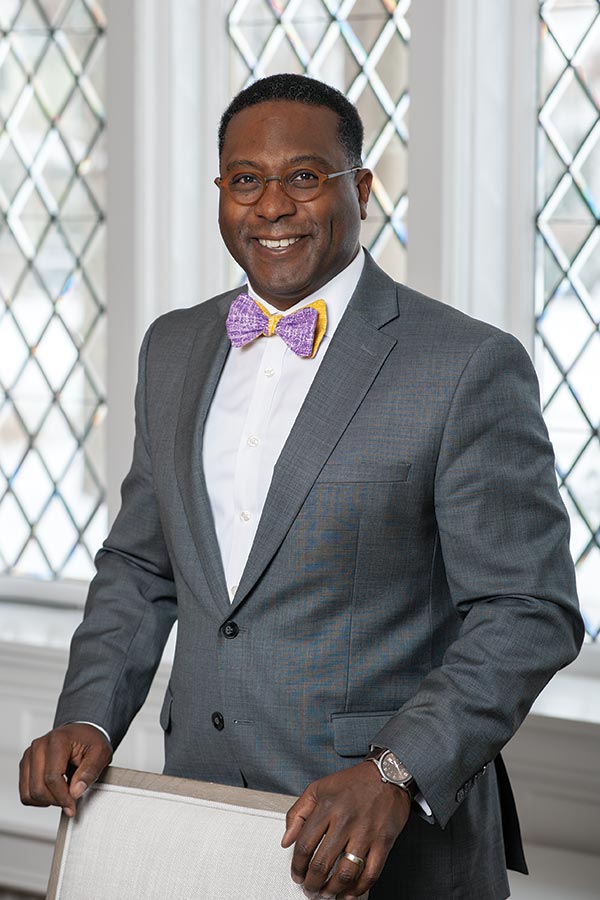 Where did you grow up, and what experiences did you have growing up that fostered your love of education?
I am a Northeasterner with deep Southern roots; I grew up in Bloomfield, Connecticut, a suburb of Hartford.
My parents are from the Mobile, Alabama, area. They understood that opportunity and education were the keys to a successful life. They both had college degrees from Historically Black Colleges and Universities (HBCUs), and yet, for many years, my dad could not find a well-paying, professional job in the South. Eventually, with the support from family, my parents ventured to Bloomfield, where my dad worked as a highway draftsman with the State of Connecticut for more than 30 years.
My love of education comes from my mom, who was a first grade teacher in the Hartford public school system. I have warm memories of many of my mother's former students telling me about the incredible impact she had on their lives. These stories were life changing, and I saw the positive impact one could make on someone's life through education, and that inspired me to choose this path.
What was your first job out of college, and what did you learn from it?
I was an account representative for Otis Elevator. It was a wonderful experience, one in which I learned many lessons. I got the job through INROADS, an organization that provides entry into leadership roles in corporate America for talented young professionals of color.
The most powerful lesson I learned was that respect and the ability to operate successfully in any field are earned through building strong relationships.
When I worked at Otis in the early 1990s there was a sense of division between the office staff and the mechanics. I realized early on that the mechanics were the heart of the company. They were talented, hardworking people who had long-term client relationships, were the first to see changes and challenges, and were problem solvers. I learned so much from them and I had a deep respect for their skills and dedication.
"
I have been focused on listening and learning—hearing where people are coming from, and ensuring I understand the various differences in perspectives.
Tell us about your higher education career after Otis Elevator and before Knox.
A position opened at my alma mater—Wesleyan University—to be part of the annual fund team; this was my pivot into higher education.
After many years in several different positions at Wesleyan, I joined two excellent institutions in leadership roles—Clark University, followed by Colby College.
Along the way, I got a master's degree in public administration and policy from Columbia University, and a doctorate in higher education from University of Pennsylvania. The executive doctorate program at UPenn was life changing and deeply immersive; I especially enjoyed the almost daily thought-provoking conversations with some of the most innovative and influential leaders in higher education.
When I was named as president of Knox, a former supervisor and now good friend mentioned to me that when I was a student at Wesleyan, I told him I wanted to be a college president. The role of president is the fulfillment of all of my higher education passions: Fundraising to support inspiring initiatives for students and the innovative work of faculty, engaging with all members of a diverse community, and leading innovation to put a college on the map in even bigger ways.
What do you most appreciate about small liberal arts colleges?
Small liberal arts colleges are the sweet spot of what our world needs today—places where students are taught the importance of engaging in meaningful research, understanding all sides of issues, and having difficult dialogues in respectful ways about those issues.
These colleges, and specifically Knox, work hard to create an environment where differing opinions can still come together. Small liberal arts colleges have the obligation to ensure young minds are developed so they are open and willing to have difficult dialogues about differing viewpoints.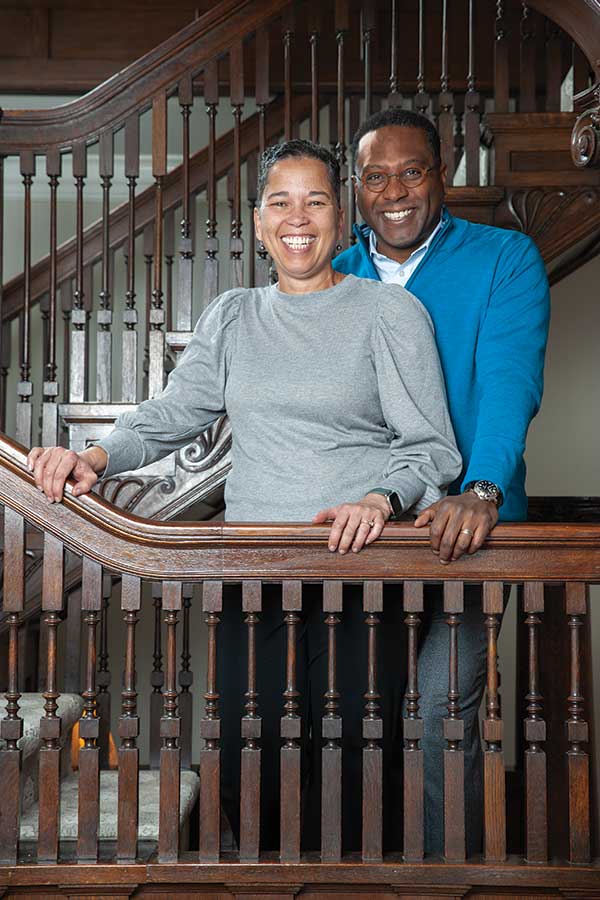 What appealed to you about the opportunity to lead Knox College?
I saw an opportunity to help make a great institution even better. The Knox community has a deep passion and commitment to the College; there is a strong institutional history built over the last 184 years here in Galesburg. I felt an instant connection to the people and the mission, and our community is ready to take bold steps to ensure success for future generations.
What has been your focus during the first months of your presidency?
I have been focused on listening and learning—hearing where people are coming from, and ensuring I understand the various differences in perspectives. I am meeting with students, faculty, staff, Galesburg leaders, and as many alumni as I safely can in person and virtually since I started in this role.
While listening and learning, I am simultaneously working with the Board of Trustees and the senior leadership team on goal setting, and short- and long-term planning. Later this year, in partnership with the Board of Trustees, I will recommend an innovative strategic planning framework that will address several priorities that will be key to our future success, including growing our applications and enrollment, identifying and creating distinctive student programs and experiences, and planning for a comprehensive fundraising campaign, among others.
I have also been working hard on building a highly collaborative and experienced senior leadership team to help develop and carry out our shared vision for the future. Over the last several months, we welcomed to campus Vice President for Student Development MarQuita Barker and Vice President for Advancement Monica Keith; moved oversight of our information technology function under Vice President for Communications and Information Technology Services Lisa Van Riper; created a position focused primarily on strategic initiatives held by Vice President for Strategic Initiatives Heather Bumps; and we are currently in the midst of a national search for a new vice president for administration and chief financial officer.
And while the trustees, senior team, and I have been planning for the future, we have also been working through the continuing challenges caused by the pandemic. Knox has a great team of committed faculty and staff who are constantly collaborating on new and creative ways to continue to offer the unique Knox experience during the pandemic. The Knox campus community is learning to be nimble and flexible—characteristics not usually attributed to institutions of higher education. Our faculty and staff—and especially our students—continue to impress me with their resilience.
"
I want to ensure that I am bringing our community together with a shared sense of pride and aspiration for what Knox can be for future generations.
What do you see as the areas of greatest opportunity to move Knox forward?
The areas that surfaced most often during my listening and learning efforts are priorities that will be addressed in the strategic framework I just mentioned. These priorities include a focus on increasing admission and enrollment, elevating Knox's reputation and expanding its reach, and identifying and creating distinctive student programs and experiences.
I also see our people as one of our greatest opportunities. Our on-campus community, as well as our thousands of alumni, parents, and friends are extremely passionate about Knox. Whether parents of an incoming student, an employee who has worked in dining services for decades, or an alumna who graduated 50 years ago, the passion for Knox is sincere. I want to ensure that I am bringing our community together with a shared sense of pride and aspiration for what Knox can be for future generations.
The College's place and responsibility within the Galesburg community is another opportunity I'm excited to begin addressing. Knox and Galesburg have been dependent on each other since our founding and that is still true today. There have been many successes over the last decade in Galesburg, and I'm committed to continuing to find new ways to partner with the local community. There is a lot of energy around what is possible in the future in Galesburg and we are committed to being an active partner in creating that future.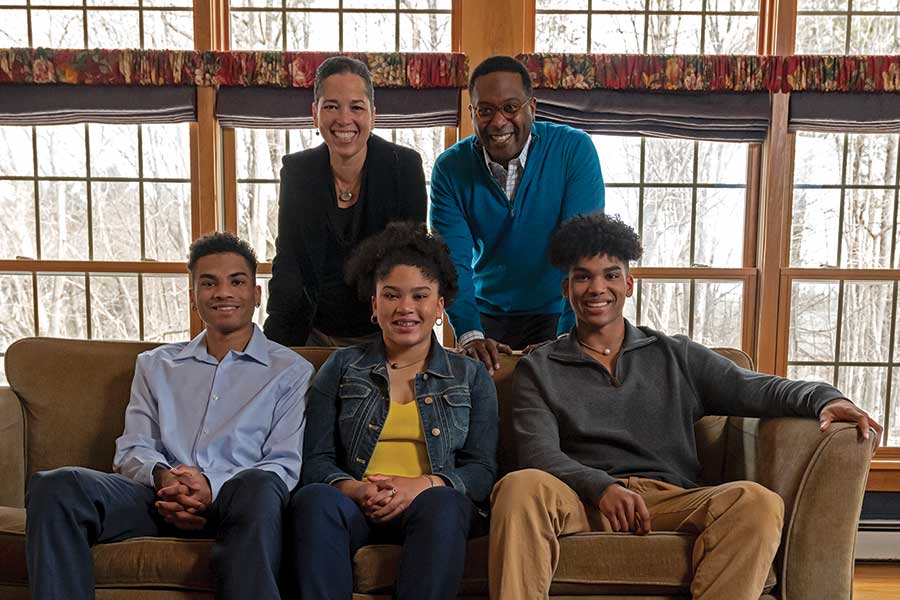 What can our community expect from you next?
Delivering results as I move forward with bold goals and strategic priorities, and a consistent, relentless focus on moving Knox forward. I will continue to listen and engage in meaningful conversations with students, alumni and community members.
What is one of the greatest lessons that you have learned from your mentors that you can share with our readers?
The little things aren't little. Pay close attention and think through the impact everyday decisions and actions have on others. This is one of the areas where my own liberal arts education continues to serve me well. I try to look at every decision and issue from many different perspectives and understand the impact on others.