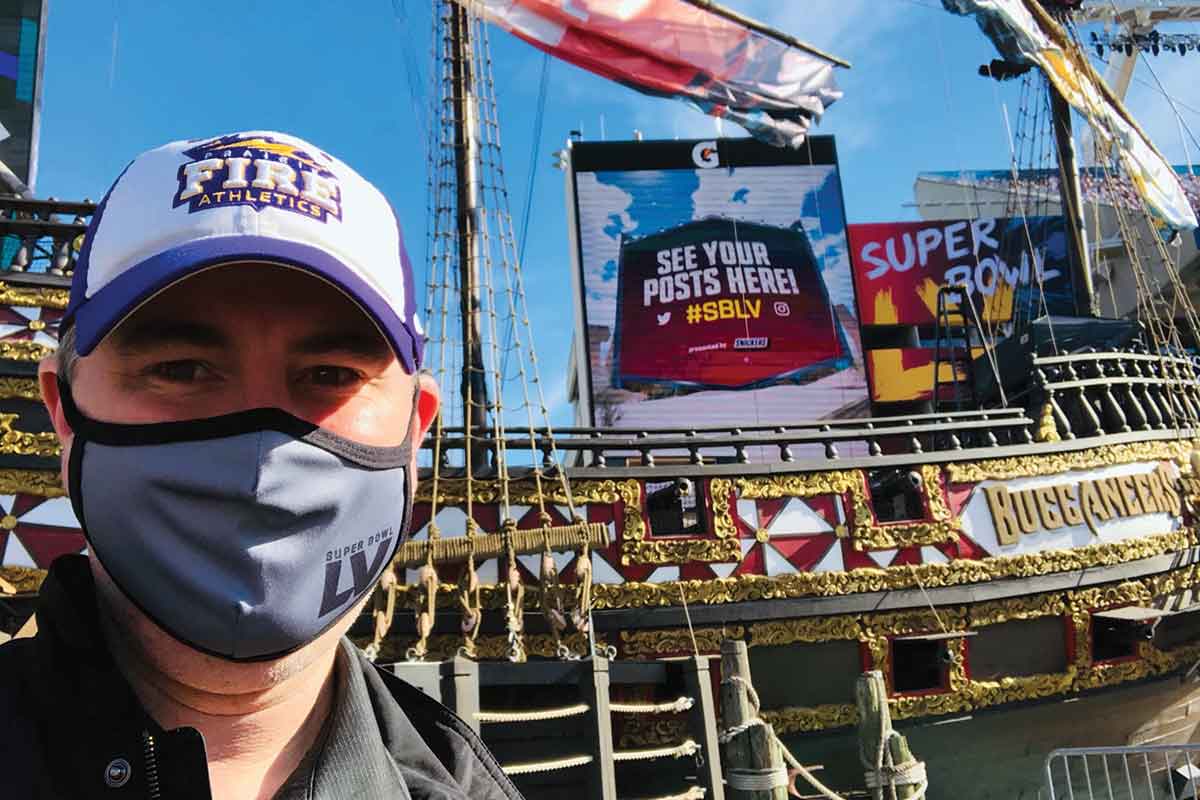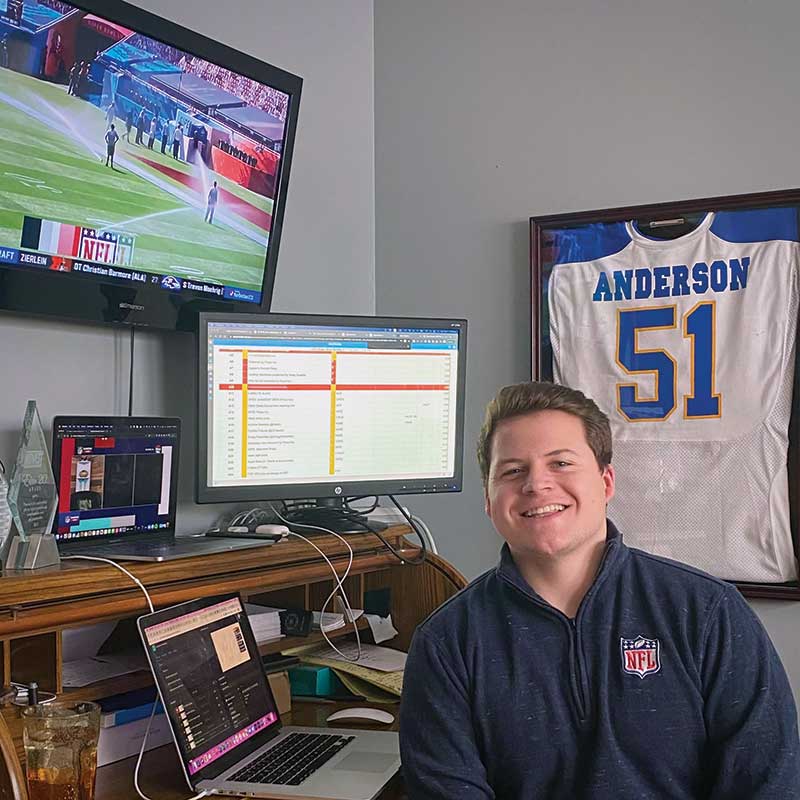 Though they didn't make any tackles, catch any passes, or kick any field goals, two former Knox Prairie Fire student-athletes nonetheless played key roles in the 2021 Super Bowl. Andrew Isaacson '99 and Jordan Anderson '19 were hard at work behind-the-scenes to enhance the experiences of fans in the stadium, as well as those watching from home.
Isaacson is executive vice president of The Famous Group, a Los Angeles-based fan experience company that often works with the National Football League. For this year's Super Bowl LV, The Famous Group produced a seven-hour social media show for real-life fans in the stadium, giving them a sense of the game-related excitement outside the building. The company also powered virtual fans to the "Showtime Cam," a piece of technology that enabled players to virtually celebrate with fans at home.
Working from Raymond James Stadium, Isaacson monitored fans' tweets and Instagram posts and decided which posts to highlight on a giant video board. One of those posts was a photo of Knox Prairie Fire Head Golf Coach K.C. Harding and his family, all decked out in Kansas City Chiefs gear.
"That's a great example of what I was doing. We were powering fans to be part of the game [even if] they couldn't be there," said Isaacson, who had been in touch earlier with Coach Harding.
"I said, K.C., post a photo, use the hashtag #SBLV, and I'll find it, and I'll put it on the video board for you," he explained. "It was great. He kept popping up in the feed. I kept seeing him and his family go by, even as late as the fourth quarter. It was like, oh, there's K.C., there's the family. Sorry your Chiefs aren't winning, but at least you're on the video board."
Anderson, a social media producer for the NFL, worked from his home office on game day. His job involves various responsibilities, such as integrating social media into live television broadcasts, collaborating with on-air talent to produce and curate social media content, and creating content that appears on Instagram and Twitter. On Super Bowl Sunday, he worked on a digital show, GameDay View, created graphics to be used on social media after the game, and created full-screen graphics for another digital show, Super Bowl Today.
Because of the pandemic, the NFL limited the number of employees who could attend the game. While working remotely, Anderson collaborated closely with colleagues, communicating through different apps to largely simulate the environment of being together in a control room during
a live broadcast.
"Although you're a little bit separated, it still feels like you're kind of in the action," Anderson said. "You still feel a little bit of the atmosphere from home."
Anderson took on similar responsibilities for the NFL during last year's Super Bowl, when he teamed up with colleagues in the league's Los Angeles offices. While Super Bowl LV represented Anderson's second Super Bowl experience, it marked the 15th time around for Isaacson.
"It's a real privilege to do what I do. I feel really blessed," Isaacson said, expressing appreciation for the longtime support of his wife, Holly Engelhart Isaacson '99.