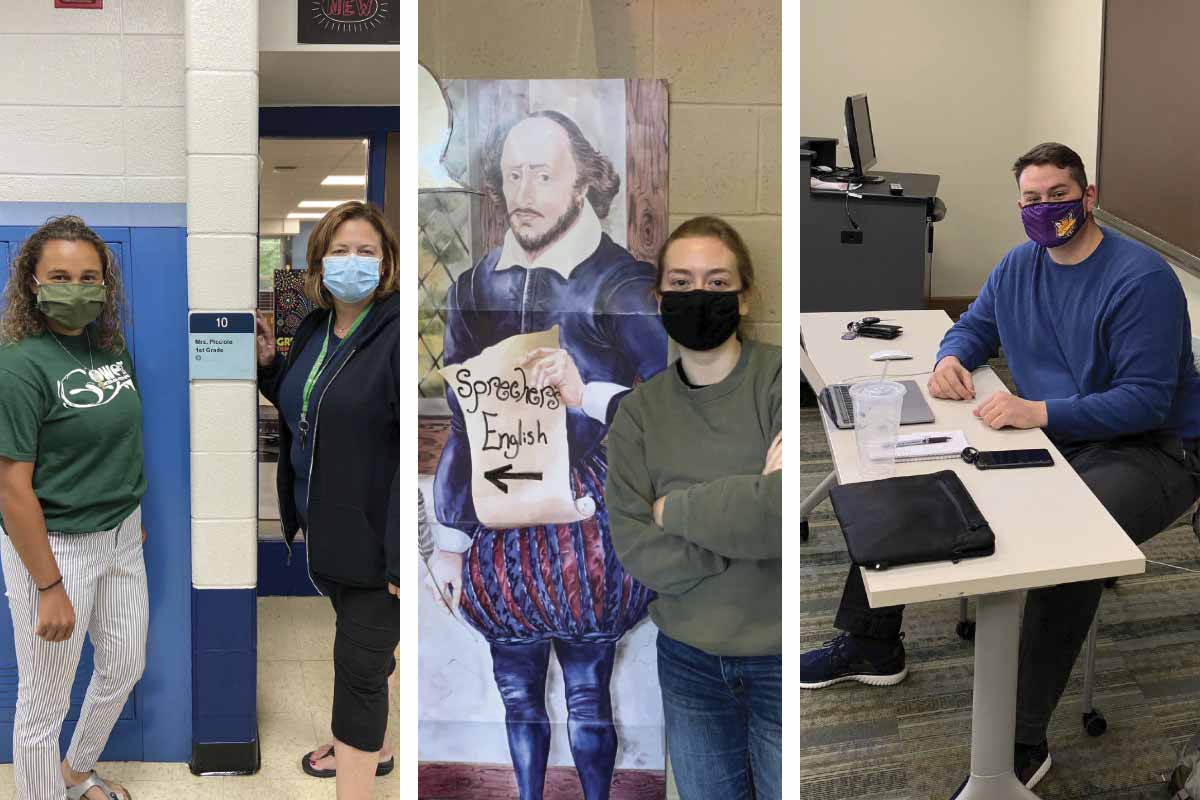 As Eric Thompson '20 was completing his student teaching assignment last fall, his second graders—visible only on computer screens—sometimes talked about how much they missed seeing their friends, their teachers, and the school playground. On rare occasions, some of the children simply said that remote learning was hard.
"It was tough because they were saying what we were thinking as well," recalled Thompson, who taught at Steele Elementary School in Galesburg, Illinois, with Molly Kleine as his cooperating teacher.
Thompson is among 27 Knox College educational studies students fulfilling their student teaching requirements during the 2020-21 academic year—an especially stressful time for many schoolchildren, families, and teachers because of COVID-19. The pandemic has forced school districts to continually revise their plans on how to provide students with an education. As a result, student teachers have to prepare to work in environments that can run the gamut from all-online to all-in-person learning, with some schools operating under a hybrid model that includes elements of both.
Kristen Strom, coordinator of teacher education at Knox, said that since spring 2020, she and other members of the Knox educational studies faculty have adapted classes and assignments to ensure that student teachers would be prepared for a remote or hybrid teaching environment. "What we've been saying is for the students to keep in mind flexibility, adaptability, and understanding that everyone right now is going through a learning experience, even the cooperating teachers," Strom said.
"Technology will fail, a lesson won't go the way you wanted it to, and you will have bad days. These things will happen, and you need to be able to roll with the punches and keep moving forward," said Jaynee Bowker '20, who completed a hybrid student teaching assignment at Knoxville High School last fall and was recently hired by the school as a long-term substitute.
Katy Coseglia '20 completed her assignment teaching first-graders at Gower West Elementary School in Willowbrook, Illinois, which she attended as a child—first with a hybrid schedule and then all in-person. "I really learned that it is important to take one day at a time because student teaching during this time is definitely very different than in years past."
Some Knox student teachers have been working from on-campus classrooms in George Davis Hall (GDH) this winter, using the building's computers, whiteboards, and other equipment to help them teach online more effectively.
Connor McClelland '21 set up a classroom in GDH to teach biology and environmental science at Galesburg High School, where he teamed up with teacher Carole Buebe. McClelland said his cooperating teacher shares a similar perspective. "Mrs. Buebe always says, 'handle it with grace.' These troubling times call for grace, and it is our job as teachers to try and provide some of that grace to our students."