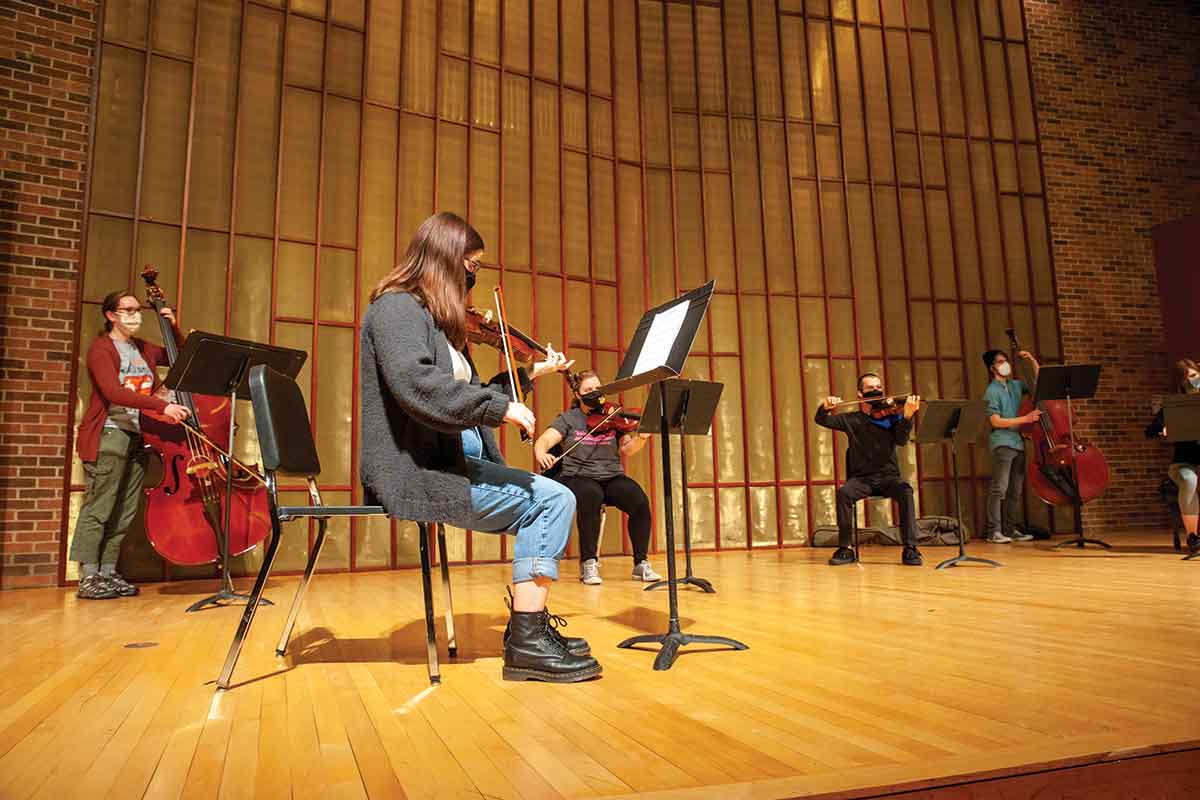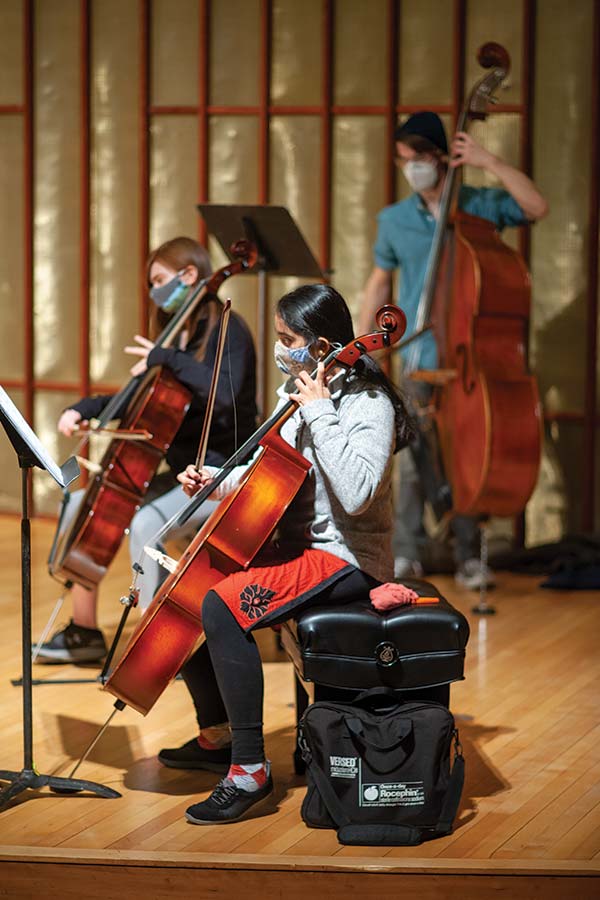 The scene: Kresge Recital Hall. Onstage, seven students—all wearing masks—make last-minute tuning adjustments before rehearsal. Professor Pierce Gradone, interim director of the Knox String Ensemble, stands on the edge of the stage looking over a particularly tricky section of "Les Cinq Doigts" by Igor Stravisnky. Gradone's dog, an old beagle named Marlyn, finds a cozy spot between the rows of empty seats for a quick nap.
This is the Knox String Ensemble, reconfigured for pandemic conditions. The six feet of space between each member of the ensemble presents unique musical challenges, their repertoire is demanding, and they've only got 30 minutes of rehearsal time a week to learn it. But they're all here, and they're ready to play.
For Gradone, though he has participated in countless ensembles, this has been his first time actually directing one. Because of the COVID-19 pandemic, the ensemble—which has typically consisted of both Knox and Monmouth College students under the direction of Monmouth's Carolyn Suda (who also teaches cello at Knox)—is made up of Knox students exclusively. It also features some uncommon instrumentation: one violin, two violas, two cellos, and two basses. (Traditionally, as with a string quartet, violins are the predominant instrument in a string ensemble.)
Because there are hardly any pieces written for this collection of musicians, Gradone has adapted by arranging piano works by Hungarian composer Béla Bartók and Russian composer Igor Stravinsky for stringed instruments. "In doing so, I was hoping to introduce the students to music of the 20th century, as well as provide a chance to incorporate some of the contemporary playing techniques that these composers used in their music," he said.
This new ensemble experience has done wonders for students like Sarah Borchert '24. As a first-year student—and as the only violinist in the group—Borchert initially felt timid about playing with the ensemble. However, the environment cultivated by Gradone and the other students gave her the confidence to take on the challenge. "The dynamic of the group as a whole is really supportive. You don't have to worry about making mistakes because we all make them; we all just want to have fun and make music."
Bassist Wesley Breyer '21 believes the ensemble has offered a sense of serenity that would otherwise be difficult to come by during this time. "Even if there is no one there to listen, musicians play for a variety of reasons: to express emotions, to find peace, and to understand a little more—both in ourselves and outside ourselves. When we are able to play with others, we share this: bringing everyone together."
Borchert agrees. "All of my classes are via Zoom, so rehearsals are one of the only times I get to see people that I wouldn't normally see face-to-face. "Music is like therapy for me. It is hard being a college student, especially during a pandemic, but playing my violin gives me an escape."
Gradone emphasized his admiration of the students' professionalism and musicality. "One of the biggest reasons that I volunteered to continue the String Ensemble is that we have many talented string players at Knox this year, and I really wanted to give them a chance to make music with their peers."