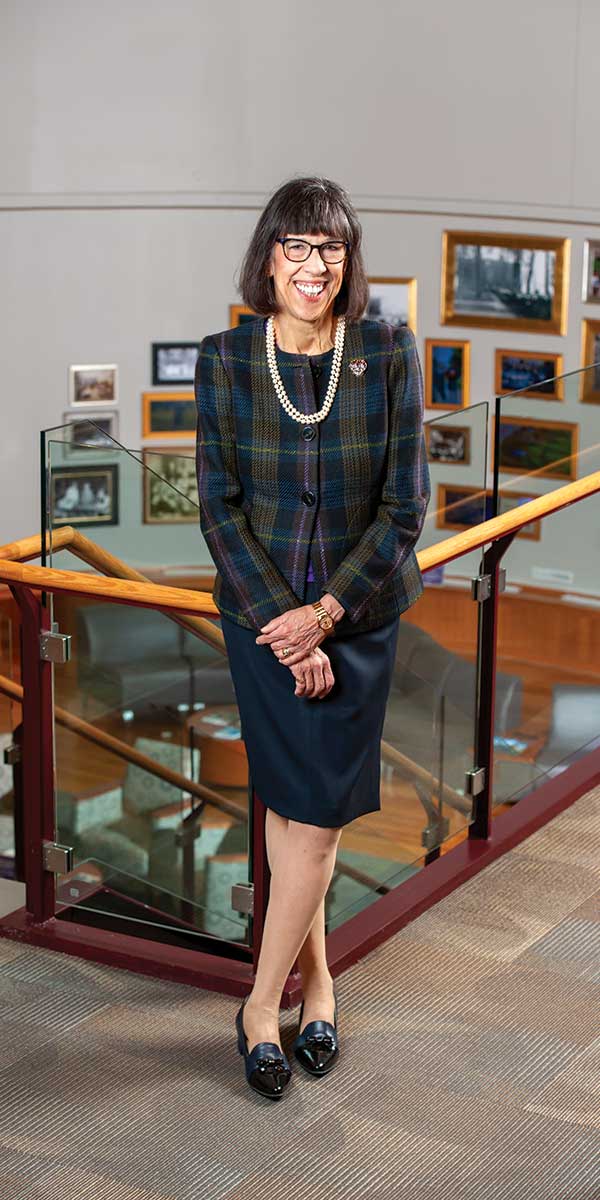 For the past decade, it has been my privilege to share my thoughts with you in this column. I've written about many topics over those years, including the value of a liberal arts education, the challenges facing small colleges like Knox, my admiration of the Knox alumni I have met, and the need for civic engagement and open dialogue in a polarized society. And I have been grateful that many of you have not only read my columns, but responded to me in person or over email with your thoughts. This column has surely been the hardest to write, as I approach my retirement with a flood of emotions and many parting thoughts. I have started and scrapped so many versions of this final column—should I write about the important role of liberal arts colleges in educating for democracy, the opportunities created for remote learning, the racial equity imperative, the urgency of climate change, the sustainability of the liberal arts college business model?
But the deadline has finally arrived, and so I have decided to devote my last column to the future: today's students who are tomorrow's leaders, inventors, entrepreneurs, artists, changemakers. This is our mission, and we are privileged to "touch the future" in our work, as teacher-astronaut Christa McAuliffe said 35 years ago. The profession of educator is a profoundly hopeful one. Every fall orientation is a fresh beginning, every Commencement a sending forth, each of these an opportunity to make the future different from the past. We work together for outcomes we may never see, and yet we trust that our students will create a better future for themselves and generations to come.
Today's students have experienced a set of hardships unique in our history as the past year has forced upon them a kind of college experience that is completely unprecedented: masked, socially distanced, confined to their rooms during quarantine times, separated from family and friends. As I have thought about these COVID-era students, I have wondered how they will be marked by the hardship and the grief that we have all experienced during this past year. These musings lead to thoughts of my parents, both them born in 1922, my father in Kansas, my mother in Rio de Janeiro. My father grew up in very modest circumstances during the Great Depression. He served in the Army during World War II, graduated from college with the help of the GI Bill, and then served his country in the U.S. Foreign Service. He and my mother, who had an 8th grade education, sent me to college and to graduate school and took great pride in my career. Their generation endured prolonged hardship, made extraordinary sacrifices for their country, and transformed this country as they built families, careers and communities. And for this reason they have been dubbed "the greatest generation."
"
The profession of educator is a profoundly hopeful one. We work together for outcomes we may never see.
Each year at Commencement, I repeat our Galesburg poet Carl Sandburg's remarkable words when he spoke at the rededication of Old Main in 1937. Of Old Main, he said:
"Here from my windows generations of the young have gazed out on the world, gazed in on themselves, some asking questions: 'How and why do we live? And while we live what is worth looking at, what is worth listening to? What might be worth dying for?"
Of youth, he said,
"What young people want and dream across the next hundred years will shape history more than any other motivation to be named... None shall look at this hour and say we did not have hope and faith in them."
Today's students are digital natives; they are creative, entrepreneurial, empathic, deeply angered by inequities, passionately committed to making the world a better place. And at Knox, they have developed the disciplined habits of an inquiring mind. They exemplify the particular strengths found in every Knox alum: breadth and range of interests, zest for lifelong learning, a commitment to service to humanity.
I have hope and faith in this pandemic generation, that their experience of a global pandemic will mark them for good; that they will indeed shape history and take up the many challenges laid bare by these pandemic times: to heal a troubled world, push back the frontiers of scientific knowledge, bring home the millions displaced or imprisoned by climate change, violence, and persecution, address the root causes of group hatreds.
It has been the privilege of a lifetime to lead this institution during this difficult and frightening year. Thank you, every member of the Knox community, for giving me this opportunity to serve.
The entire Knox community—faculty, staff, students, parents, friends, and alumni— has risen again and again to the disruption and loss posed by the pandemic, and I am so very proud of all we have done together during this time. I look forward to Andy McGadney's leadership in this next chapter of the Knox story; he is the right leader at the right time.
And I close this last magazine letter with one abiding hope and faith: that this generation of students will be the next greatest generation.
—Teresa Amott