"
Any time I got the itch to do something different at Ford, I did it. There was some familiarity because it was the same company...but it was still dramatically different, like starting a new job in many ways.
The first car John Lawler '88 owned was a white 1983 Ford Mustang. In October 2020, almost 40 years after that Mustang rolled off the production line, and 30 years after he first joined Ford as a finance analyst, Lawler was named as the global automaker's chief financial officer. Today, his preferred ride is still a Mustang—the 2015 anniversary edition.
Despite his penchant for Fords, Lawler didn't set out to pursue a career in the automotive industry. After he graduated from Knox and completed an MBA in finance from the University of Iowa in 1990, he decided to apply for a position with the automaker because it was known as an excellent training ground for finance professionals.
It turned out to be an interesting moment to get into automotive manufacturing. The early 1990s were a period of transformation, when the focus in vehicle development had shifted to safety and reducing carbon emissions. Non-domestic competitors were a threat; back then, they had better technology than domestic automakers. The product development cycle was also much longer than it is today; it took five to six years to develop a product. "You'd build a vehicle, launch a vehicle, and then, after a few years, we knew that the consumer needed a new vehicle," said Lawler.
Today, the global auto industry is an intersection between industrial manufacturing and high tech, and the product development cycle has been cut almost in half. The accelerated product development time frame reflects a much greater pace of change.
"The threat today is not just from other auto manufacturers; there are now lots of competitors from the tech world. Cars are now connected, and we use the data from cars and consumers to ensure we are providing what our customers want," explained Lawler. "The capability to upgrade the vehicle over the air slows the aging of our vehicles and provides upgraded features."
So how was Lawler able to adapt and thrive in an industry that has changed so dramatically? "A great liberal arts education teaches you how to live with a growth mindset," he said.
A "growth mindset" is the term Stanford psychologist Carol Dweck coined to describe how successful people approach setbacks and failure. Instead of assuming they have reached the limits of their abilities, those with a "growth mindset" are motivated by those challenges to learn more, try different approaches, and keep developing their talents.
Lawler discovered the difference this mindset could make when he took his first overseas position within Ford. In 1996, he was sent to Japan to run financials for one of the first programs in a collaboration between Ford and Mazda. "When I got to Japan, I started there approaching my new role from a closed point of view—a 'this is how we do things' way of thinking."
He realized that wouldn't work if Ford wanted to become a truly global organization, and he looked back to his undergraduate experiences to show him a better way. "At Knox, we worked on group projects and completed projects with classmates from different cultural and educational backgrounds. We pushed the edges, and kept an open mind about everyone else's point of view." As time went on, he developed a deeper awareness of the team around him in Japan, and adjusted to a much more open way of working within other cultures.
His success in Japan led to other international assignments. Lawler served as controller of Ford Europe's product development organization for three years. He then moved to China with wife Inga Johnson Lawler '90 and their three children. There, his role expanded far beyond his previous focus on finance—as CFO for Ford Asia Pacific and Africa, he found himself as part of the team setting the company's business strategy in that region.
In 2012, he was tapped to lead Ford China, where the company was making aggressive investments to grow its market share, as its CEO. During his tenure, Ford's growth in China reached record levels, selling more than 1 million Ford vehicles in 2015. Lawler also led an initiative to help reduce traffic congestion by partnering with Dida Pinche, China's largest carpooling app, to pair Ford drivers with ride seekers.
"I believe that if I had graduated with a degree in business from a large public university, I would not have been able to adapt to other cultures as well as I did; to understand their perspectives. Every time I went overseas, I approached the new role and team with a respect and understanding that I was coming into their culture and was going to learn from them, versus the attitude that they were coming into my culture."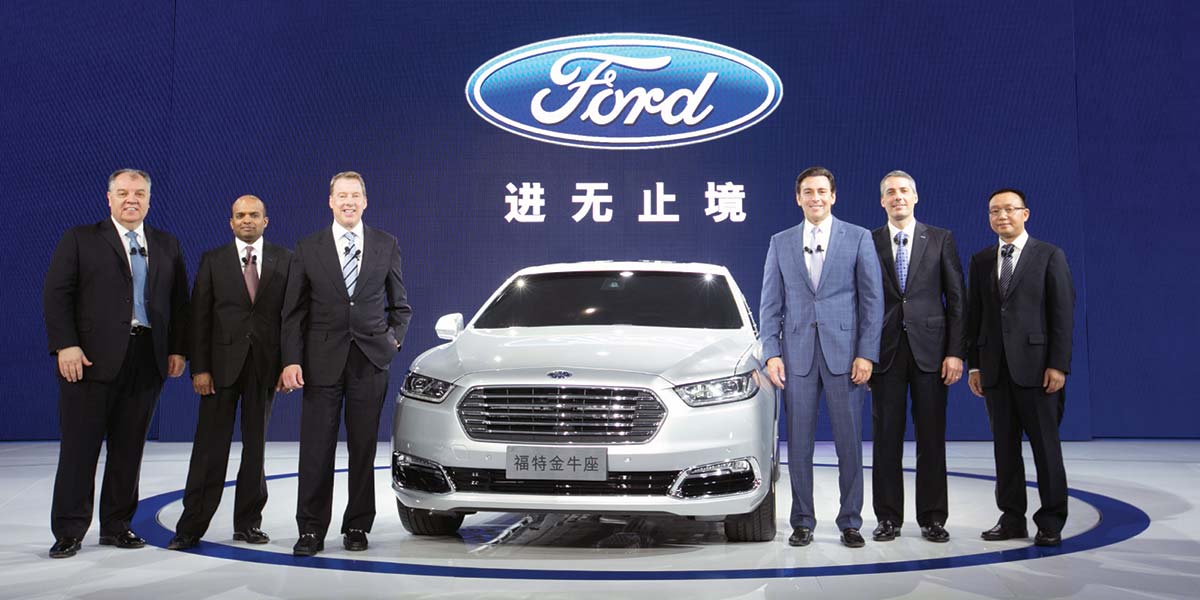 Lawler's most recent roles within Ford—where his responsibilities have included everything from global strategy and data analytics to preparing the company's entry into the autonomous vehicle market—highlight how much the company has changed since he joined it three decades ago. Exciting innovations are on the horizon at the automaker, with a focus on electric vehicles. "I am especially excited about the electric van and the F-150 [pickup truck]—which will be introduced over the next year or so [E-Transit late in 2021, F-150 in mid-2022], and they will be game changers," said Lawler. "We are thinking about these vehicles as connected ecosystems that will improve productivity and enhance our consumers' commercial businesses. Ford is now transitioning from what's traditionally been a transactional model to a lifecycle engagement model."
In his industry, change has been a constant, but it is hardly predictable. "Everybody talks about managing change. Is anyone really managing change? How are you managing, growing, and adapting to new environments? Think about the different frameworks you use to make decisions and how you are influenced based upon your background. Should you be thinking about different mental models and how you approach a problem? Look at it from a different angle."
The constant transformation that has marked the industry helps explain how Lawler has spent his entire career at a single company without losing touch with the growth mindset he developed at Knox.
"Any time I got the itch to do something different at Ford, I did it. I've had multiple careers within Ford. Living and working overseas was something Inga and I, and our children, enjoyed. There was some familiarity because it was the same company, and that made it a bit easier, but it was still dramatically different, like starting a new job in many ways. Now, I lift my head up and it's been 30 years."
As he looks forward to a world of autonomous vehicles and electric vans, however, some things haven't changed. Lawler's all-time favorite Ford vehicles, the Mustang, the Bronco, and the F-Series truck, are still in production. And the work of keeping Ford in step with the needs of the next generation of drivers still requires the skills he learned in Galesburg back in the Eighties.
"My Knox education gave me a lifelong appreciation that there's never one right point of view; that issues are complex and there's never a perfect answer—just a good answer. You pivot and adjust, and you keep learning, and learning how to learn."