At the 2019 Business Intensive Seminar, Jim Foley '78 (center) takes a look at Ajay Gutsafon's work in progress as Neori Yasumaru (right) completes her own sketch.
Jaelon Brooks '22 and his teammates haven't yet completed their Knox degrees, but last fall, they were able to take on the role of turnaround consultants—experts in reversing the fortunes of struggling companies. Tasked with developing a turnaround plan for Crocs, the team asserted that the casual shoe company should expand its product line by selling rain gear, swimwear, and shower footwear, too.
"In the long term, we want to see Crocs continue to stay in the footwear industry, but we need to see them add new items," Brooks told a panel of alumni judges. "We believe that Crocs will be successful in adding rain and aquatic apparel because they create the rubber materials already." Fellow team member Behrooz Dinyarian '23 called on the company to beef up its e-commerce efforts, a move that would expand its global presence.
Those insightful recommendations represent just a couple of examples of the skills and knowledge that Knox students gain at the Knox College Business Intensive Seminar. Led by Jim Foley '78 since 2017, the short-term immersive experience helps students understand how the business world likely will have an impact on their careers, no matter what their academic interests are. Students in the program explore various business-related topics, including leadership, innovation, marketing, emotional intelligence, ethical business decision-making, design thinking, and entrepreneurship. For their final project, a case study, students analyze a specific company and come up with recommendations to improve its outlook.
Learning about business fundamentals "shouldn't be something scary and shouldn't be something that is in any way meant to force [students] down a path different from their real passion," said Foley, who directs the Turner Center for Entrepreneurship and the Illinois SBDC International Trade Center at Bradley University. "It's just that the truth is business really does touch so many segments of our society. Regardless of your major, you very likely will have some sort of a career involved in business."
"Business needs the perspectives and insights that English majors and scientists and mathematicians and economists bring," Foley added. "There is a role for quite narrow-focused people in the business world. But on the whole, there's a stronger need for the more holistic, broader-perspective individual, which you get naturally through a liberal arts student. That's why studying business from the context of the liberal arts is a very natural combination."
"
Regardless of your major, you very likely will have some sort of a career involved in business.
Jim Foley '78
Foley is exceptionally qualified to lead the Knox Business Intensive Seminar. The Galesburg native started off as a computer science major at Knox and later decided to create a self-designed major that blended business and computer science. Nowadays, he said, that field of study is known as management information systems. He launched a career in the software industry after graduating from Knox and then earned an MBA from the London Business School at the University of London. Before taking on his current responsibilities at the Turner Center, Foley worked all over Europe, in Los Angeles, and in Mexico City. His overseas business experience includes positions in marketing, sales, and corporate management in the computer industry.
Foley said that one reason he became, and has remained, involved with the Business Intensive Seminar is "because I love giving back to Knox." Knox loves him, too. He consistently earns positive feedback from students, faculty, staff, and alumni for his work.
"It's a great fit," said Knox faculty member John Spittell, Joseph E. and Judith B. Wagner Distinguished Professor of Business and Management, Executive in Residence and chair of the Department of Business and Management. "He brings an energy, he's got a good personality, and he's engaging. He can power students up."
Spittell observed that while the Business Intensive Seminar allows students to pick up new business-related skills, they're also integrating lessons they've already begun to learn during their time at Knox: how to think critically, how to analyze critically, and how to deliver effective oral presentations.
Foley "helps students think beyond the surface of business and ask questions and go deeper, tying in the liberal arts," said Eric Johnson, the Knox associate director of alumni engagement for campus connections who works with Foley on planning the seminar. "They really value that he's an alum, that he's been where they are. He's showing them how business can help them wherever they decide to go in their career field."
An Authentically Knox Approach to Business
Knox's Business Intensive Seminar is an outgrowth of a previous short-term business immersive experience, the Fullbridge program, that Knox offered in 2015 and 2016.
At the 2016 Fullbridge seminar, Foley joined other Knox alumni to evaluate students' final presentations. He also sat in on some of the sessions and started thinking, excitedly, about how he and his colleagues at the Turner Center "could easily facilitate an experience that might even more strongly align with the needs of the Knox students."
Not long afterward, Foley met with President Teresa Amott and developed a proposal that led to the debut of the Knox Business Intensive Seminar in June 2017. Students who completed that first BIS gave the program an enthusiastic thumbs up.
"It was hard work, but the experience was realistic," Deja Jenkins '19 said at the time.
Jenkins, who majored in creative writing and minored in psychology, has stayed connected with the program. In 2018 and 2019, she volunteered as a student mentor who helped the teams prepare their final presentations. In 2019 and 2020, she served as a judge for those presentations.
"
The seminar helped me connect the dots between creative thinking and the business world. It's ... not just coming up with ways to help turn around failing businesses.
Deja Jenkins '19
"I've stayed involved so long because I had a great experience with BIS the first year I participated," Jenkins recently said. "It was exhausting, don't get me wrong, but I had a lot of fun in the various learning modules, especially on emotional intelligence and the SWOT [strengths, weaknesses, opportunities, threats] analysis. Before I attended BIS as a student, the whole thought of business was intimidating and seemed out of reach."
Afterward, she recalled, she was confident and well-prepared for her summer 2017 internship at the National Association for the Exchange of Industrial Resources, a Galesburg nonprofit commonly known as NAEIR. Since graduating from Knox, Jenkins has been working in Galesburg, and she also is pursuing a master's degree in library and information science through an online program at the University of North Texas.
Jenkins reinforced the idea that the BIS is well-suited for Knox students from all academic disciplines. "The seminar helped me connect the dots between creative thinking and the business world. There's so much to be explored in what could be, but hasn't been done yet, and I think that notion can be applied to many aspects of life, not just coming up with ways to help turn around failing businesses."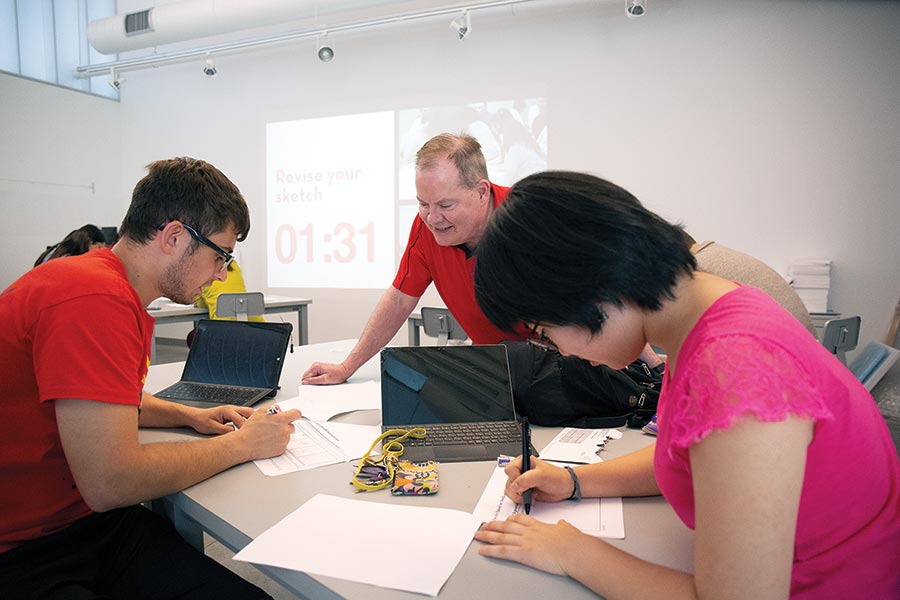 Alumni Volunteers Make Business Challenges Feel Real and Relatable
Knox alumni have played increasingly influential roles as the Business Intensive Seminar has evolved, and their involvement resonates strongly with students. "When you integrate the alumni into this program, it's so powerful," Foley said. The BIS students often experience what he described as "a-ha moments" when they hear from alumni—not only because of alumni's business successes, but also because of their varied academic backgrounds.
From the program's inception, alumni always have served as judges for students' final presentations. That remained true in 2020, when alumni also took on additional duties. Because of the pandemic, the BIS shifted to an all-online format—a change that paved the way for a larger number of alumni to interact with students throughout the seminar. The alumni represented every decade going back to the 1960s. Some served as team consultants and mentors, working informally with students during the evenings and sharing personal experiences and insights to help the teams produce well-researched, compelling final presentations. Other alumni led panel discussions: one on ethics, emotional intelligence, and communication strategies and another on business innovations, design thinking, and effective presentations.
Students peppered the alumni panelists with questions: What do you do when your business is failing? What kinds of challenges have you faced in business, especially during the pandemic? How can you help your business pivot effectively?
Students also used the alumni panels as a tool for collecting advice that would help shape their final presentations. For instance, when Dana Brown '19 and Jessie Johnson '12 spoke at the session on business innovations, design thinking, and effective presentations, Brooks—whose team was analyzing Crocs—sought tips on marketing online casual apparel. He was asking a couple of experts. Brown, who was calling in from Italy, works with a luxury digital marketing agency, and Johnson is the founder and CEO of Life as a Strawberry, which originated as a blog and has developed into a food media company.
Brown and Johnson encouraged the Crocs team to harness the marketing power of user-generated content, namely, the social media posts that Crocs owners create organically. The company could repost some of that content and use it as a way to build stronger authentic connections with the customer base, the two alumni said. Their advice made its way into the Crocs team's final presentation when Joseph Saoud '22 talked about new marketing tactics, including user-generated content and collaborations with celebrities and other influencers.
That presentation, along with the presentations from the other teams, earned high praise from the alumni judges, who described th students' work as impressive and thoughtful. The students, in turn, reflected on how they benefited by completing the Business Intensive Seminar. "I learned how to apply a lot of the skills that were taught in the classroom, or in this case over Zoom, in a lot of ways," Saoud said. "I also learned how to collaborate with a group in order to come up with recommendations and the presentation. Those cooperation skills that I learned are unforgettable."
Hearing such positive comments is rewarding to Foley, who is already thinking about the next Knox Business Intensive Seminar he'll lead sometime in 2021. Alumni will keep playing important roles in the program, and virtual interactions between alumni and students are likely to continue even after the pandemic ends because they are so effective, he said. The online video chats also are convenient for alumni, who can participate from all over the world and across numerous time zones.
In addition, alumni help hammer home one of the key messages to BIS students: that the students have what it takes to follow in the footsteps of past Knox students who have developed successful business careers—even though many didn't major or minor in business. What Foley wants BIS students to understand, and what alumni help him communicate, is this, he said: "You can do it! You are getting the same outstanding education these alumni received, and look at what they were able to do. This could be you in a few years!"
Alumni provide crucial financial support for Knox's Business Intensive Seminar, which is funded by David '65 and Dian Barth and the Robert '66 and Carol Romsa Parke '67 Ethics Fund.