Members of the men's soccer team take a breather during practice at Jorge Prats Field. Players and coaches remained masked even while running drills and scrimmaging. Photo by Kent Kriegshauser
What exactly does it mean to be a student-athlete when your team can't compete? It's a question that every member of the Prairie Fire has had nearly a full year to try to answer.
While Knox has done an exceptional job so far of containing the spread of COVID-19 in classrooms and residence halls—there were only about 50 positive COVID-19 tests among the campus community during the fall term—finding a way to safely participate in athletic competition proved a much tougher challenge. As of the beginning of 2021, the Prairie Fire had lost the spring 2020, fall 2020, and winter 2021 seasons to the pandemic. While limited competition has resumed at the start of the spring 2021 term, it's still not the experience that most student-athletes imagined when they came to Galesburg.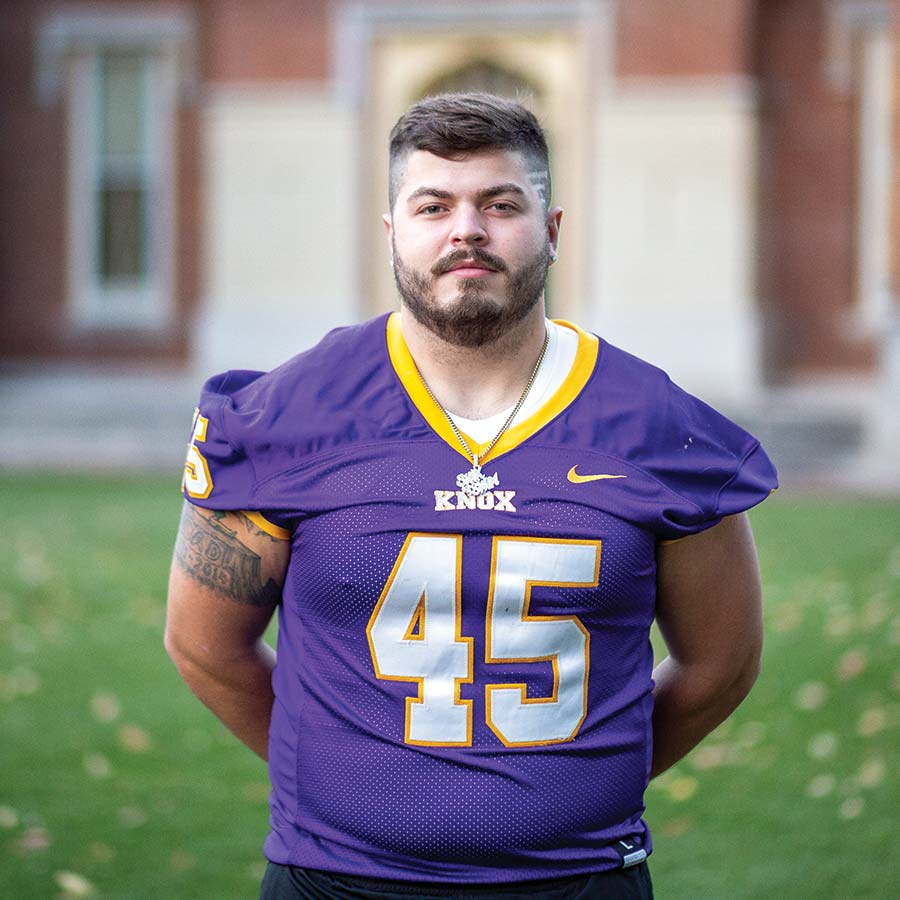 Jack Craig '21, a member of the Knox football team since 2017, had been contemplating ending his athletic career even before the Midwest Conference announced it would suspend all competitive play during the fall 2020 season. At the time, he was recovering from knee surgery—his fourth. Each surgery, he says, "took their toll on me, mentally and physically. After my third surgery, I told myself that if I needed another, I would be done with football."
Instead, despite the intense physical and emotional demands he faced, Craig decided to return to football for his senior year, even without the guarantee that the team would be able to compete. "The coaches, the guys on the team, and the trainers were supportive all the way," Craig said. "It made me realize that I enjoy being a part of Knox Football too much to just walk away, even if things haven't been the easiest."
For Craig, part of his motivation stemmed from setting a good example for newcomers on the team. "I hope they've been able to see how I come in ready to work, and I'm never satisfied with where I am," he said. "Not only will this help them be better players, but it will help them be successful for the rest of their lives."
But from a competitive standpoint, Craig said that the football team's goal for the season—whenever that may come—was clear. "We all believe we can put together a winning record, so we all are training as hard as we can to prove that the next chance we get."
"
I hope [new student-athletes] have been able to see how I come in ready to work, and I'm never satisfied with where I am.
Jack Craig '21
"Competition is core to what we do as serious athletes," acknowledged Director of Athletics Daniella Irle. "I felt like many of our sports were on the cusp of new levels of success, and for them to not be able to experience the 'pay off' by competing at improved levels continues to disappoint."
Still, Irle noted, there have been important lessons learned as the Prairie Fire have had to adapt to its new normal.
That began with finding new ways to keep teams connected to each other. Irle says that the Student-Athlete Advisory Council (SAAC) was instrumental in developing virtual events and activities for teams after Knox students were sent home in the spring. "That was a jarring experience for many, and our SAAC stepped up throughout that virtual term and created spaces to keep our teams connected," Irle said. "They did this while dealing with their own emotions."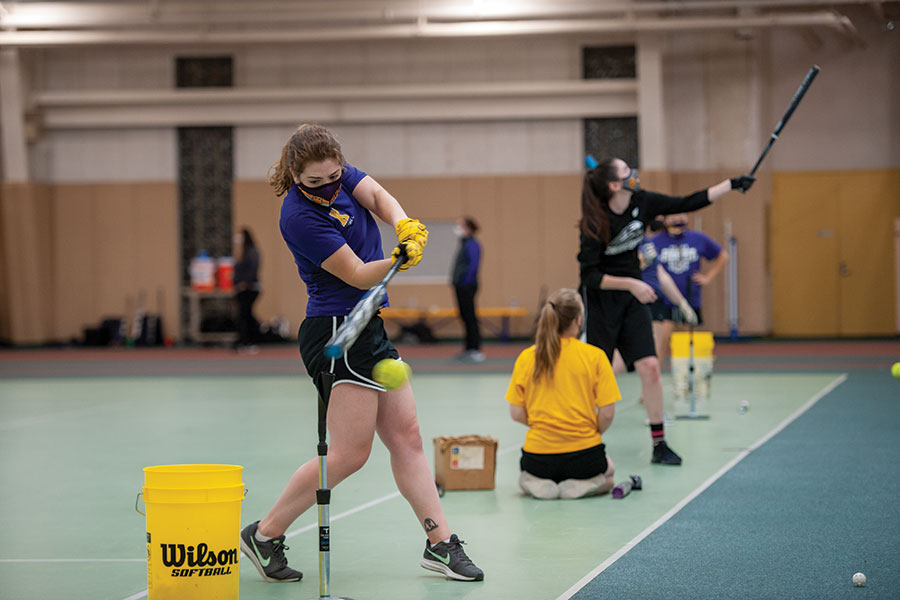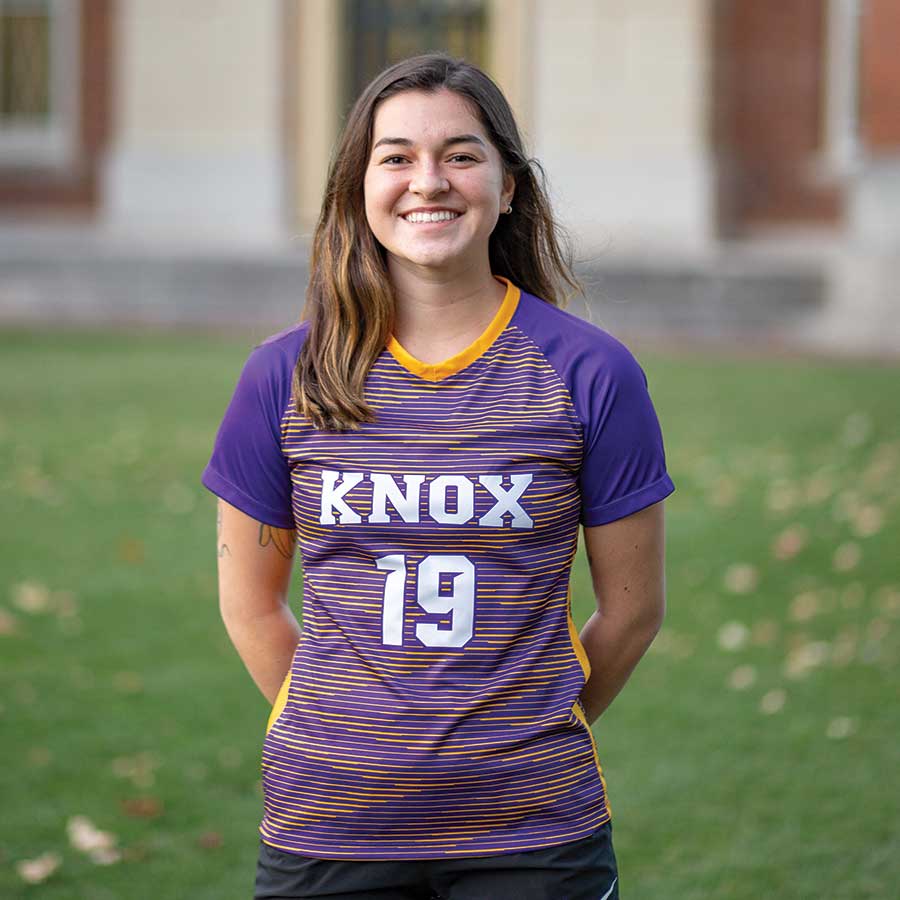 Individual players have also stepped up to help their teams. Alyx Farris '21 says her role as the women's soccer team's only senior captain shifted after she learned that their fall season would be postponed. "It's not just the season that's cancelled, but all the memories associated with the season. Pre-season, having a locker room, and travelling together are cancelled," she said.
"My role has become less about soccer and leading on the field, and more of emotional support. I really want to maintain the cohesiveness and closeness of our team, which is—not surprisingly—really hard to do during a pandemic." Farris explained that this process was especially hard with first-year students new to the team, but organizing social events like "family" dinners and pumpkin-carving contests after everyone had been tested helped. "We just want them to feel like part of the team without seeming overbearing or patronizing."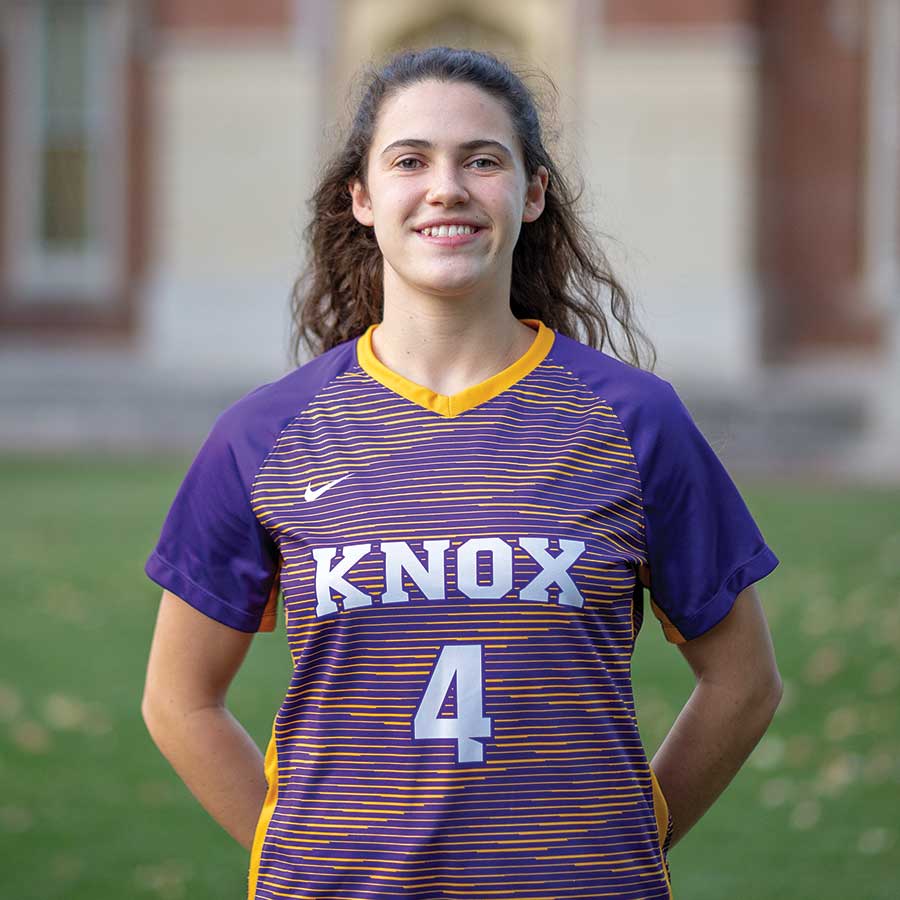 Lydia Mitchell '22, a dual-sport athlete on the track and women's soccer teams, agreed that events like these helped keep the team strong. "I think both teams did a great job of finding creative ways to do team bonding through Zoom and trivia nights," she said. "It is hard to pass down our traditions, standards, and team atmosphere when we aren't allowed to spend time together, but I hope that my teammates on both teams get to see what it truly means to be a woman in athletics at Knox College."
Irle credits the creativity and perseverance of the coaching staff throughout the pandemic with keeping spirits up. "Staying engaged with their teams is one of the most important factors in retention and enjoyment of life," she said. "The coaches understand that running practices consistently, even with all the cumbersome and ever-changing COVID parameters, is critical for the wellness of our student-athletes."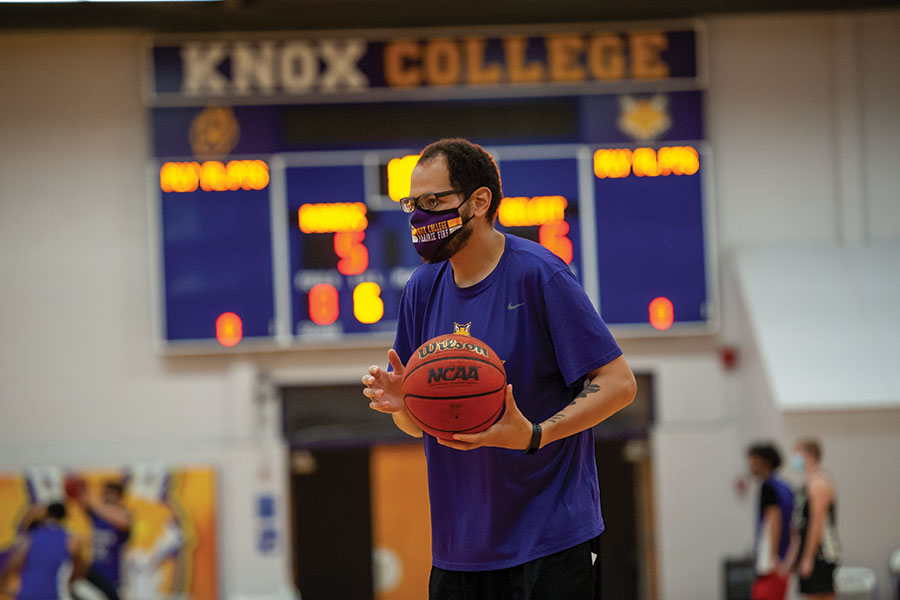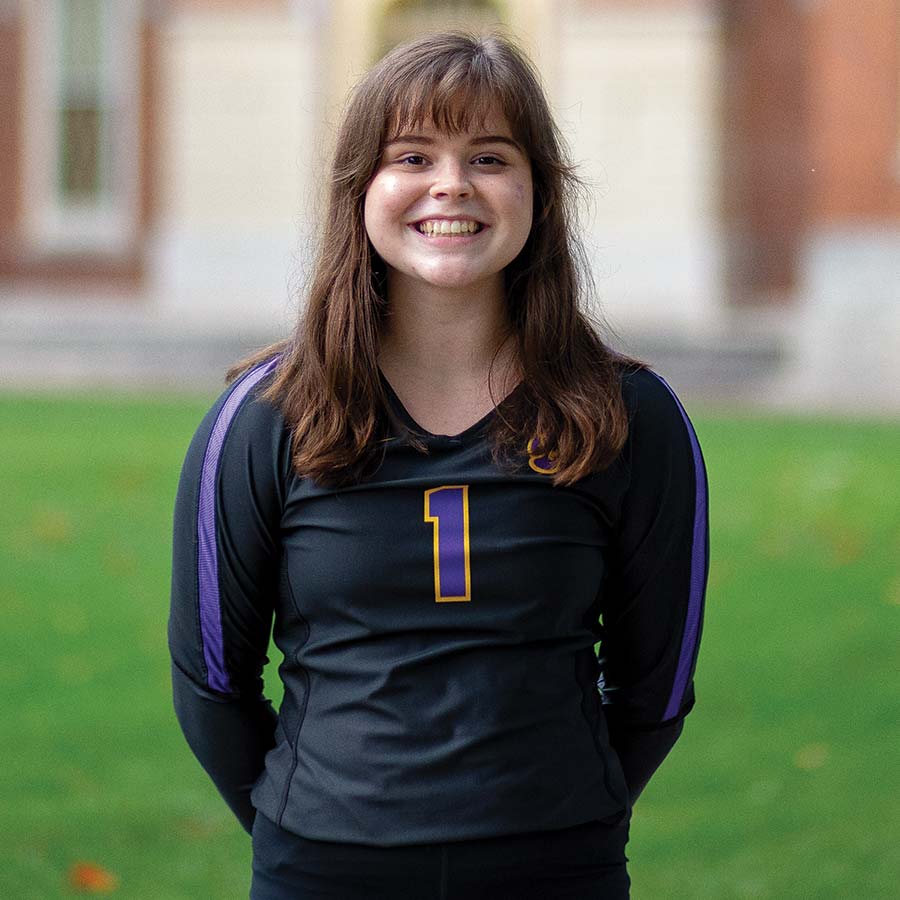 Kaitlyn Kashishian '23—a member of both the volleyball and track and field teams—explained how both sports adapted their practices by using drills that fit with each phase of COVID restrictions. "At times we had no contact with each other or any shared equipment," she said. "Even as we were tested and allowed to have a few less restrictions, social distancing was still encouraged whenever possible."
With occasional scrimmages to hold them over, student-athletes at Knox looked to their teammates and the prospect of competitive play as a catalyst for improvement. Kashishian expressed that it was difficult for her to keep motivated during the past two terms. However, she explained that she and her teammates had persevered by holding each other accountable and encouraging each other.
"When any of us start slacking, others come and remind us why we play," Kashishian said. "We play for each other, not just ourselves. I think this has been really helpful because even though there isn't competition, we have a real reason to keep working hard: for the good of the team and to make ourselves and each other better."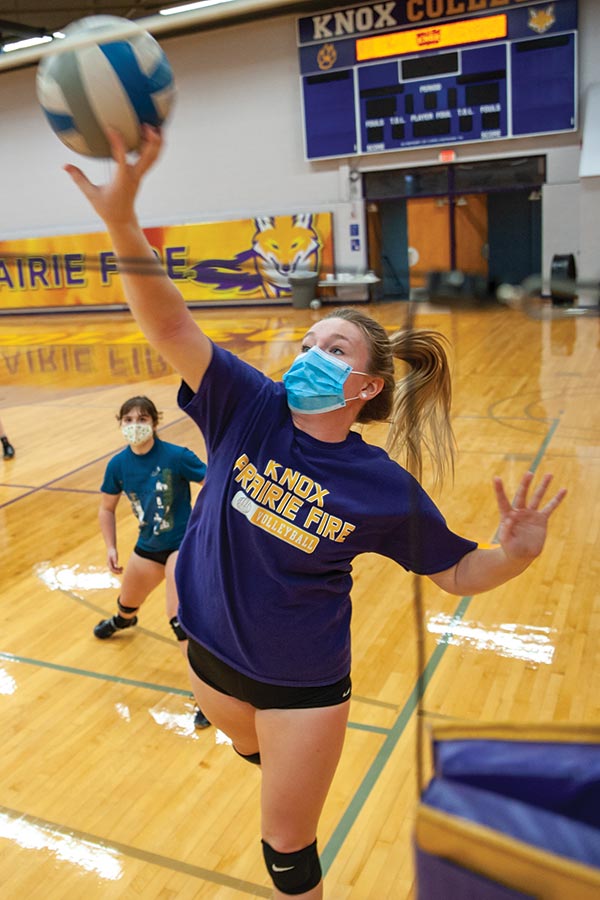 Alyx Farris agreed. "I think there was a fair amount of complaining and groaning involved, but we just stuck to the restrictions as closely as possible. We wanted a season so badly, so we did what we were asked to do. Coach Taylor made absolutely certain we sanitized before and after practice."
It helps that there have been glimpses of a better future. For members of the women's soccer team, their patience paid off on the last practice of the fall season, in which they had a full-team, full-field scrimmage that the players treated like a real game. "It was such a good feeling to get out and play as hard as we could against each other," Mitchell said. "One thing I love about our team is that we love competition, and we also love to have fun. The scrimmage was a great way to showcase our hard work and talents and to do something we all love."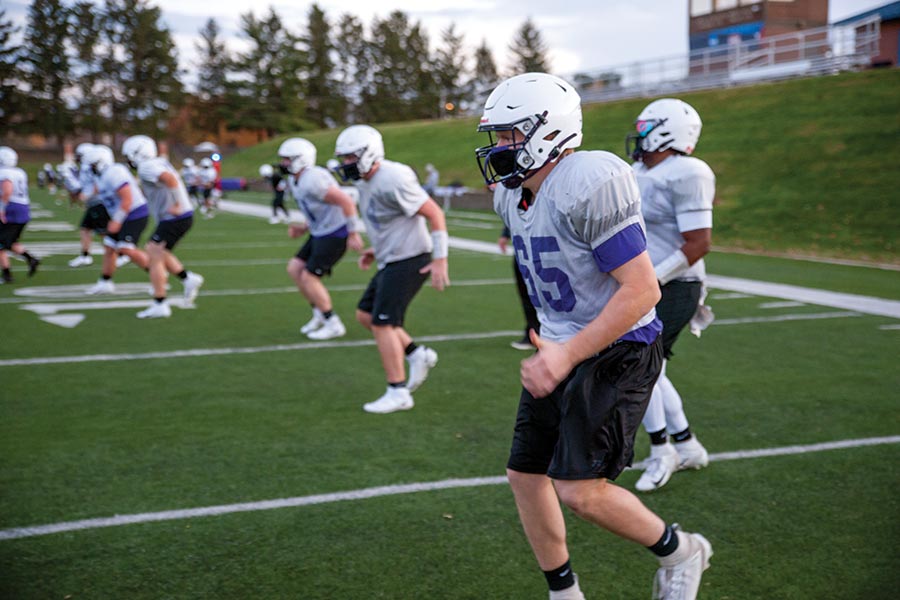 As Prairie Fire teams gradually return to competition, Irle said that the resiliency of the coaches and student-athletes at Knox keeps her centered and forward-thinking. "I can't spend my time worrying about 'what might have been' when 'what could be' lies ahead. I walk into the building every day motivated to find a way to keep all our programs growing and evolving."