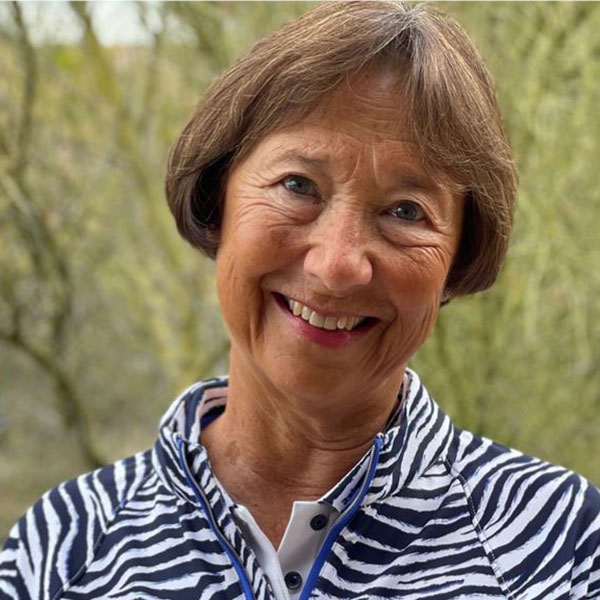 Mary Mangieri Burgland is committed to Knox College. A 1968 graduate, she taught mathematics at Knox, and served in various administrative roles in Development (now the Office of Advancement) and the Office of Admission. In 2000, Mary coached the women's golf team and brought home several conference championship trophies.
She is passionate about her alma mater. "I believe in what Knox does for students," Mary said. "Knox helped me broaden my horizons and gave me opportunities that I feel have been a big part of the success of my life. So I want to give back."
Fast-forward 21 years. When the Department of Athletics approached Mary about helping coach the men's and women's golf teams this spring, Mary thought long and hard about again making the commitment. She leads a very busy life: She's very involved in Knox's 50 Year Club, serving as an officer; in a number of community organizations; and in some statewide golfing organizations.
Mary did agree to help coach the golf teams, but she gave two stipulations for her role: she didn't want to drive the bus, and she didn't want to do any "cold calling" for recruiting. "When I worked in the Admission Office, we used to do a lot of calling to recruit student-athletes. I spent a lot of time on the phone. KC Harding (the Knox head golf coach) is better at that."
Although a natural athlete, Mary's early exposure to sports was informal, and opportunities to participate in organized sports weren't available. Growing up the oldest of 12 children in Abingdon, Illinois, Mary watched her brothers play in team sports but didn't participate herself. Her father and brother played sports at Illinois College, and both are in the Athletic Hall of Fame there. "When I was a child, there weren't a lot of women's teams," she explained. "Every summer I played tennis, and we played badminton in our front yard and ball games at night after everyone was done with dinner."
She didn't become a golfer until she graduated from Knox. Her husband, George, was playing for the University of Kansas golf team when they met. "If I ever wanted to see George, I needed to play golf," she said. "So I got better at it. I listened to him and got better at scoring and understanding how you play golf.
"I wouldn't say I'm a great golfer, but I know how to play the game, and that can be just as important as being a natural golfer."
This spring, Mary is working with both the men's and women's golf teams, but will spend a fair portion of her time with the members of the women's golf team. She helps the student-athletes understand the game and play to their strengths. For Mary, coaching goes beyond just teaching technique. She encourages her players to help them grow more confident in their skills and become consistent in their play. "I have found golf to be a sport that can be a challenge throughout your life," Mary said. "It tests your resilience to accept the unexpected and deal with the consequences."
"It is challenging for one individual to coach two teams, and do it with maximum effectiveness," said Daniella Irle, director of athletics. "We were thrilled when Mary agreed to return to the program to assist. Her love for the game and her patient, consistent manner working with players is exactly what a good golf team needs. KC wanted an assistant who was a teacher and confidence builder and that is exactly what we got with Mary. I think she and KC make a wonderful team."