It's difficult to imagine a more fitting leader for Knox College over the past decade than Teresa Amott. Born in Bolivia to a Brazilian mother and American father, she lived and studied abroad through much of her childhood before enrolling at a small liberal arts institution (Smith College). After earning a Ph.D. in economics from Boston College, her research focused on how race and gender discrimination affect the workplace experiences of women and people of color.
As the first woman ever to lead Knox, she presided over a moment when the College not only welcomed the largest numbers of international students and students of color in its history, but also faced the challenge of increased competition for a declining number of college-bound students, as well as growing income inequality that made it difficult for many of those students and their families to afford college. As Teresa leaves the College for a well-deserved retirement on June 30, 2021, Knox Magazine takes a look at 10 of the College's most significant achievements during her tenure.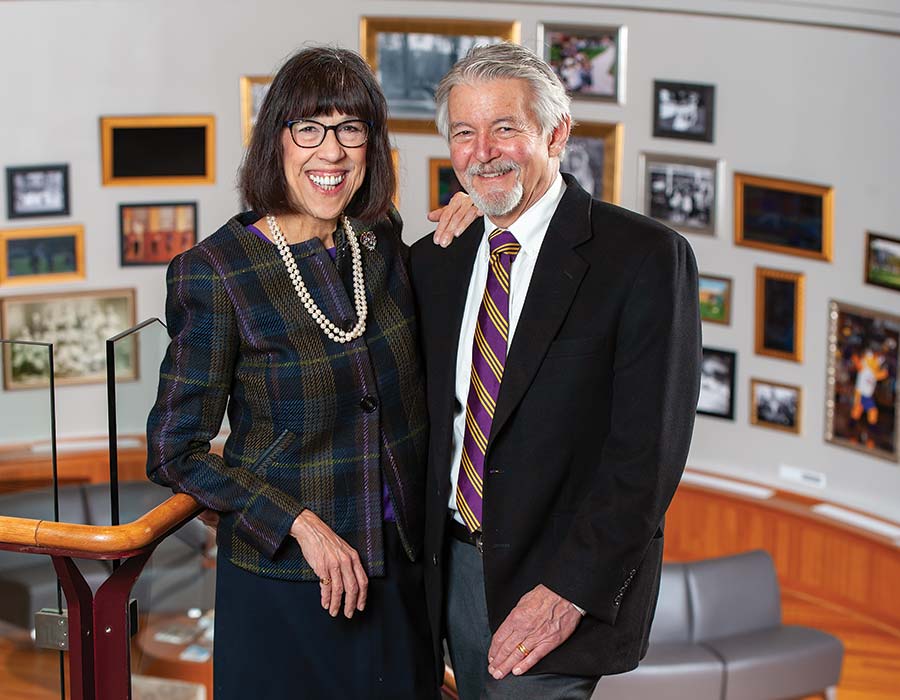 The Reopening of Alumni Hall
When Teresa arrived on campus, Alumni Hall, built in 1890, had been largely unused since 1978. Former Knox trustee and Galesburg community leader Mark Kleine recalled, "When I joined the Board in 2007, one of the first projects we discussed was to get Alumni Hall renovated. My initial reaction was, sure, that's not a big deal, and then I found out it had been attempted two or three times before. I thought, what am I getting myself into?"
Teresa proved to be the catalyst the project needed. She joined Kleine's Gateway Task Force—so named because of Kleine's and then Dean of the College Larry Breitborde's vision of the building as a gateway between Galesburg and Knox. "She had really great insights about why the building was so important to the campus and how it should be used," said Kleine. Housing the Office of Admission, it would be the first place prospective students visited. Separate centers for global studies, career success, research, and community service would provide current students with the opportunity to put what they learned at Knox to work in the world. For returning alumni, the Office of Alumni Engagement would offer an official welcome back to campus.
Within 18 months, donors—including Kleine and wife Jeannette and other members of the Board of Trustees—had contributed more than $11 million to the project. Within another 18 months, the building was open for business.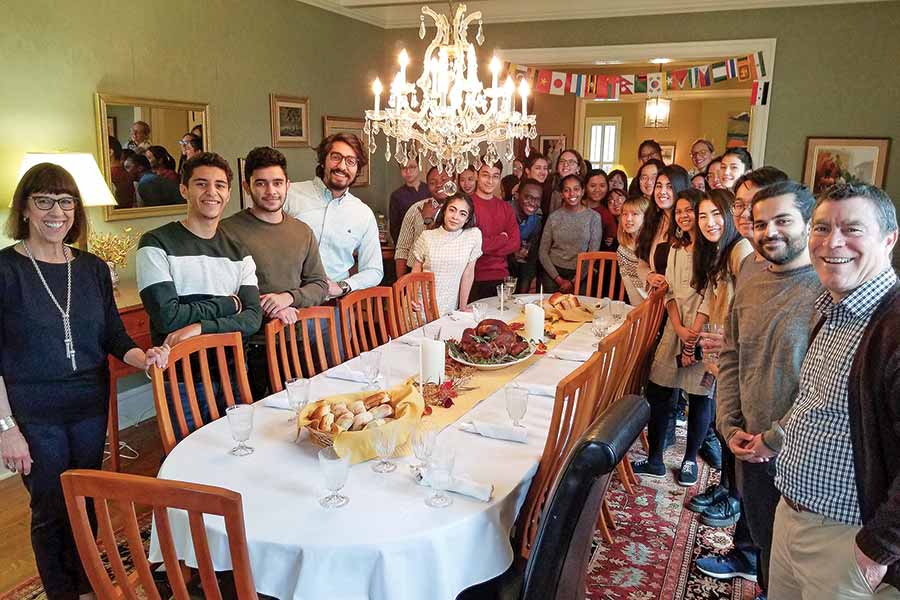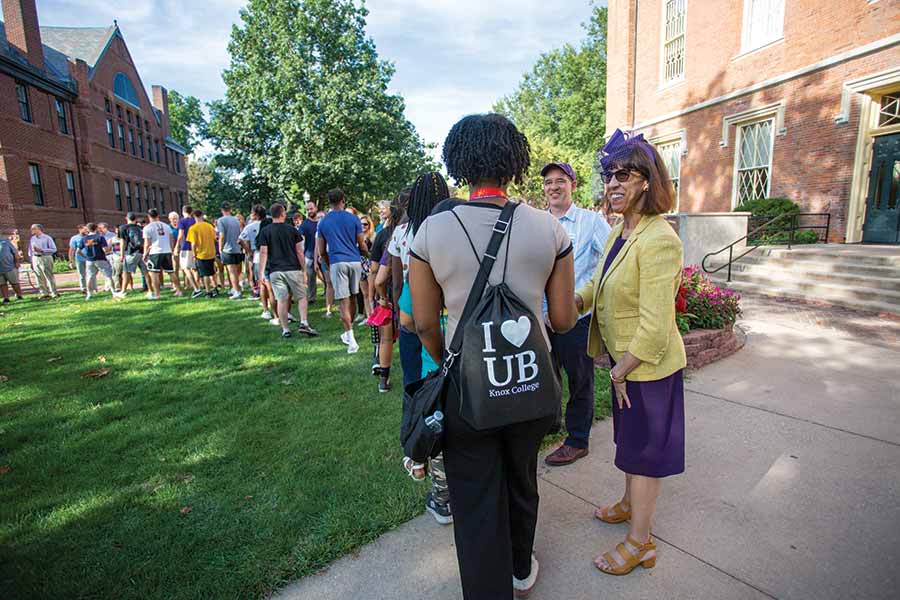 A $200 Million Endowment
As of December 31, 2020
On June 30, 2011, Knox's total endowment was valued at $84 million—a respectable figure, especially after the Great Recession. As of December 31, 2020, Knox's endowment has grown to $200 million, providing the College with its strongest financial foundation in history.
That growth has provided a crucial safety net as the College continues to feel the financial impact of the COVID-19 pandemic and the demographic decline in college-bound students. "All of this sounds challenging," says Board of Trustees Chair Chuck Smith '84. "But I've observed a great deal of optimism. Knox has made substantial investments over the past decade in tremendous faculty, first-rate facilities, and endowed student scholarships. Those investments will help us weather this storm."
"
It's one of those very rare things where you set out an idea, and someone says, 'I think we should do that.' And then makes it happen. That's the kind of leader Teresa is.
Whitcomb Art Center
Early in her tenure, as Teresa was still learning her way around Knox, she asked Art Department Chair Mark Holmes to show her all the campus spaces where art was being taught—painting in the Ford Center for Fine Arts, design in Borzello Hall, photography in SMC, and art history in the Old Jail. At the end of their walk, they stood in a parking lot on Prairie Street gazing out toward a disused lumberyard. "My Knox colleagues and I had often talked about how that would be a great space for a new building, and I just casually shared that with Teresa," remembered Holmes. Within moments, "she was struck by the idea. We walked back to her office, she showed me some building projects she'd been a part of at other institutions, and we kept talking. And, within a year, she had secured a $5 million gift from Richard '57 and Joan Whitney Whitcomb '56 to start construction."
Whitcomb is an ambitious building—an award-winning architectural showpiece that is also a model of sustainable building practices, as well as a tangible connection between the campus and Galesburg's thriving downtown arts scene. "It's one of those very rare things where you set out an idea, and someone says, 'I think we should do that.' And then makes it happen. That's the kind of leader Teresa is."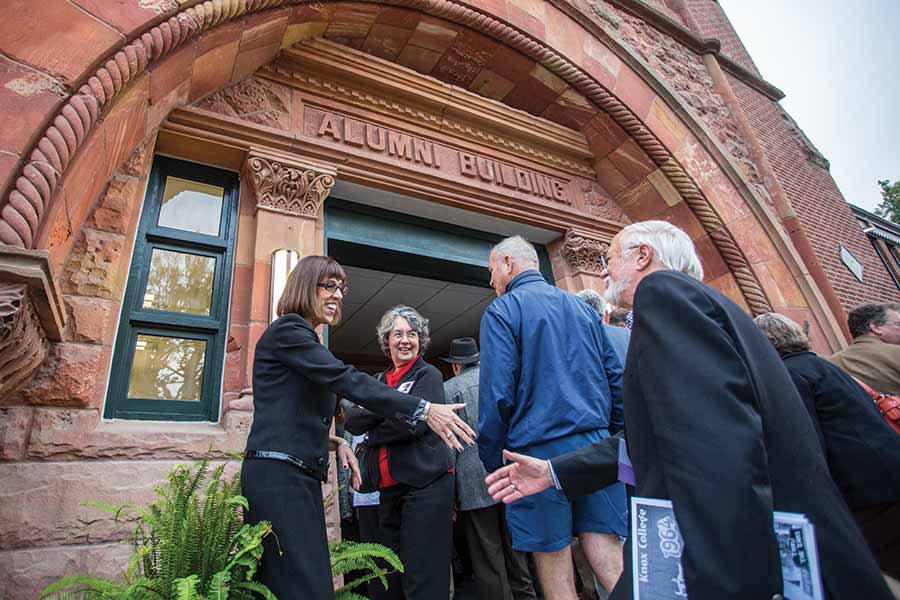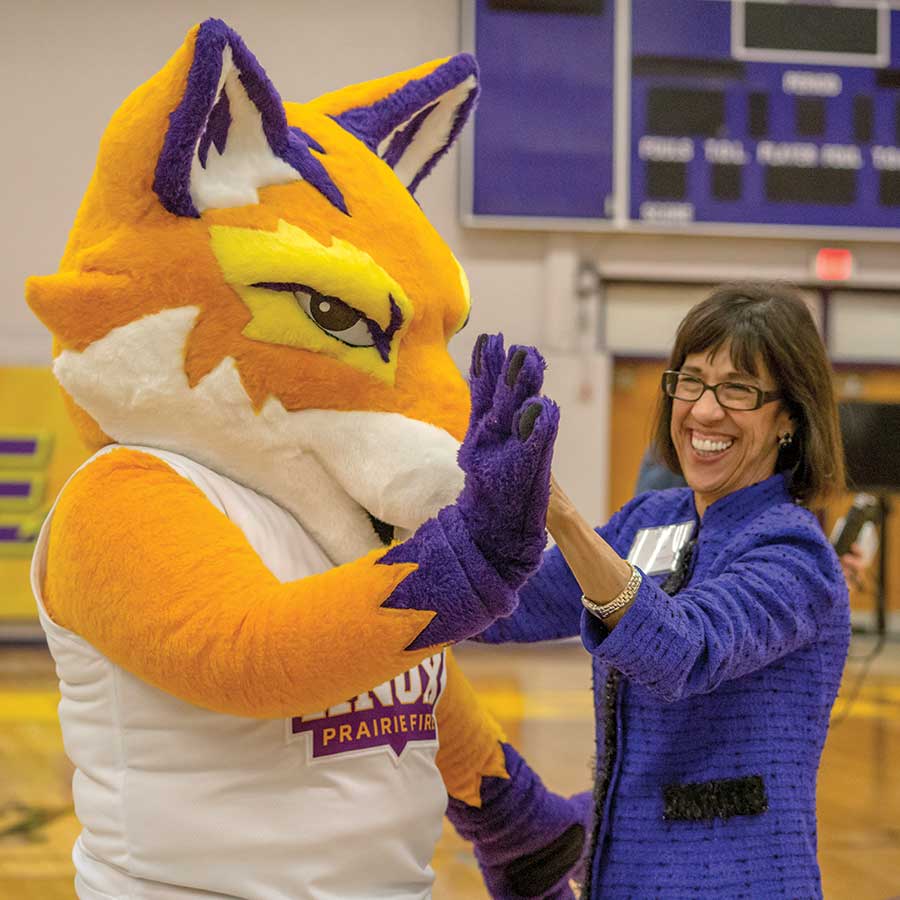 "People Who Are Fabulously Not Like You"
That's how current admission publications describe the Knox community, trying to convey the excitement and opportunity that comes from being part of what has become one of the most diverse student bodies of any U.S. liberal arts college.
Knox's current student body reflects both its historic commitment to welcome students from all backgrounds and the changing demographics among U.S. high-school students. In 2011, nearly two of every three Knox students were white and came from the United States. Ten years later, the majority of students are either international (20 percent) or U.S. students of color (35 percent).
"It's beautiful, coming to a campus where I knew no one; it was my first time in the United States, and Knox became a home for me," said Oluwabamise Afolabi '21, a biology major from Nigeria who currently serves as student senate president. The people he has met here "helped me move out of my comfort zone and become a better version of me."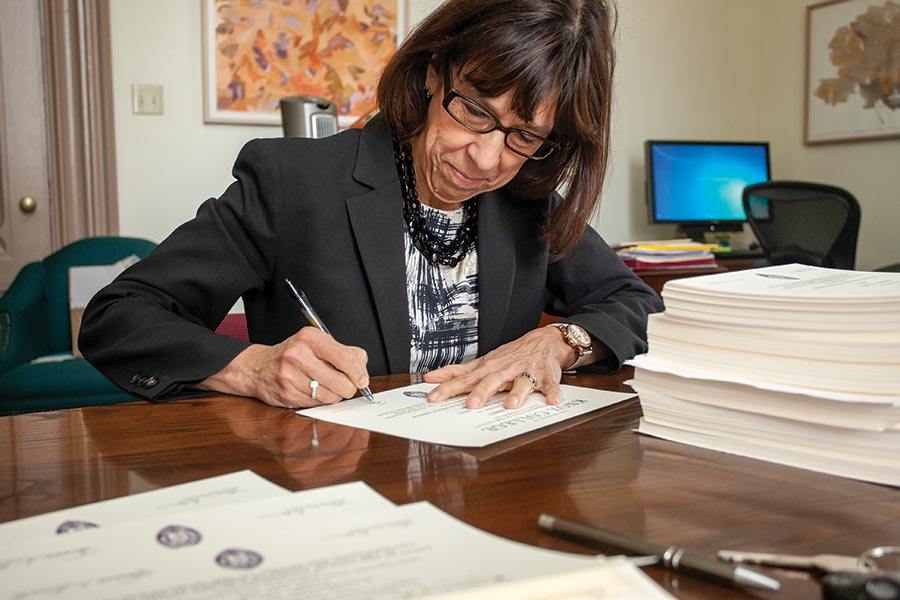 Human-Powered Career Development
As a labor economist, Teresa has spoken repeatedly about the value of a liberal arts education in an increasingly automated and specialized workplace. One challenge is helping students understand that their opportunities aren't limited by their major.
Career development "is really a relationship-building process with each student," said Scott Crawford, executive director of the Bastian Family Center for Career Success. Students are encouraged to start working with career counselors as early as their first year and welcome to stop by any time. "We've hired and trained 10 peer career leaders (current students) who do much of what our full-time staff does," including helping with resumes, cover letters, and interview prep. The Center proactively emails students when it receives specific opportunities that seem like a good fit for them, connects them with alumni working in their desired fields, and works with alumni to help them hire Knox students for internships and jobs.
"When I started, there were literally 35 jobs or internships in our old system," said Crawford. "Right now, we have 4,430 jobs and 1,490 internships available." In recent months, students have gotten offers from Tesla, Microsoft, Bank of America, and insurer Zurich North America, among others.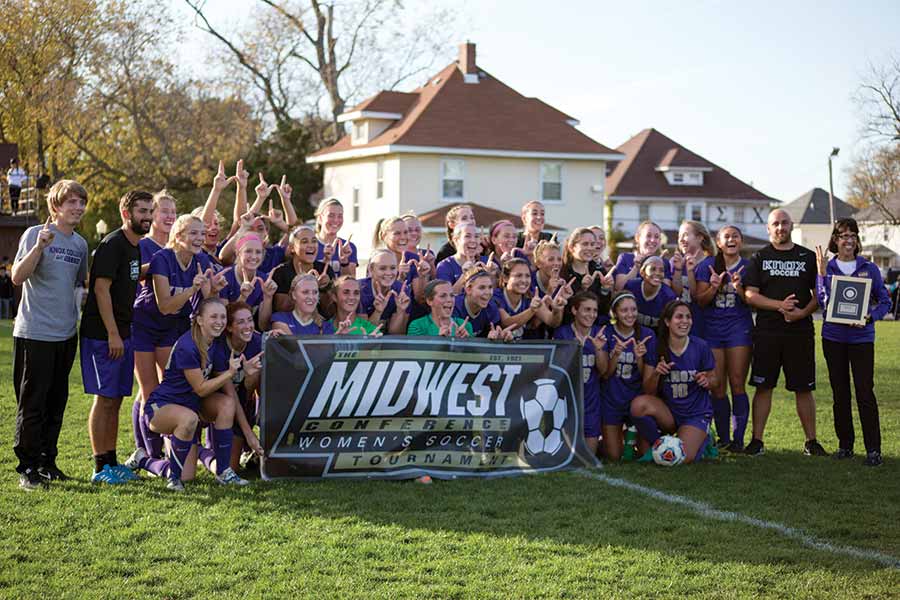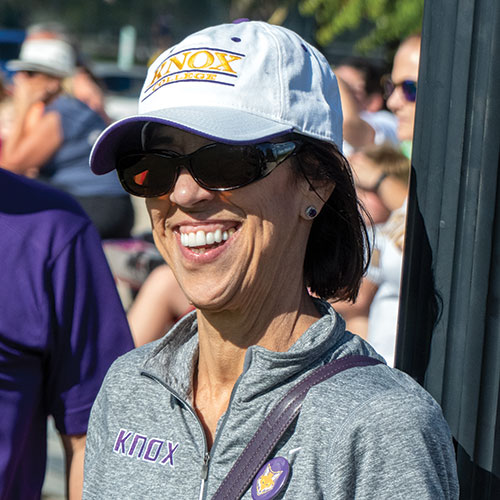 Back-To-Back-To-Back-To-Back Soccer Champions
In November 2019, both the men's and women's soccer teams won the Midwest Conference (MWC) regular season titles and the MWC Championships to advance to the NCAA Division III national tournament. Collectively, it was Prairie Fire Soccer's fourth consecutive visit to the national tournament, with men's soccer winning the MWC championship in 2016 and 2019 and women's soccer taking those honors in 2017, 2018, and 2019.
Those accomplishments reflects the College's renewed commitment to athletic excellence. During Teresa's tenure, Knox has hired full-time coaches for every sport (economics professor Jonathan Powers still coaches the swimming and diving teams). The College has also invested in new equipment and facilities, including an indoor golf training simulator and artificial turf for Jorge Prats Field. Funding for many of these initiatives has come from Knox's K Club. "As former athletes, we feel like we're teammates to the current athletes," said K Club President David Anderson '89. "We want to make it so the current teams can have the success both on and off the field that we had at Knox."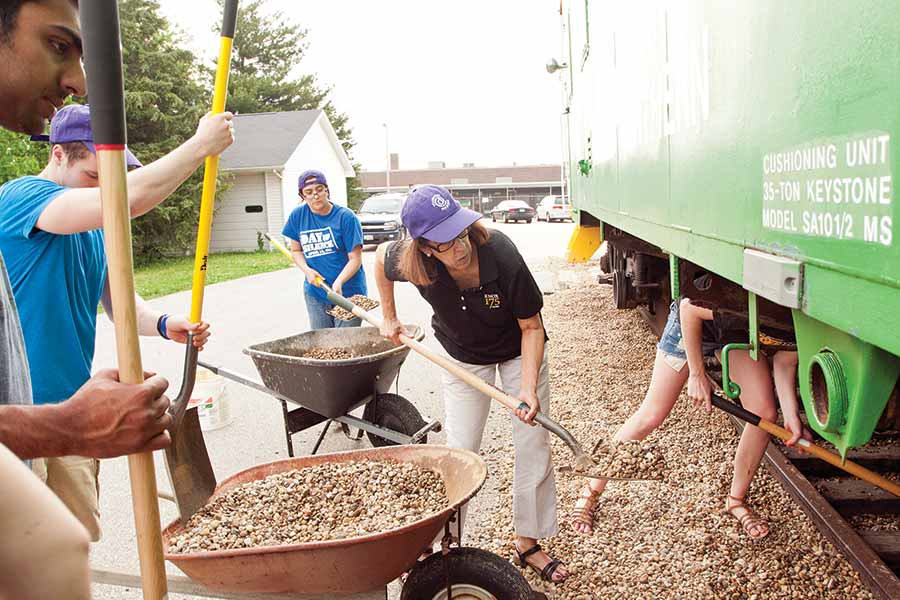 Sustainable Sustainability
Student-led initiatives are responsible for many of Knox's moves toward sustainable practices, so it's no surprise that it was students who asked Teresa to hire the College's first full-time sustainability expert—someone with both education and experience helping organizations become greener.
Within its first year, the Office of Sustainability had started a bike share program, added more recycling drop-offs across campus, and implemented a plan for a campus farm to provide Dining Services with fresh produce. Subsequent directors have built on those earlier successes, coordinating the waste-free move of eight offices and 45 staffers into Alumni Hall, waste-free Commencement, and waste-free student move-in and move-out.
Knox students, of course, continue to lead the way. A student-led (and funded) effort brought the campus its first solar power array, installed atop Wilson House in 2017. In 2019, the campus chapter of the Food Recovery Network donated more than 50,000 pounds of unused food to community organizations. Deb Steinberg, the College's sustainability director since 2015, also lauded the work of Students for Sustainability, particularly their outreach to other clubs and organizations. "It gets students working together to help the campus learn about being better stewards of the Earth."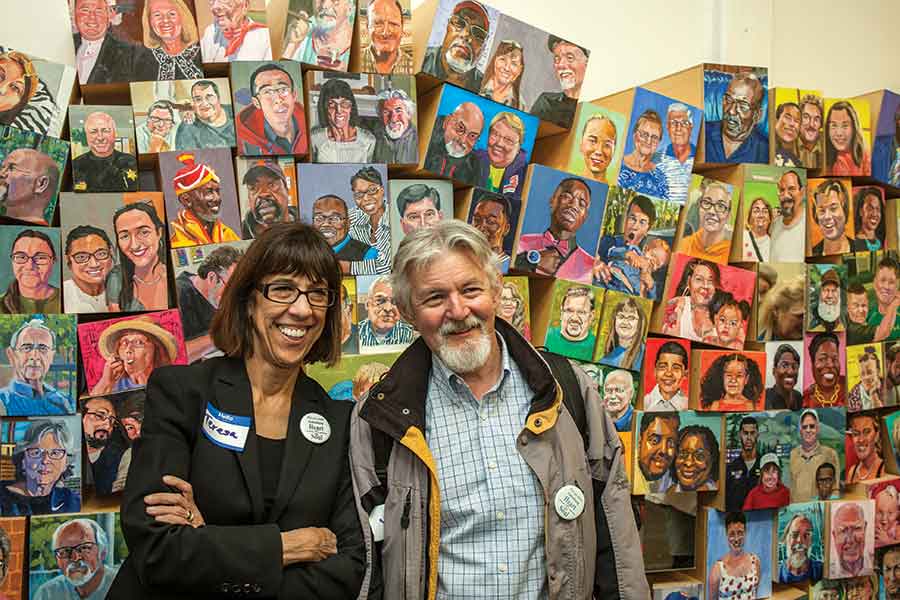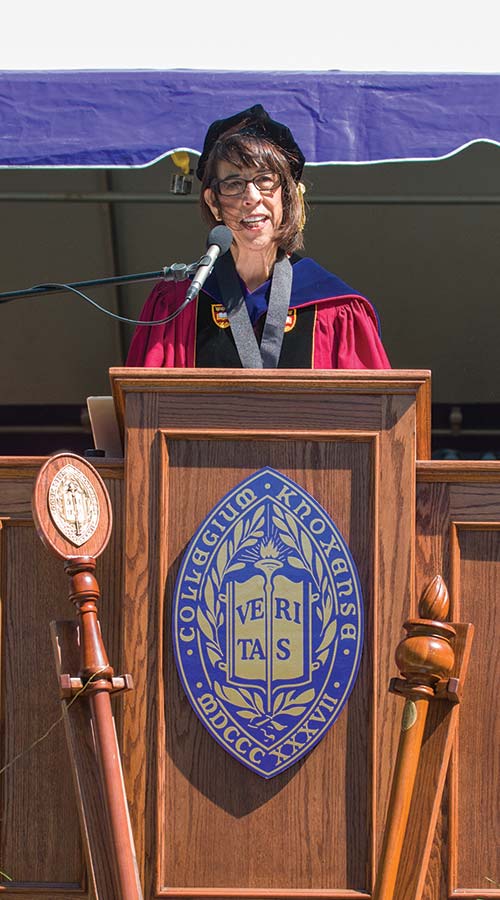 The Return of the Business Major
(Plus Other New Programs)
What are prospective students looking for? For many, it's a business major. Building off the success of its popular business and management minor, the College introduced a reimagined business major in 2018 with a distinct Knox flair. It's interdisciplinary, with a strong emphasis on ethics, leading diverse teams, and finding creative solutions for the world's most pressing problems. It is already one of Knox's most popular majors—only creative writing and biology had more graduates among the Class of 2020—as well as a top draw for future students, generating a 27 percent increase in applications for admission during the first year it was offered.
That's not the only academic innovation. Since 2015, the College has added 10 new minors in fields from astronomy to arts administration, plus four new majors in environmental studies, data science, journalism, and public policy. It's all part of helping Knox students learn how to apply the skills they've developed as liberal arts graduates for the marketplace. "Things that require the application of different modes of thinking to solve real problems are really right up the alley of a liberal arts institution," said Rothwell C. Stephens Distinguished Service Chair in Mathematics Kevin Hastings '76.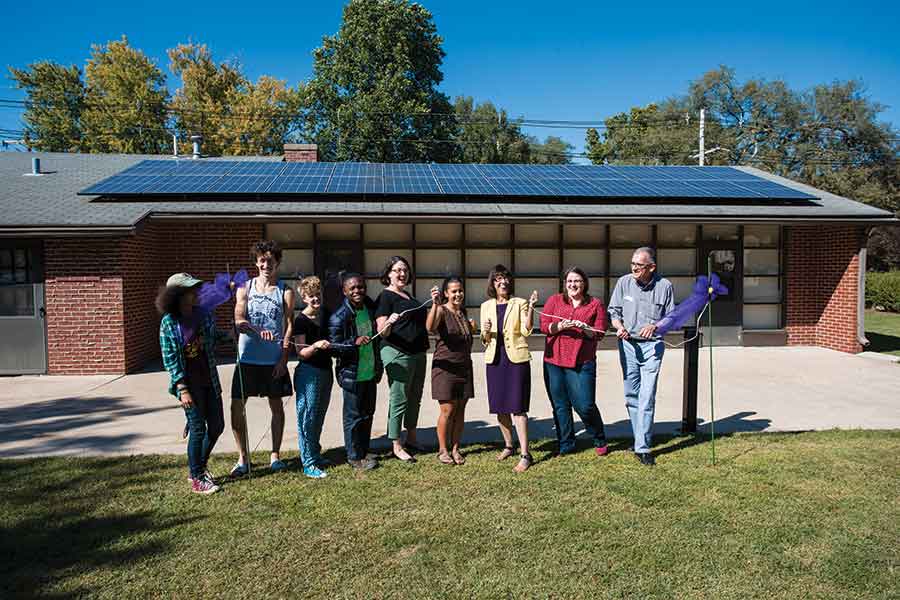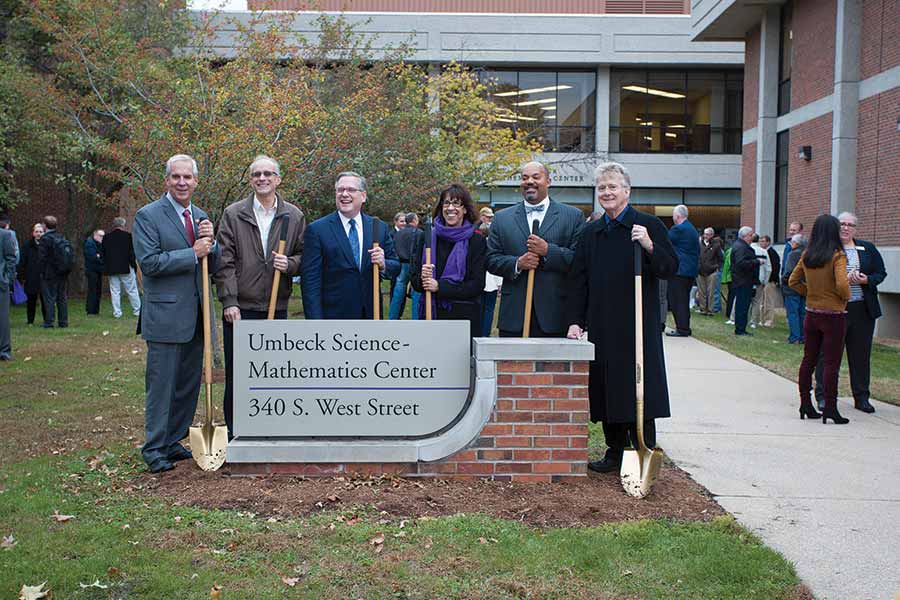 The Ongoing Transformation of SMC
Knox's Umbeck Science-Mathematics Center (SMC) is the oldest science building among its peers in the Associated Colleges of the Midwest. In the decades since it opened, Knox's approach to teaching the sciences has evolved to a more hands-on and collaborative model, and many aspects of the building's original design are ill-suited for 21st century teaching and learning. The College is now in the midst of an ambitious phased plan to update and renovate large sections of the existing structure even as students and faculty continue to work there.
Phase 1 renovations, completed at the start of 2020, focused on the central core of the building. On the first floor, the space that was once a large amphitheater-style classroom has been transformed into the Amott Learning Commons—where students can access the latest research publications and work on group projects. New classrooms on the second floor accommodate classes of all sizes, with whiteboards around the perimeters for impromptu problem-solving. The once gloomy interior of SMC is now flooded with natural light from a two-story glass atrium that both expands the building's footprint and visually connects the space with the rest of campus. It's also home to a 55-foot whale skeleton, transported from the East Coast to Galesburg, that was painstakingly restored and mounted by a team of faculty and students. The cherry on top, so to speak: a brand-new observatory with a larger dome, multiple telescope mounts, and an outdoor classroom to serve the growing demand for astronomy courses.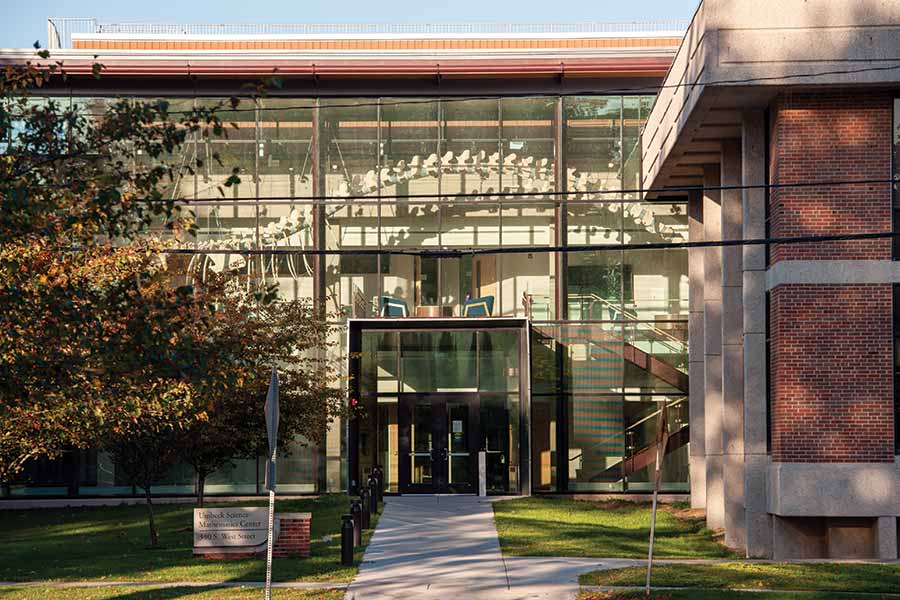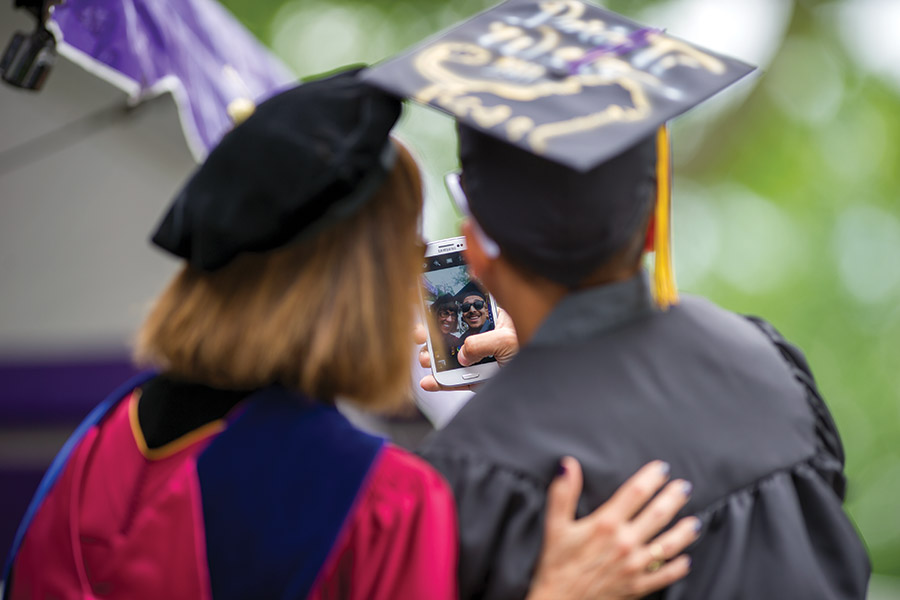 2,867 Graduates (And Counting)
Teresa often says that the world needs Knox graduates more than ever before, and Knox's mission of access has inspired it to support historically underrepresented students more than ever before. For many first-generation students, making the transition to college brings challenges no one prepared them for. Add to that the challenges that college students have always faced—discovering who they are, what they stand for, and how that identity fits into the larger community—and the effort that went into each of those 2,867 degrees is inspiring to behold.
Fortunately, students don't have to shoulder those burdens on their own. In the last decade, the College has created the SPARK (Student Preparation and Readiness for Knox) Program for incoming first-years to develop their academic skills before courses start and expanded tutoring through the Center for Teaching and Learning. The College has also worked hard to provide a welcoming environment for students from all backgrounds, with expanded programming for students of color, students exploring their religious practices, and students just beginning to understand their gender and sexual identities.
"My hope is that we can help our students, through their experiences here—joy, excitement, stress, frustration, or even occasionally feeling overwhelmed—always remember there's a reason they're here earning that degree," said Tianna Cervantez '06, executive director for diversity, equity, and inclusion. "It's so they can take everything they build here, everything they learn here, and use it to make the world better."