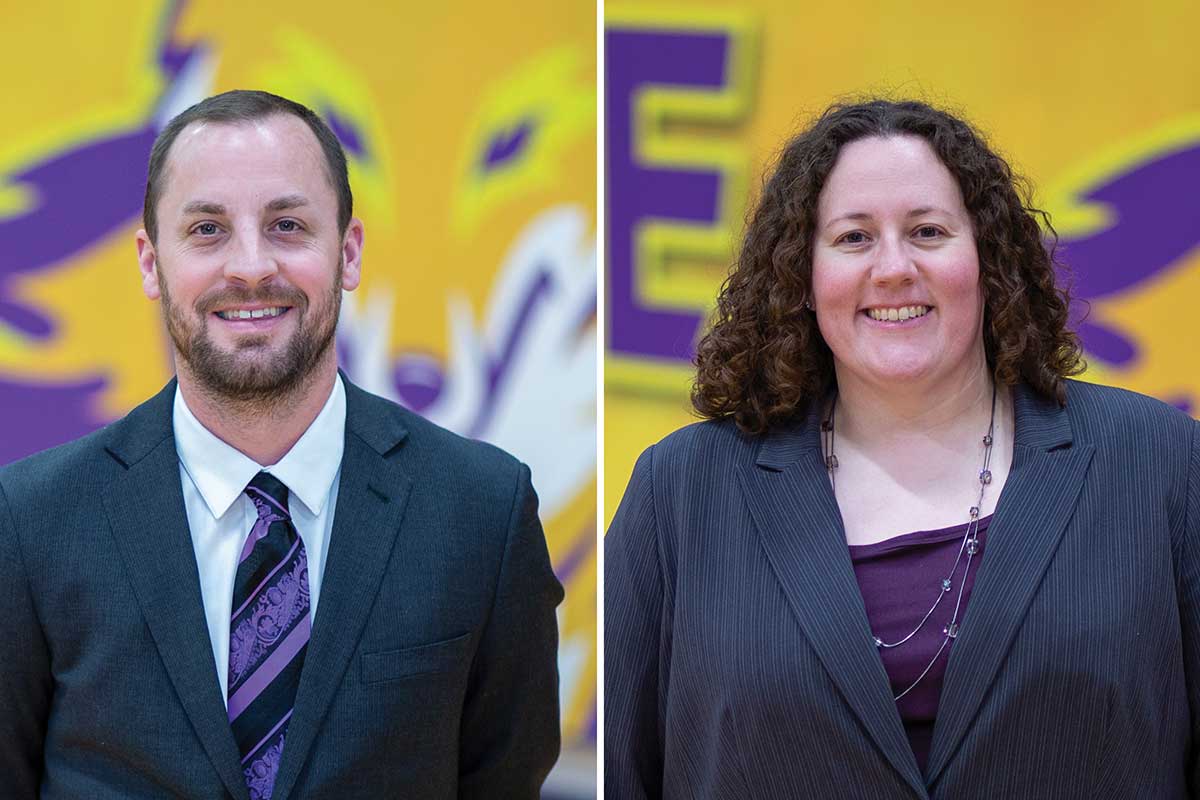 Great things are happening on the court for Prairie Fire basketball. The women completed the 2019-20 season with a record of 16-10, qualifying for the Midwest Conference Tournament for the second time in three years. The men finished the season with a 9-16 record, the most wins since the 2005-06 season.
Leading the squads are head coaches Emily Cline and Ben Davis. This was Cline's 12th season as head coach of the Prairie Fire women's team, while this month marks Davis' first year leading the men's squad.
Cline says that when she came to Knox, "we had good players, but we didn't have much depth." Over the years, she tried different strategies, like Grinnell's "The System," and as the team's record improved, "we've been able to use that and our recruiting strategy to lure in more talent."
So what are Cline's and Davis' recruiting strategies? And what is it like to be a Prairie Fire head coach? Cline and Davis let us know, in their own words.
How do you convince athletes to take a chance on a school they may have never heard of, to come to the Midwest and play for Knox College?
Cline: We sell the academics. We sell being part of a built-in family. And for our program specifically, we talk a lot about how we have student-athletes from all over. I mean, obviously the Midwest population is huge for us, and the West Coast, but we also recruit internationally. So to those students we can say, "You won't be alone. You'll have friends on the team that are from far away, and you'll also have a general student population going through being far from home together."
And, you know, we have success that we can sell: "We're right on the verge of being really good. Help us get to the next level."
Davis: When you tell people that Knox has students from 48 different states and 50 different countries, they think that's amazing. To get guys who want to be part of something that's never happened before and something that's new—a program that we can build up together—is very impactful. This is such a great community at Knox. Our men's and women's basketball players are like a family. We have so many good people and good things going for us.
What does a year look like for a basketball coach?
Davis: I think a lot of people just picture us going to practice. We definitely have our season when we're very busy. During basketball season, it's six days a week. We take Sundays off, and even then there's a lot of recruiting going on. Even being here a lot of days for eight to 10 hours, I go home and relax and spend time with my family, and then I'm back on the phone at night making recruiting calls.
Once the season finishes, then it's recruiting season. We have a lot of campus visits in the spring, and the Amateur Athletics Union summer basketball circuit goes from late March through the end of July—that's when we do the majority of our recruiting. Three out of four weekends per month in the summer, we're out recruiting all weekend if we can stretch our budget that far. In July, the events go from Wednesday through Sunday. And even in April, May, and June, there are a lot of weekday events, sometimes weekends too, watching basketball games and club teams play. So I travel all over the place as our budget allows. We're not only watching these club teams play, but we're visiting with recruits and their families. And during the week, it's trying to catch up from those events. So March through July is non-stop recruiting. I think August is probably the one month you get to relax and get focused on your upcoming season. And then by September, everybody's back on campus, and it all kind of starts up again.
Cline: We also both teach classes in the fall, and we do game management for soccer. And there's always stuff with our student-athletes. Every week I have a day set aside where I meet with all my first-years face-to-face to make sure they're starting the year off on the right foot. It's a big adjustment academically for a lot of them. And this way they have a check-in every week that is academically oriented, all year long, not just in basketball season.
Given your crazy schedule, what do you enjoy about being a head basketball coach?
Cline: I love the student-athletes I coach. I really do. And I love how you take the individuals they are and mesh them together to make a cohesive unit. I love that challenge. I love that we've been able to improve the program. And Knox has given us more and more things to help us. The people here are very helpful and student-centered.
Davis: I've been doing this long enough now where I've gotten to see guys I coached in college who are now in each other's weddings, starting their own families, who have good careers. What you teach your students through the game of basketball, getting to see them use that later in life, is really rewarding. It's worth the late nights you have and the recruiting trips, all that stuff. I think it's a lot more rewarding than some jobs because you get to see that growth.
Cline: I love this age, because it's their first time away from home to discover who they are. They become their own person, and to see which direction they're going to go is really cool.