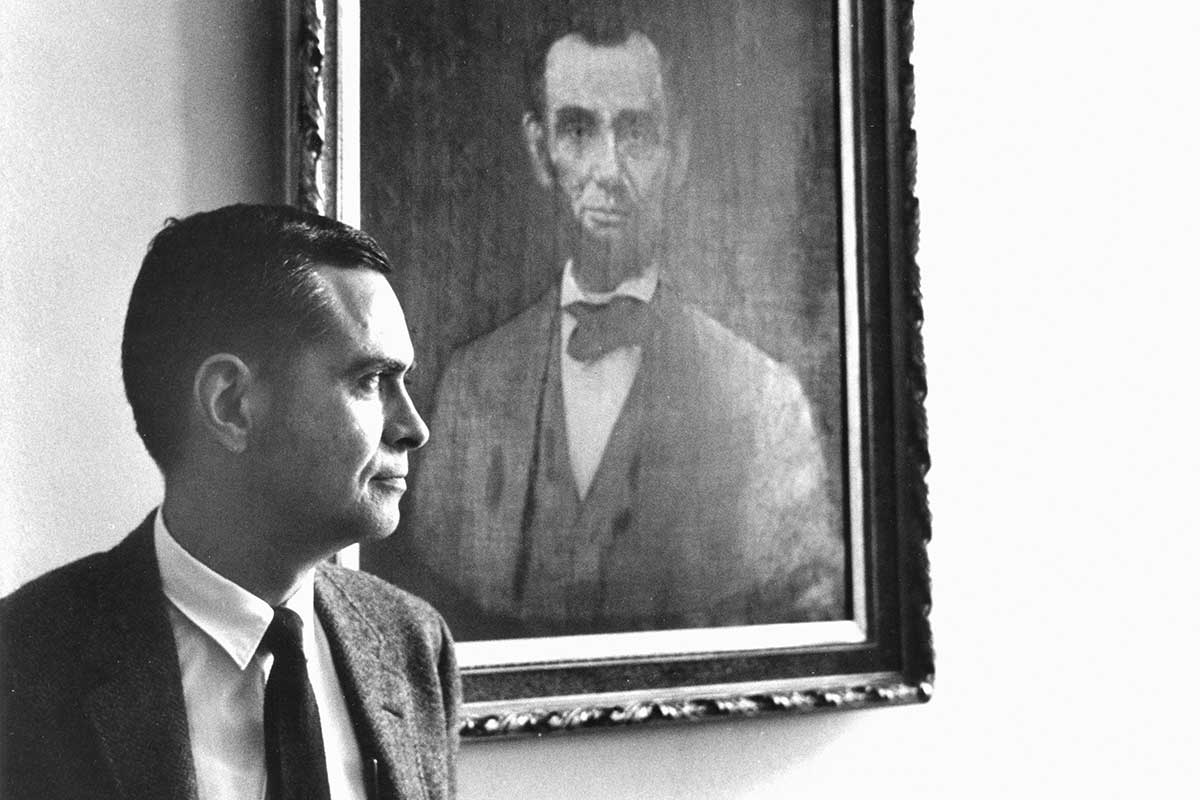 The Knox community mourns the loss of Rodney O. Davis, who passed away on Tuesday, November 5, 2019.
Davis, Szold Distinguished Service Professor Emeritus of History and Co-founder of The Lincoln Studies Center, received a bachelor's degree in journalism in 1954 and a master's degree in 1959 from the University of Kansas. He received his doctorate in history from the University of Iowa in 1966. He served in the U.S. Air Force from 1954 to 1957, when he was honorably discharged as a first lieutenant, and he served in the U.S. Air Force Reserves until 1969, when he was honorably discharged as a captain.
He began teaching American history at Knox in 1963 and helped establish Knox's American Studies program.
Davis was a much-honored scholar and teacher who twice received Knox College's Philip Green Wright-Lombard College Prize for Excellence in teaching. Among his other recognitions were National Endowment for the Humanities program grants, the Caterpillar Faculty Achievement Award at Knox College, and a Newberry Library Fellowship. He also was a specialist in 19th century American history, a recognized authority on the history of Illinois, and a prize-winning essayist.
After retiring from teaching in 1997, Davis and one of his Knox colleagues, Douglas L. Wilson, George A. Lawrence Distinguished Service Professor Emeritus of English, established and co-directed the Lincoln Studies Center at Knox College.
Davis' many scholarly publications include an introduction to the reprint of They Broke the Prairie , Earnest Elmo Calkins' history of Knox College and Galesburg; "Private Albert Cashier, as Regarded by His/Her Comrades" in Illinois Historical Journal ; and Herndon's Lincoln , Herndon's Informants: Letters, Interviews and Statements About Abraham Lincoln , and The Lincoln-Douglas Debates: The Lincoln Studies Center Edition , all co-edited with Wilson.
In a collaborative project with the Library of Congress, Davis and Wilson served as supervising editors for the transcription and annotation of the Abraham Lincoln Papers on the Library's website.
In 2009, in recognition of their scholarly work on Lincoln, Davis and Wilson were named laureates of the Order of Lincoln, the highest honor conferred by the state of Illinois.
Davis also was a member of the Organization of American Historians, the Illinois State Historical Society, and the Abraham Lincoln Association. He oversaw the yearlong activities surrounding Knox College's sesquicentennial celebrations in 1987, served as vice-chairperson of the Galesburg City Sesquicentennial Commission, and was a charter board member of the Galesburg Landmark Commission.
Davis is survived by his wife, Norma, three daughters, two grandchildren, and two great-granddaughters.
To celebrate his dedication to Knox students as well as his years of scholarship on the third floor of Old Main, the Davis family requests that memorials be directed to Knox College at knoxalumni.org/RodneyDavisMemorial to support the renovation of the student study lounge in Room 306 of Old Main, which will be named in his honor.