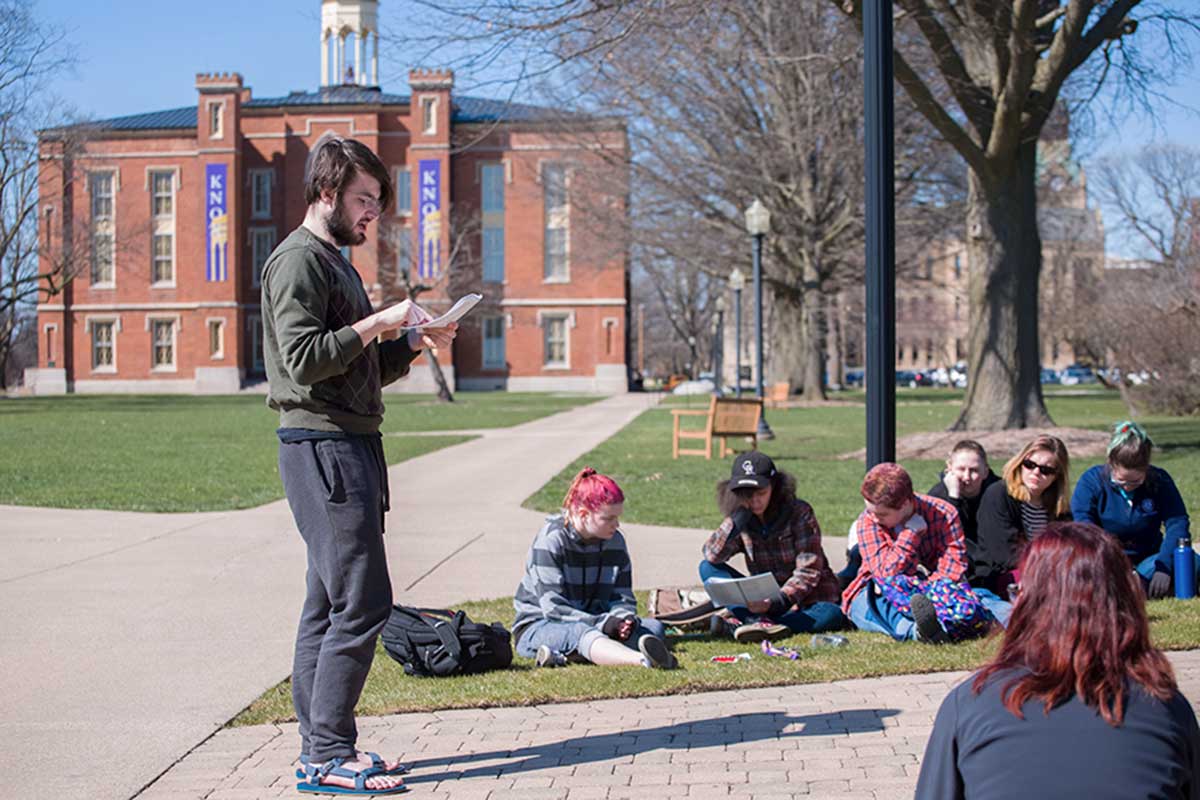 Beginning in the 2019 fall term, Knox has streamlined its classics curriculum to make it more accessible to 21st century students.
The Classical Languages track, which focuses on the intensive study of Latin and Ancient Greek and the analysis of authentic texts in those languages, replaces the individual Latin and Greek majors the College previously offered. "This is more of the traditional classics major, and it's for people who might want to go onto a career in academia or who are just interested in learning more about how languages work. It's very philologically intense," says Assistant Professor of Classics Hilary Lehmann.
The Classics & Ancient Mediterranean Cultures track, a reimagining of the discipline previously known as "Greek and Roman Culture," requires some introductory study of Greek or Latin language but enables students to explore the art, history, and culture of Ancient Greece, Rome, and other Mediterranean cultures from the classical era through readings in English.
"A lot of students come in with a general curiosity about the ancient world—perhaps they've read the Percy Jackson books or Madeline Miller's Circe. And that's actually sufficient preparation for the serious study of Greek, Latin, or Ancient Mediterranean history and culture," says Assistant Professor of Classics Mitchell Parks, who joined the faculty in 2017.
"If there is a stereotype about the classics," says Lehmann, "it's that it is all about dead languages. But the dead are not dead, because people continue to reinvent the ancient stories to meet modern audiences. There's something that people continue to find useful, and challenging, and identify with."
Despite the fact that the study of classics is so venerable that it was essentially the first college major, it remains a thriving, evolving, and rich field of study. "As a discipline, we are talking about more than how this ancient world is still present here; it's how that presence is actively being negotiated by people today," says Visiting Assistant Professor of Classics Scott Weiss.
One example of the department's commitment to these discussions is the First-Year Preceptorial (FP) section designed by Lehmann and Parks, "Myth & Modern." Students read ancient Greek texts alongside modern retellings: for example, Sophocles' Antigone and Kamila Shamsie's 2017 novel Home Fire, about a Muslim British family in contemporary London. Each pair of texts shows how members of marginalized groups deploy and rework ancient literature to comment on modern social issues.
In addition to courses using texts read in English, there is still plenty of coursework available for lovers of the Latin and Greek languages. Students in the classical languages track will be able to understand the structure and vocabulary of these languages within the first year and be able to analyze the meaning and language of authentic texts with the same intensity with which they might engage with literature written in their native tongue. "You engage with the text more quickly than you could expect if you were studying a modern language," notes Parks, "because textual analysis is the sole focus, rather than actual person-to-person communication."
While there isn't much explicit demand for a knowledge of Latin and Greek in the current job market, Parks argues that there's value in a classics education beyond the mastery of a demanding discipline and the intellectual pleasure it offers. "One of the problems in our culture is that we have such a limited time frame. A classics student can see what the pathways of human history look like across millennia, rather than from one tweet to another."