In a quiet corner of the Center for Teaching and Learning, known as CTL among Knox students, Risa Lopez sits at her computer surrounded by paperwork, her kids' art projects, and pictures of Prince. Risa has served as the director for the TRIO Achievement Program, formerly known as the Educational Development Program, for the past 13 years. "When I came in January 2007," she says, "we changed our name to the TRIO Achievement Program to align ourselves with that national identity and to help students understand that they are a part of a five million alumni strong association of students." Lopez is also director of the McNair Scholars Program.
The TRIO Achievement Program and McNair Scholars Program are funded through grants from the U.S. Department of Education. TRIO's mission is to support the retention to graduation of students from modest income backgrounds and those whose parents do not have a four-year college degree, while McNair's goal is to help prepare students from these populations for graduate and doctoral studies. Risa and her staff connect students with tutors and peer mentors as well as fellow students that might come from similar cultural or economic backgrounds. " That sense of community is fundamental to our program."
With more than a tenth of Knox's students under her wing, Risa teaches networking skills, financial literacy, graduate school preparation, and whatever else they might need to be successful at Knox and beyond. "It all starts, fundamentally, with them coming and finding out who they are, who they've been, who they want to be, and how do we get there."
Welcome to her office.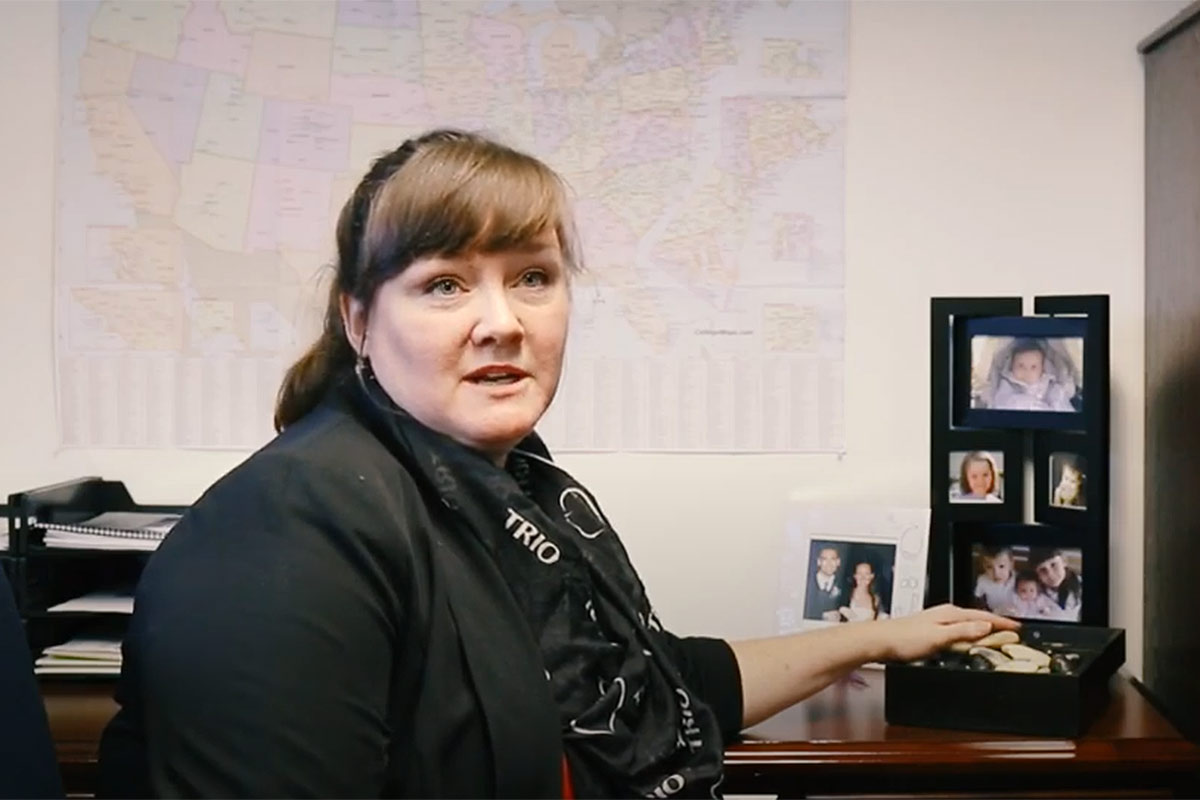 Other Items in Risa's Office
Buttons, pamphlets, and lanyards from TRIO events across the country. "We are so much larger than just this one program on this campus. Through Illinois TRIO, through the Educational Opportunity Association, through the advocacy work in D.C., it just keeps me constantly connected to this larger picture of what we're trying to do."
Family photos. "I have 185 students in the program. And then I know I have five children and my husband that are waiting for me to come home and be a part of their lives. Their personalities kind of shine through in a lot of the pictures, and that's what helps me keep going. If I'm going to take time away from my family, it's going to be for something important."
Majora's mask. This is the item that gets the most comments from students. Risa's oldest son cut and painted the mask hanging above her desk, which was originally featured in The Legend of Zelda video game series. "He's kind of upset that that's still up here. That was made years ago and he's a much better artist now."
Prayer and holy cards. Tucked away in her desk corner, Risa keeps a small collection of prayer and holy cards that she calls upon periodically throughout the day. "For me, love is service and selflessness. It's not to bring it up to the student, it's just essential to who I am."
The Purple One. " For students to know who I am, they have to know Prince. People know that's a part of what we're doing. We're going to work really hard, but in the meantime we're going to keep it funky and keep it moving. And Prince is kind of my soundtrack to that experience."