Kelly Clare works at the letterpress as Hal Keiner '67 observes.
Kelly Clare '16 was the first creative writing and studio art student to explore the possibilities of the letterpress shop at Knox. She took a letterpress course in Peoria, Illinois, during her senior year, as well as a summer internship at the Kalamazoo Book Arts Center in Kalamazoo, Michigan, before the letterpress shop at Knox was assembled. "It was from the outset very much a collaboration," said Clare about the creation of the studio at Knox.
As the letterpress shop took shape, Clare designed a post-baccalaureate fellowship with Mark Holmes, creating, among other projects, an extensive series of broadsides to honor the 50th anniversary of the Program in Creative Writing and construction of the Whitcomb Art Center. These broadsides paired work from studio art and creative writing faculty. "It feels really good to produce something that allows an artist and a poet to have a conversation. I loved putting together the different faculty for the 50th anniversary broadsides," Clare said.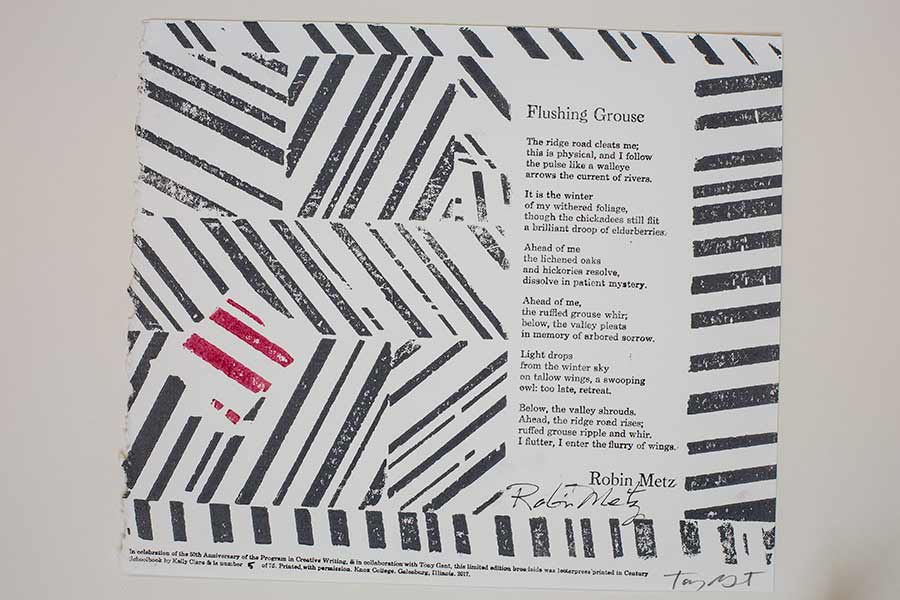 "Letterpress was a lot about gratitude," she added. She was "saying thank you not only for all the time [my professors] spent with me, but also this glimpse into their creative life." Over time, this glimpse has become a conversation, artistic and vibrant.
Now, Clare is pursuing an MA/MFA in sculpture at the University of Iowa. "I have made poems that are embedded in soap, and as you use the soap, words dissolve and change. I also did a piece where I cast letters in salt and then dissolved them and had them reconstitute as water evaporated," she said. "So having a really physical relationship with language and letterpress led to a lot of other explorations in that territory, where you get to pick something up that's a word, but it's also a thing."