Regine Rousseau '94 speaks to a student at the Career Impact Summit. Photo by Peter Bailley '74
When entrepreneur Regine Rousseau '94 was invited to speak to Knox students a few years ago, the timing couldn't have been much better for her.
"I was at a point where I had a story to share," recalls Rousseau, owner of Shall We Wine in Chicago. "I was asked at the time where everything started to come together with my business, and I knew that I could pass on what I've learned to someone else. I could have an impact on the student body."
That's exactly what happened, and she has continued to build on her relationship with the College by working with students in search of career advice and mentorship. Until the 2016 Career Impact Summit, though, she hadn't returned to campus for years. The two-day summit, designed to better prepare students for their after-Knox lives, brought together more than a dozen alumni and about 80 students for a series of networking opportunities and discussions on searching for jobs and developing careers.
Rousseau says she thinks many alumni find themselves in a situation like the one she was in: wanting to engage with Knox after graduating, but feeling uncertain how to go about it.
"Sometimes it's not that alums don't want to get involved. It's that alums don't know how to get involved," she says.
In her case, that first invitation to re-engage with Knox by speaking to students fit well with her talents, interests, and experiences. "I have very limited time, like everyone else, and so when someone asks something that is specific of me, I'm able to activate."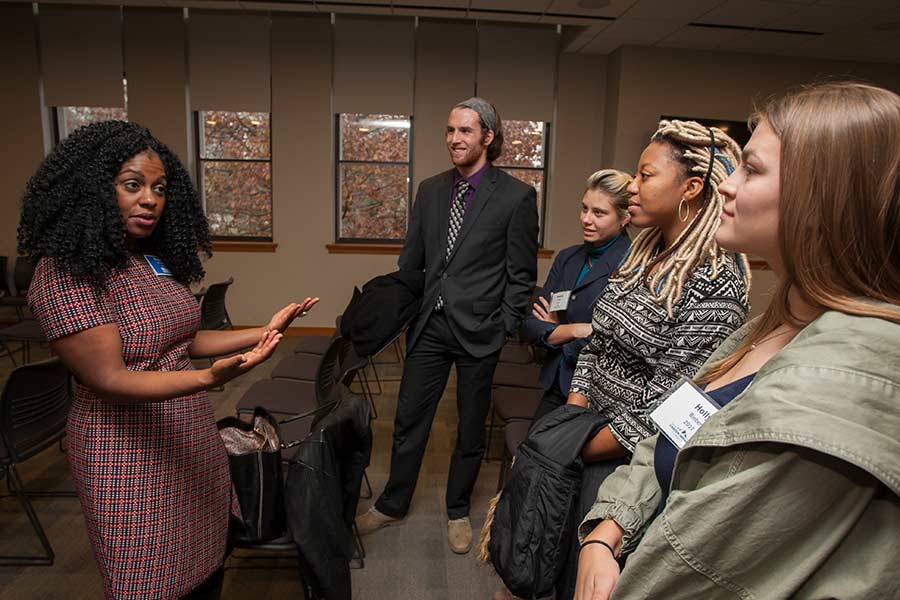 "I figured out that my story would have impact"
Rousseau presented the 2016 summit's closing session, "Dare to Dream: Having Confidence in Yourself," in which she described her professional journey from Knox theatre major to successful entrepreneur. She spoke about her work in various career fields, including sales and marketing, and how she ultimately achieved her longtime dream of creating her own business. She encouraged students to fulfill their own dreams by using the skills they've developed at Knox, and she called on them to believe in themselves.
"Eventually, I created this life that was based on the things that I wanted to do, the things that I'm really passionate about," she says, elaborating on why she agreed to speak to students at that event.
"I really looked at and reflected on my path and realized that there are some people who are going to go through this journey. If someone had told me in college that it's not going to be this straight line, that I would divert and I would try things and I would come back to certain things, that would have been valuable to me. That's why I said yes, because I figured out that my story would have impact."
After speaking at that summit, Rousseau kept in touch with and mentored some of the students she met at Knox. One student worked for her part time. Rousseau has remained involved with the College, speaking to students at a second Career Impact Summit and meeting with members of the Knox Business Club when they visited Chicago. In March, she participated in an admitted students event in Chicago.
"I think that everyone has to find their way"
Rousseau says she hopes that by spending time with students, they "have learned that they can create their own journey. I want them to feel they can take risks and it's OK, and they have everything that they need to save themselves if one of their risks doesn't pay off."
"Your life is limited if you're fearful, so I hope that my story causes people to say, 'Hey, I have a passion about something and I'm going to explore that passion and I'm going to explore it for as long as it makes me happy and interested. Then, if things change, I know that I can explore another passion.'"
Rousseau's time as a Knox student has played a key role in her life ever since.
"Knox was one of the places where I learned to be an entrepreneur," she says, citing her experience producing the play For Colored Girls Who Have Considered Suicide/When the Rainbow Is Enuf.
"Knox created an environment where I felt comfortable putting on that type of production. I was assigned a faculty advisor that taught me about how to put on a production. I had to learn that there are royalties to be paid. I had to learn how to gather a team of people to support the production —lighting, sound. I learned how to build a team, how to cast a show. I learned how to become a director, which is, to me, very much like being an entrepreneur."
Rousseau enjoys sharing such memories with Knox students because it helps them recognize that through their student experiences, they are developing skills that are relevant in the working world. She also is glad to be strengthening her connections to Knox.
"I don't think it's ever too late" for alumni to become re-engaged with the College, no matter how many years have gone by, she adds.
"I think that everyone has to find their way," says Rousseau. "Sometimes people are not in a situation where they can give financially, but they can give time or they can provide resources that the College needs. I think it's about finding how you can contribute."