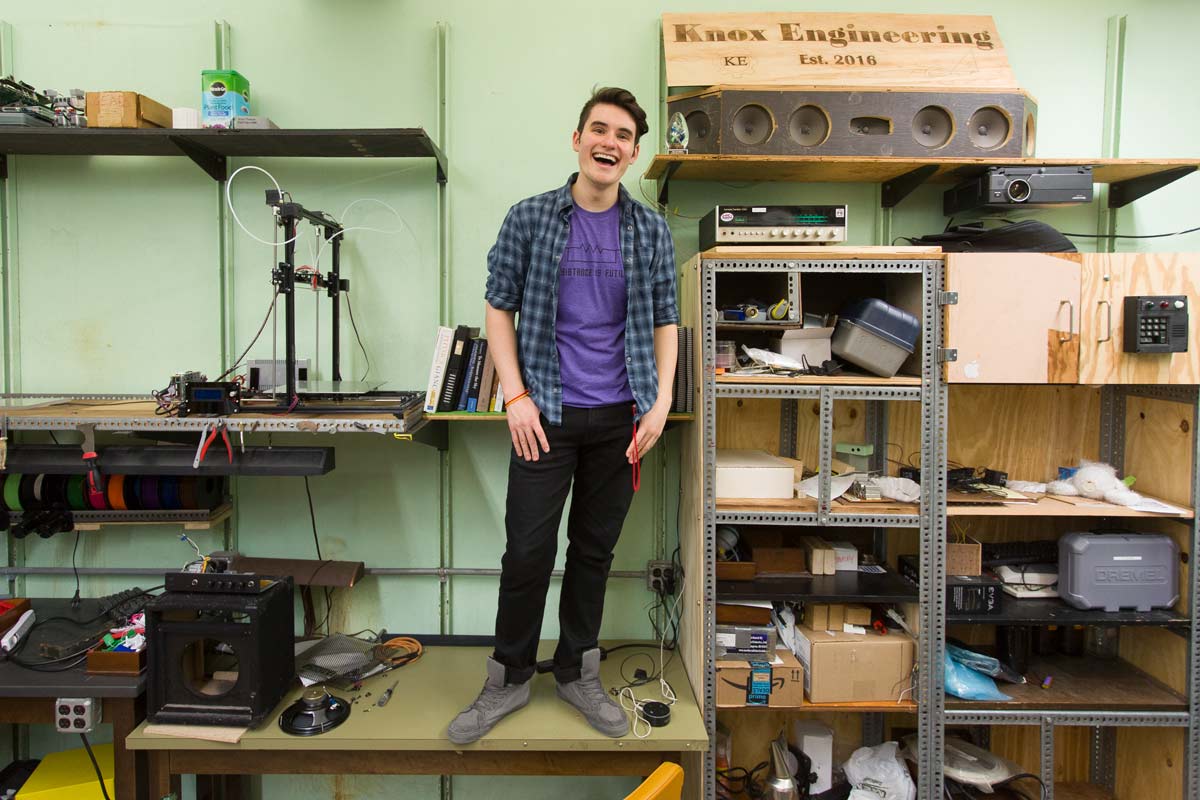 Vitals
Hometown: Glencoe, Illinois
Major: Physics
Campus Involvements: Knox Engineering Club, Math/Physics Tutor—SMC Red Room, Physics Club, Sigma Chi, Assistant Science Technician
Three Facts about Will
He is in a dual-degree program between Knox and Washington University in St. Louis and will ultimately earn a degree in physics from Knox and bachelor's and master's degrees in engineering from Washington University.
He co-founded and is shop coordinator of Knox's Engineering Club, where members share their knowledge about their particular area of focus, from physics to computer science.
One of his goals is to join Engineers without Borders, a nonprofit that takes on infrastructure projects in the United States and around the world to help communities better meet basic human needs.
What have been some of your favorite projects with Engineering Club?
The satisfaction is in the little things. For a hydroponics farm, my friend and I developed a circuit that drove the LEDs of the system and implemented microcontrollers to receive and distribute the data collected. We used a computer-aided design software called Eagle to design and order a printed circuit board for the project. Doing this involved learning a new program, as well as learning about the different integrated circuits. There is also a certain technique to PCB design that we had to learn as we went. Even small projects, like blinking an LED with a microcontroller (one of the first projects most electronics hobbyists do) is satisfying because it demonstrates the power of being able to write code and see it interact with the physical world.
What courses have taught you the most?
All of the physics professors are great. My favorite class was PHYS 205: Modern Physics; while it was a challenging course, the material was so interesting. Professor Mark Shroyer blew my mind with his lectures covering special and general relativity, the birth of the atomic model, and an introduction to quantum mechanics. Professor Shroyer is great at explaining things in comprehensive ways, and, through the intense coursework and his high expectations, he really makes sure you learn your stuff.
How have you changed since starting college?
I have discovered new interests, become more educated about social issues, and made a diverse group of friends. I developed more efficient ways of managing time.