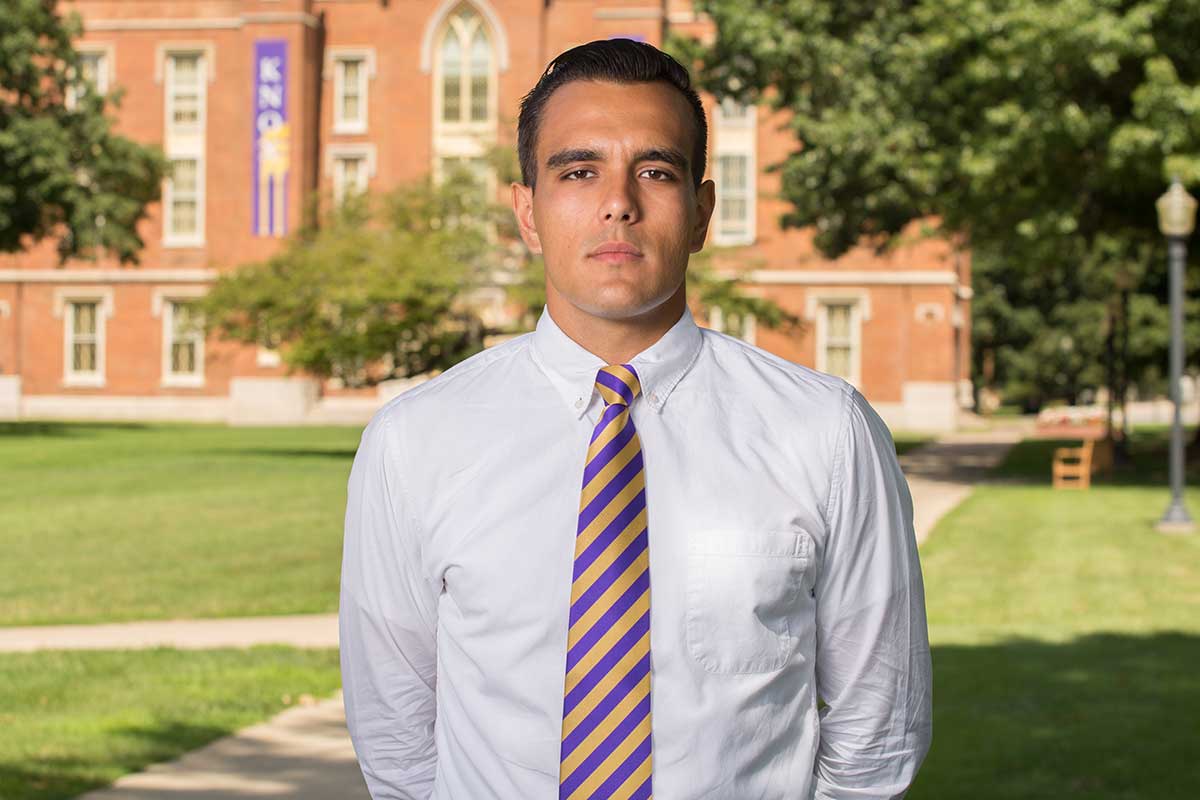 When a professor suggested to Phelipe Graske '18 that he apply for an internship with Goldman Sachs, he did not feel confident. Then a sophomore, Graske had only just begun taking economics classes at Knox. But with the encouragement of faculty, staff, alumni, and fellow students, he took the risk.
Graske was not only offered the position of summer analyst following his sophomore year, but, after the internship, he was offered a full-time position as an analyst to begin after his graduation from Knox in June.
According to Graske, the number of resumes received by Goldman Sachs in 2017 approached 360,000. What set him apart?
"The differentiator, the catalyst, is are you an interesting person? Can you work well in a team? Can you make people laugh?" he said.
Knox prepared Graske to be that "interesting person" through diversity on the men's soccer team, in the economics department, and within the campus at large. As soccer captain, Graske learned how to work as a team with people of varying cultures and values.
"At the end of the day, these people who are going to hire you, they're also the ones who you're going to be sitting by, the ones who'll be at the coffee machine with you in the morning," Graske said. "Being able to understand different paradigms and different cultures makes these people want to be around you."
He also had the opportunity to experience diversity in academics, studying economics not only at Knox, but in Chicago and London through off-campus and study abroad programs. "I think that encompasses the Knox experience," Graske said. "It gives me a different way of thinking about the world."
Graske said he would not have gotten the internship or job with Goldman Sachs without the support of Knox faculty and alumni, namely John Spittell, Wagner Distinguished Chair in Business and executive-in-residence, and Helen Lin '94, vice president at Goldman Sachs and Knox trustee.
"The key point is the support I had at Knox," Graske said.
Building the Connections
Experiences like Graske's represent the connections that the Bastian Family Career Center hopes to build for Knox students thanks to its new position, the assistant director of employee relations. "The role of the assistant director will be to create the relationships that'll open doors to Knox's talented students," said Terrie Saline, director of the career center. "This position will be responsible for facilitating connections with companies and organizations that lead to opportunities like internships and job shadowing for our students."
Six alumni came together to support this new addition to the career center: Joseph Bastian '67, John Cooke '52, Nancy Carlin '72, Keith Lee '94, Helen Lin '94, and Alex Kemmsies '09.