"Student debt is out of control."
"Unemployment rates for college graduates are high."
"College is not worth the money."
It's not a myth that faith in higher education is on the decline, but the headlines (like the ones above) we read in the newspaper or see on social media are just that-headlines.
Many are based upon extreme cases and not reflective of the experience of the vast majority of college graduates.
So how do we know what's a myth and what's real? Knox Magazine set out to take on a few of the headlines-or bust a few of the common myths-about higher education to help us all better understand why a college degree is still worthy of pursuit.
MYTH: College is too expensive.
FACT: College is expensive, but schools work hard to defray the costs.
Tuition, room, and board can add up quickly, particularly if you attend a private school, where the sticker price can exceed $50,000 per year. Even in-state tuition at many public colleges and universities is upwards of $20,000 per year. A college education does cost more today than it did a decade ago, but when you account for inflation, the growth in tuition, room, and board is not accelerating. At Knox, the increase in net price (tuition, board, and fees) has mirrored inflation over the last decade.
Further, the vast majority of students who attend college do not pay the sticker price, thanks to scholarships, federal financial aid, and institutional aid. The average price for a college education is $16,164 per year; at Knox, that average price is $20,804, and 98 percent of our students receive some form of aid, whether that be financial aid or merit scholarships.
Sources: College Scorecard, IPEDS, The College Board: Trends in College Pricing 2016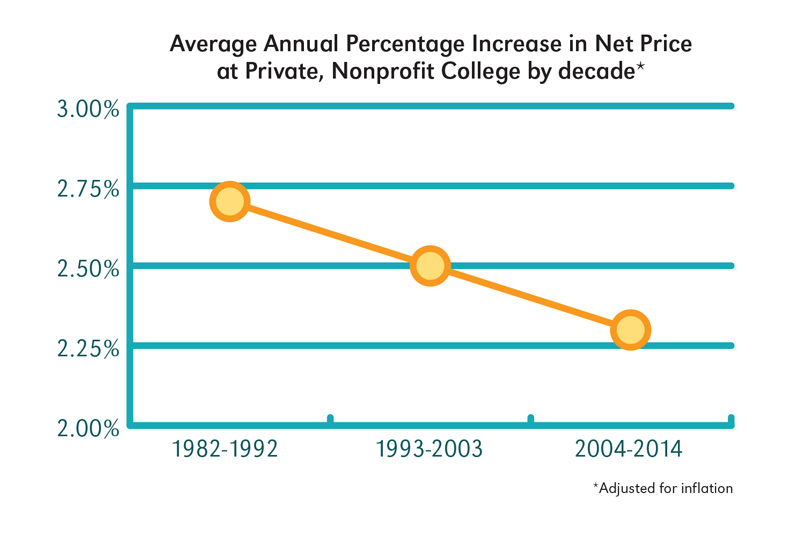 MYTH: Colleges spend too much money on fancy residence halls and climbing walls.
FACT: Yes, some do, but most do not.
As the competition for students has risen among colleges and universities, climbing walls, lazy rivers, and other amenities are now found on some college and university campuses as a means to make their schools more attractive to prospective students. The additions to campus aren't always paid for by tuition; for example, Louisiana State University covered the cost of its new recreation center, which includes a lazy river, with student fees. But a large number of college and university campuses haven't entered into what some call the new "arms race," either because they choose not to or face budgetary or other constraints don't allow for such amenities. In fact, once you start to read the stories that highlight these amenities, you'll find that these may be more of an exception than a rule.
"
Knox is #7 in the nation among liberal arts colleges for operational efficiency
At Knox, we are mission-driven in all that we do and have worked diligently to control costs so that our tuition dollars are used to support the core inputs of a liberal arts education- high-quality faculty and staff who are dedicated to undergraduates, small class sizes, modern scientific equipment and instructional technology, and opportunities for students to put their education to practice outside the classroom.
Sources: Chronicle of Higher Education, U.S. News & World Report
MYTH: Students are drowning in debt.
FACT: The average debt level of a bachelor's degree recipient is equivalent to the average price of a new car.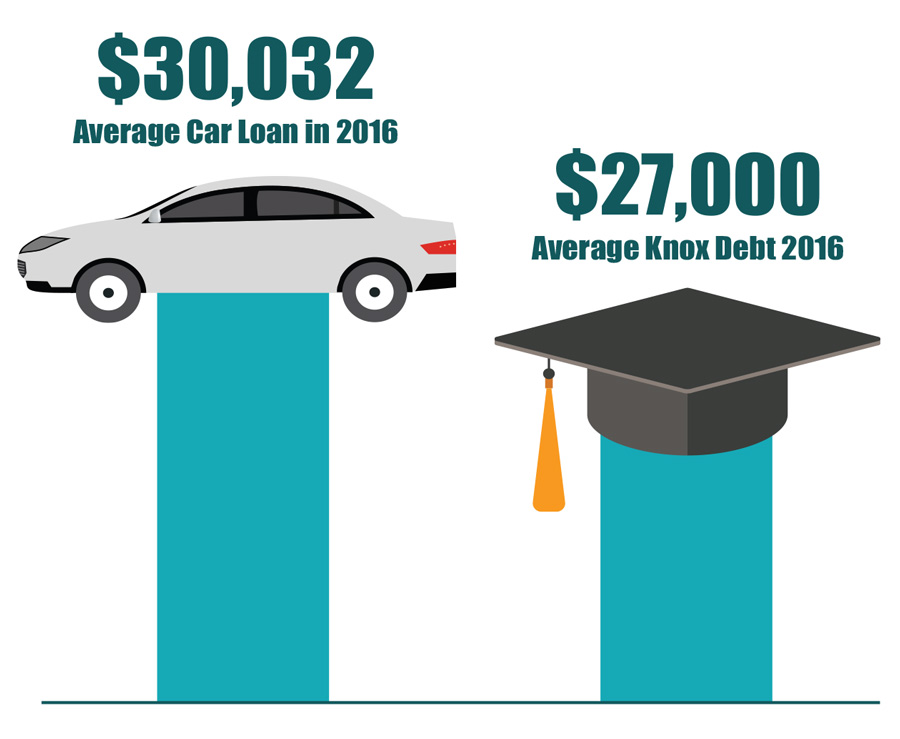 We've all read the stories about students graduating from college with burdensome amounts of debt, sometimes topping $100,000. While it is true that college debt has grown over the last decade, the extreme stories you read about in the news are just that: extreme. In 2014, only 4 percent of all borrowers owed $100,000 or more in student debt, and the vast majority of large debt is incurred at the graduate level or at for-profit educational institutions.
The average debt incurred by a Knox graduate is $27,000, below the national average of $30,000, and 72 percent of Knox graduates start to repay their loans within three years, compared to the national average of 48 percent. While we recognize that $27,000 of debt is substantial, here's another way to think about it: Many of us don't blink an eye at incurring a car loan of $30,000, and you'll only own a car for roughly a decade, give or take a few years; your education will last you a lifetime.
Sources: Council for Independent Colleges, College Scorecard, CNBC, Student Loan Hero
MYTH: A bachelor's degree isn't worth the investment.
FACT: A bachelor's degree is one of the most important-and beneficial-investments you can make.
The sentiment that the expense of attaining a four-year degree, particularly at a private school, isn't worth the outcome is certainly growing. But we need to remember that a college degree has benefits that last a lifetime.
"
Knox is one of the top 50 private colleges where alumni feel they got a great return on their investment.
Forbes Grateful Grads Index
According to a report by The College Board, college graduates also earn roughly 73 percent more than high school graduates-and those with advanced degrees earn two to three times as much as high school graduates. On average, college graduates earn $1 million more over their lifetimes than high school graduates. A recent study by the Brookings Institution further shows that college graduates ultimately lead healthier, longer lives. So while the cost of a bachelor's degree is not inconsequential, the benefits that graduates realize over their lifetimes are well worth the initial investment.
Sources: Chronicle of Higher Education, College Scorecard, College Board
MYTH: Liberal arts graduates aren't desirable employees in today's marketplace.
FACT: Liberal arts graduates are highly desired by employers.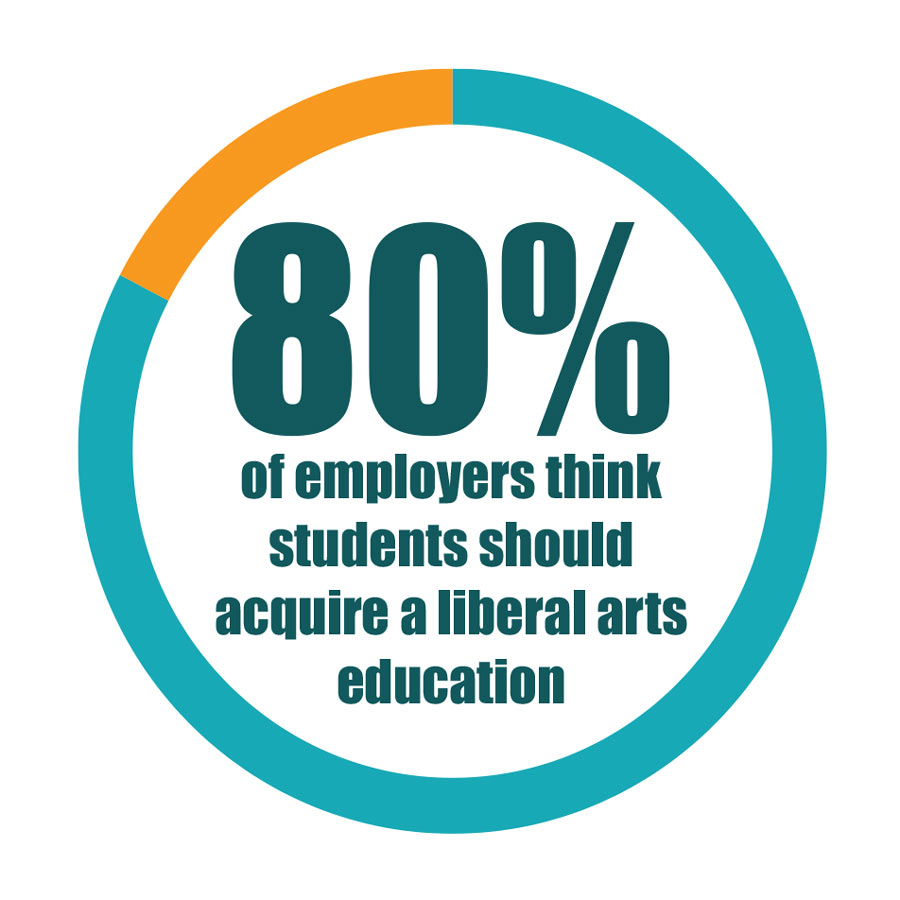 While it may seem counterintuitive that a broad-based education may be more beneficial than a skills-based one, it's true. The core outcomes of a liberal arts education-the ability to think critically and creatively, work collaboratively, communicate clearly, adapt to new technologies, and navigate today's global economy-are not only desired by today's top employers, but also provide students with the skills they need to adapt to an ever-changing world. Today's graduates may have two or more different career trajectories during their lifetime, which makes a broad-based education even more beneficial.
Companies in the tech industry aren't shy about the benefits of a liberal arts degree-Google often touts its appreciation for employees who can think creatively and adapt to evolving technologies, and Microsoft president Brad Smith and EVP of AI and research Harry Shum wrote in their new book, The Future Computed, that lessons from liberal arts will be critical to unleashing the full potential of AI. We hear this exact sentiment from employers who hire Knox graduates on a regular basis. Take Epic Systems, whose human resources recruiter says, "Epic values the well-rounded liberal arts education students receive at Knox College and actively recruits students majoring in everything from classics to computer science."
Sources: Council for Independent Colleges, Knox College Bastian Family Center for Career Services, Business Insider