Knox College will now offer science students a choice between two degree programs. Beginning in fall 2018, students will be able to pursue either a bachelor of arts degree (B.A.) or a bachelor of science degree (B.S.) in biochemistry, biology, chemistry, computer science, environmental science, mathematics, neuroscience, psychology, and physics.
"The bachelor of science degree is a great option for students who are considering a professional career or planning to attend graduate school in the sciences," said Michael Schneider, interim vice president for academic affairs and dean of the College. "We are confident that the addition of the B.S. will provide our science students with more robust preparation for life after Knox and will be of great interest to prospective students who plan to pursue careers in the sciences but still want the benefits of a residential liberal arts college."
Programs offering a B.S. degree will require at least four credits beyond the requirements for the B.A. degree, with at least one of the credits in the sciences, mathematics, or computer science taken from a department outside the primary major. Both current students and incoming students will be given the opportunity to pursue the bachelor of science degree program.
"Adding a bachelor of science degree program shows that you can do serious science here," said Thomas R. Moses, professor and chair of physics. "Knox is a liberal arts college, and we also have a serious science program with strong outcomes for our graduates."
Knox is ranked by the National Science Foundation in the top 10 percent for graduates who have earned doctorates in mathematics, computer science, and the natural and physical sciences. Dean Schneider noted that liberal arts colleges occupy half of the top 50 schools in terms of percentage of science students going on for a Ph.D.
Science Outcomes
Recent science majors are pursuing graduate degrees at some of the nation's leading universities:
Computer science major Dakota Stipp '17 is currently at Yale studying sound design
Chemistry major Bradley Musselman '16 is pursuing a Ph.D. at the University of Michigan
Neuroscience major Coltan Parker '16 is pursuing a Ph.D. at the University of Illinois
Biology major Caitlin Hemby '16 is in veterinary school at the University of Illinois
Others are in the workforce at the nation's leading companies:
Math major Nathan Johlas '14 is a software developer at Epic Systems Corporation
Physics major Rohail Khan'16 is a project management associate at IHS Markit, a financial services company in New York
Bachelor of Science Degree By the Numbers
2
Associated College of the Midwest (ACM) schools offer a bachelor of science degree: Knox & Beloit
9
Fields of Study: Biochemistry, Biology, Chemistry, Computer Science, Mathematics, Environmental Science, Neuroscience, Psychology, and Physics
2/3
of Knox science graduates already met the B.S. degree requirement before the degree was offered
A New Life for the Umbeck Science-Mathematics Center
Science and science education have changed profoundly since the Umbeck Science-Mathematics Center (SMC) opened in 1971. Courses are more discussion-based and hands-on. Students work with technologies that no one could imagine even a few decades ago. While independent research has always been a critical component of the Knox curriculum, today's students are taking on projects as early as their first year.
As a result, the classes Knox offers within SMC today are both smaller in size and less lecture-oriented than they were when it was originally designed. The large amphitheatre-style classrooms at the core of the building now sit unoccupied most of the day. Instead, visitors often encounter students sitting in the corridors between classes with books, papers, and devices spread out around them. At the same time, the boundaries between academic disciplines-psychology and biochemistry, or physics and biology-are no longer as distinct as SMC's four separate wings seem to imply.
Recognizing the changing needs of our science students and faculty, Knox is moving forward with renovations that will re-envision SMC to ensure that faculty and students can continue their transformative teaching and learning. Working with faculty from every SMC department, and architects Holabird & Root (who also renovated Alumni Hall), Knox is pursuing a phased renovation plan that will deliver immediate improvements to the student experience.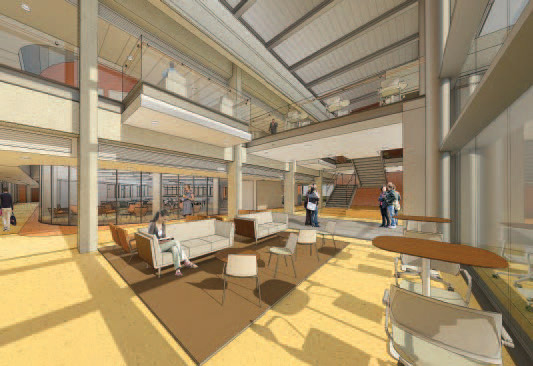 The first phase of the five-phased renovation will create a vibrant welcome to the sciences at Knox, beginning with the central core and adding much-needed collaborative space to the center of the building. It will also add five modern classrooms, while laying the groundwork for improvements to each of SMC's wings. The additional phases will address the four individual wings of the building, each of which houses individual departments.
"At more than 40 years old, Umbeck Science-Mathematics Center is one of the oldest science buildings among our peer institutions," says President Teresa Amott. "Renovating this key academic building is our top priority at the College, as we must ensure that our faculty and students work in a building that is as innovative as they are."
To date, Knox has raised nearly $6 million toward phase one of the renovation, and construction documents are currently being developed. The College will make a decision on the start of the first phase of renovations this coming summer.
More information on the renovation can be found at www.knox.edu/umbeck.