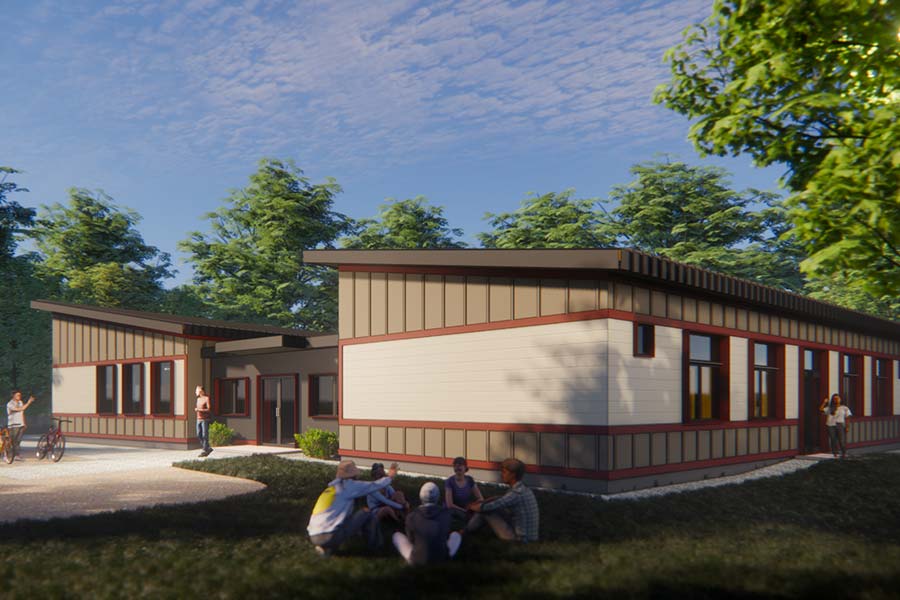 Since its creation in 1958, Green Oaks has been an incredible resource for Knox students, faculty, and staff, and Knox College is committed to the continuing stewardship of Green Oaks and to the enhancement of its contribution to the cultural and intellectual life of the College.
Last year, Knox celebrated the 20th anniversary of the Green Oaks Term, but the land has been part of Knox much longer. Green Oaks is a resource for learning across the curriculum, encompassing diverse subject areas including environmental studies, biology, regional history and prehistory, general education and preceptorial courses, and the creative arts including painting, photography, and writing. Green Oaks has also become a place for community-building gatherings of students and faculty, such as the annual Prairie Burn.
The College recently announced the construction of a new multipurpose facility at the Green Oaks Field Station thanks to a generous lead gift from an anonymous donor. In the past, Green Oaks utilized Schurr Hall, a converted barn, as a residential facility and field station for educational purposes, but this space has reached a point where new construction is necessary to continue operations. The new facility will be built north of the west prairie and will feature sleeping quarters for up to 16 students, a small director's suite, a large kitchen, modern bathrooms, and laundry facilities. The space will also include two large classroom spaces that can be arranged to meet the needs of classes and groups. The new facility will be heated and cooled, allowing for year-round use. It will also be fully accessible and built with green materials as part of Knox's commitment to sustainability.
Tree removal for the project is underway, with construction of the facility starting soon. Many of the trees marked for removal are black locusts, a non-native species to central Illinois. Decisions on tree removal were made thoughtfully and in consultation with members of our community who know the land best.
The new facility will be available for Knox use as well as for retreats, programs, classes, and Galesburg community and school groups. Stuart Allison, current director of Green Oaks Biological Field Station and Watson Bartlett Professor of Biology and Conservation, emphasized that Green Oaks isn't just for academic use; all members of the Knox community are invited to explore and experience this unique part of Knox. "We would love to see increased use of Green Oaks by the entire Knox community," Allison said. "The College is investing in a wonderful place. We need to take advantage of the natural landscape and ecology of our surroundings."