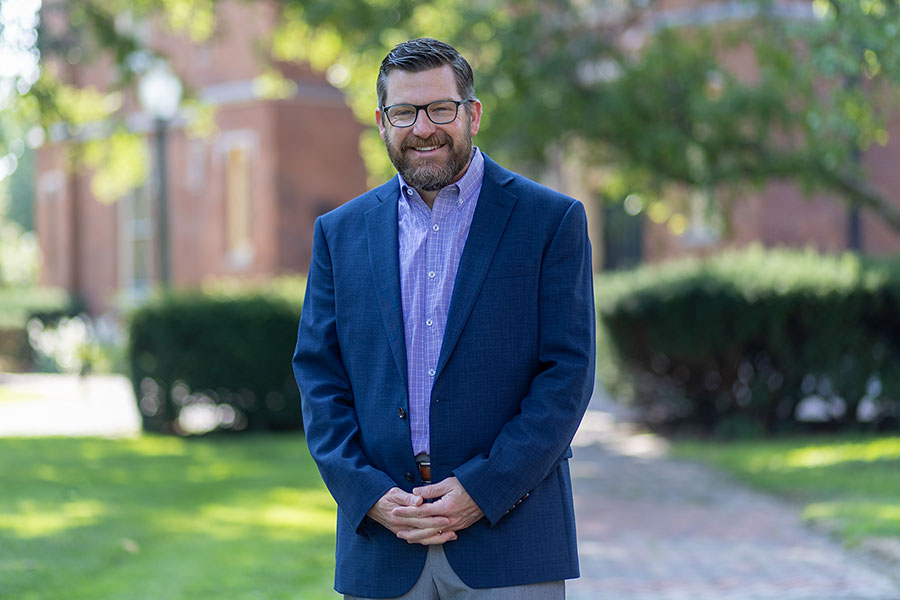 Nathan Ament is just a few months into his role as Knox's new Vice President for Enrollment and Dean of Admission, but he's already bringing a fresh perspective to the admissions process at Knox.
At Knox, Ament is responsible for the offices of admission, student financial services, and communications. He hopes to foster collaboration and creativity as his team works to boost enrollment and attract more students to Knox. "I pride myself on being a thoughtful listener and connector of people," he said. "I really enjoy helping those around me use their skills to thrive and support the mission of the organization."
He joins Knox from Loyola University New Orleans, where he served in a similar role, leading the enrollment management team. During his tenure at Loyola, Ament focused on improving access and equality for all students while growing and stabilizing Loyola's undergraduate population to provide a solid foundation for the University. He also led his staff at Loyola through numerous challenges, including a global pandemic and a Category 4 hurricane that knocked out power to the campus for a month.
Ament has Illinois roots and earned a bachelor's degree in music education from Augustana College in Illinois. He also holds a master's degree in organizational leadership from Saint Mary's University, Minnesota.
Professionally, he is active in numerous admissions organizations and co-hosts "The Admissions Directors Lunchcast" podcast with his friend and partner, Teege Mettille. With more than 20 years of experience in the field, Ament's expertise spans all areas of strategic enrollment management and execution, including financial aid, staff management, cross-campus relationship-building, and student visit experiences.