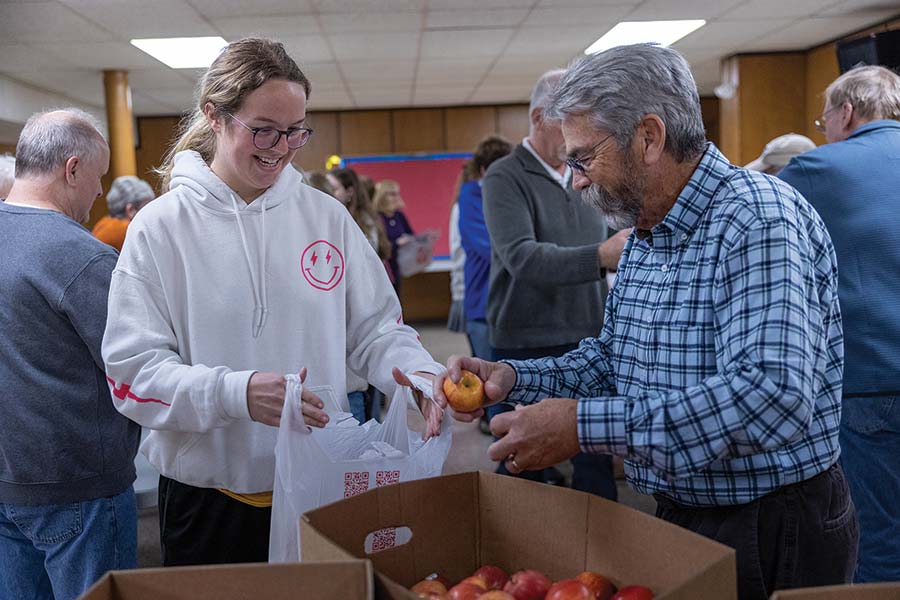 The idea of organizing volunteers to pack food for hundreds of Galesburg children while the cost of supplies has risen 40 percent is a sizable task. But Joel Estes, visiting instructor emeritus of educational studies and long-time Blessings in a Backpack (BIAB) program advisor, is unwavering in his dedication to the mission: provide local children with a backpack of kid-friendly, nutritious food to take home each weekend.
Since it was established on campus in 2010, BIAB has grown and evolved, finding creative ways to stretch its dollars. The program is a collaborative effort between Knox and Galesburg, as many local businesses host fundraisers to ensure the group has what it needs to feed nearly 450 local students each weekend.
BIAB relies on student volunteers, and Estes hopes to see those numbers increase. He sees the program as a unique opportunity for Knox students to directly connect with the community. There are also wonderful leadership opportunities within the program. "Feeding kids is what we do, but there are so many other benefits," he said. "I hope people find the time to give it a try."
Blessings in a Backpack meets on Tuesday nights at 6:00 p.m. in the First Presbyterian Church to pack meals and everyone is welcome. The program is co-led by student development leaders Dan Marlin and Teresa Nelson.