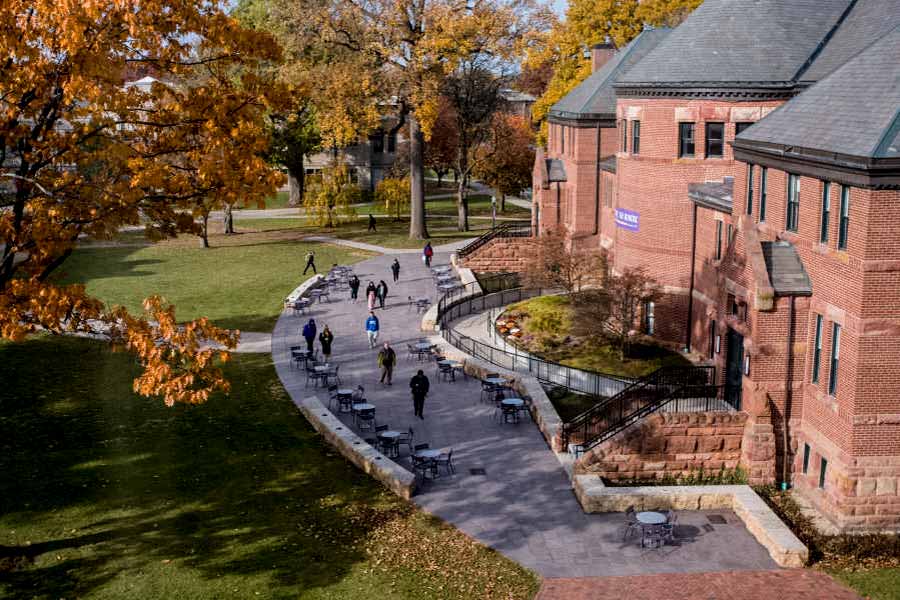 Six faculty members retired from Knox at the end of the 2022-23 school year. This group of educators has accumulated over 200 years of service to the College.
"This esteemed group of retirees has profoundly shaped Knox College," said Michael Schneider, provost and dean of the College. "In addition to individually amassing significant achievements as scholars and artists in their own fields, one could scarcely exaggerate their collective impact on the life of the College. They have taught foundational courses in the curriculum, mentored advanced students, accompanied students across the globe in experiential learning programs, and served their colleagues in governance and administrative positions. On a personal note, I cannot imagine my time at Knox without their unique contributions to the daily life of our institution. They have my sincere admiration and respect."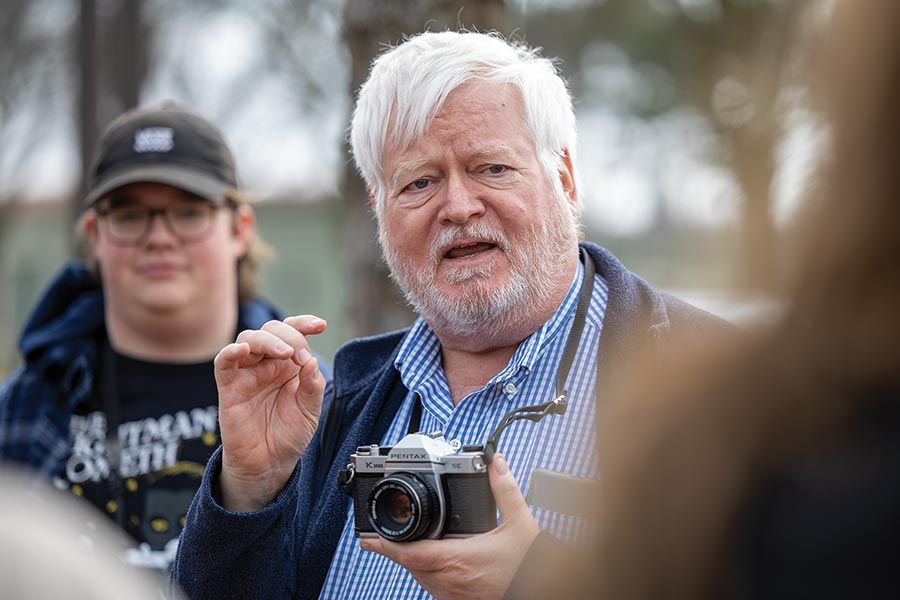 Michael Godsil
Associate Professor of Practice Emeritus in Art
During his time at Knox, Michael Godsil taught the art of photography to countless students, developing a visual framework for creative and journalistic media. His courses taught not only the physical application of photography through film development and camera functionality but also tools for editing and how to capture any subject in its best frame.
Generations of students have discovered a lifelong passion for photography and some have pursued careers in photojournalism or related fields due to the coursework developed by Godsil.
"His role in providing creative opportunities to students who've never imagined themselves to be 'creative' has been a transforming factor in the education of countless Knox students," Mark Holmes, Knox chair and associate professor of art, said.
"
"This esteemed group of retirees has profoundly shaped Knox College."
Michael Schneider, provost and dean of the College
Over his career, Godsil amassed numerous achievements in the academic and artistic realms. Dating back to 1984, he has exhibited dozens of solo and group photography presentations and galleries of his work. His photographs of melting glaciers vividly depict the impacts of climate change, and his photographs of cultural sites in the American southwest serve as calls to protect the cultural heritage of indigenous peoples. Godsil was also involved with clubs in the Knox and Galesburg communities, including the Knox Photo Club, Rotary Club, and Galesburg Camera Club.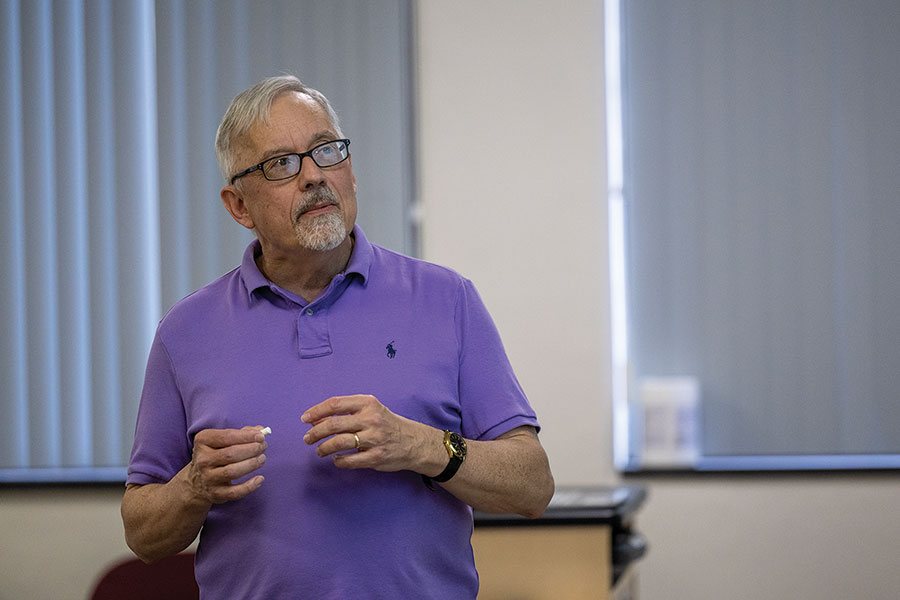 Kevin Hastings
Rothwell Stephens Distinguished Professor Emeritus of Mathematics
Kevin Hastings' career in mathematics focused on applications of real-world problems. Since joining the College's faculty in 1986, he has led students to a greater understanding of a wide variety of data-driven topics, including mathematical statistics, operations research, financial mathematics, and honors research.
"He has been an exemplary senior leader of the faculty, offering a reasoned and sober influence on faculty debate and decisions," wrote one of Hastings' colleagues upon retirement.
Hastings' career was marked by dedication to the Knox community. He was awarded a Knox Faculty Development Award in 1998, named the Rothwell C. Stephens Distinguished Service Chair in Mathematics in 2015, and received the Presidential Award for Faculty Excellence in 2019. His scholarship as a mathematician resulted in publication in textbooks and magazines. Hastings' work was also presented at universities in Chicago, Seattle, and Ripon. He also served as a member of the Mathematical Association of America.
Around campus, Hastings established multiple internship opportunities and supervised student projects in applied mathematics. He also served as the College registrar for a decade.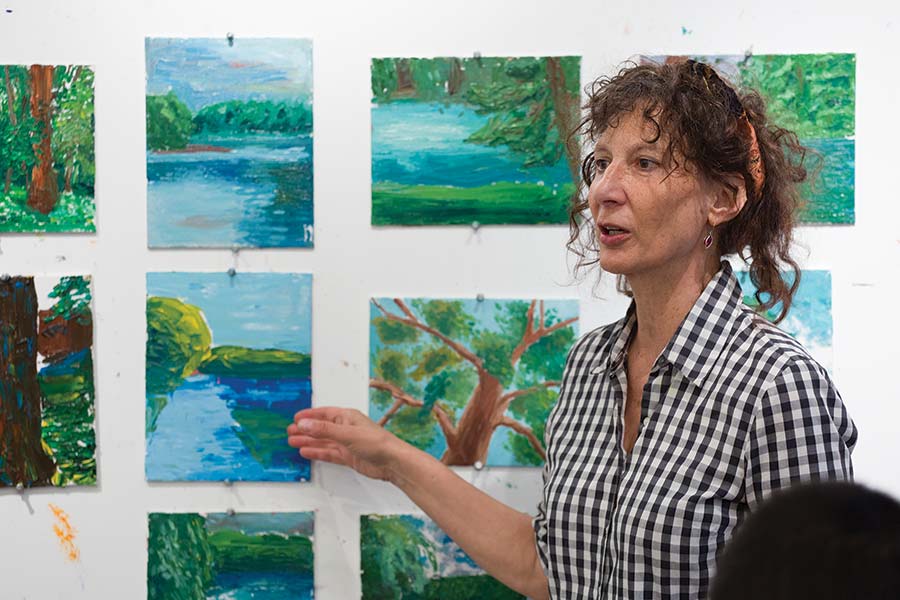 Lynette Lombard
Chancie Ferris Booth Distinguished Professor Emerita of Art
Lynette Lombard taught with a passion for art and developing great artists. Her approach to teaching was described by her peers as one of encouragement and attention to detail. Her primary artistic interests focused on painting, interpreting landscapes, and drawing. Lombard also shared a strong interest in feminist theory, modernism, contemporary painting, and printmaking.
"Students were fortunate to witness the delight she projects in discussing their work, taking it apart piece by piece, pointing to strengths and exposing shortcomings," Mark Holmes, Knox chair and associate professor of art, said.
Lombard's work was presented in exhibits around the country, with dozens of shows from Massachusetts to Illinois. Lombard's career at Knox saw numerous awards, including the Philip Green Wright Lombard Award for Distinguished Teaching in 1999, multiple Knox Faculty Research/ Creative Work grants, and the Presidential Award for Faculty Excellence in 2022.
Around the Knox community, Lombard served as Knox Campus Representative for the Chicago Semester in the Arts, organized the Clare Smith Memorial Exhibition, and served as chair of the Knox College Art Department. She also helped lead the Knox in NY program since 1994.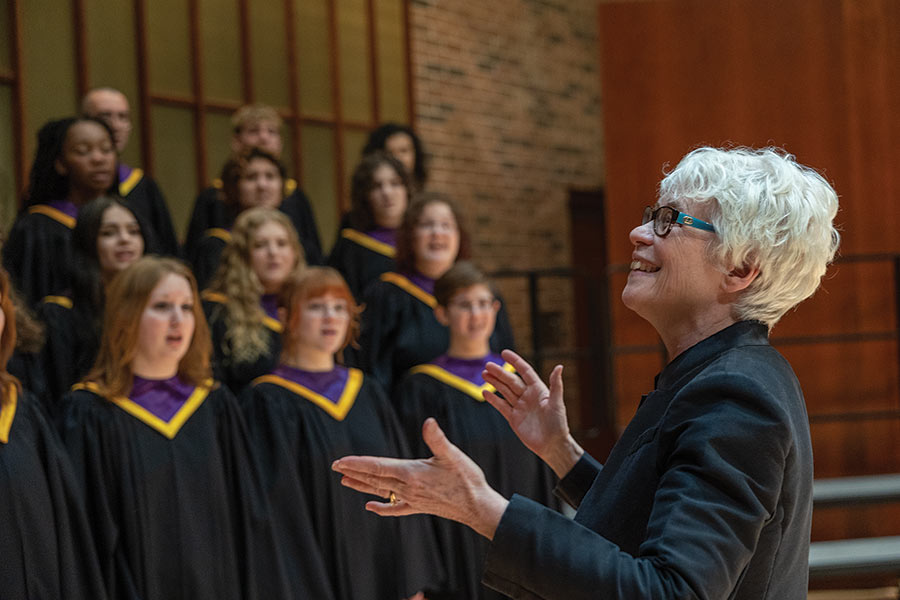 Laura Lane
Professor Emerita of Music and Director Emerita of Choral Activities
Laura Lane's passion for music was seen time and time again throughout her 40 years as Knox College choir director. Over that time, Lane's name became synonymous with the music culture of the College, as she developed strong relationships with students and community members. Her passion for vocal performance helped develop the Knox College Choir into the internationally recognized group it is today.
"Over the years, the choir has been acclaimed not only for its high level of musicality and adventurous programming but also for the strong sense of community that Laura fostered," Joan Huguet, chair and associate professor of music, said.
Lane was also known for conducting multiple community vocal groups, including the Nova Singers and the Galesburg Community Chorus. She served as the president of the Illinois Chapter of the American Choral Directors Association (ACDA), as well as a clinician for the Illinois Music Educators Association annual meeting. Lane's library of choral recordings includes over a dozen recordings of Knox College Choir tours and Nova Singers performances. Her hard work resulted in a number of significant awards, including three Exceptional Achievement Awards for her work with choirs, awarded by the Knox College Personnel Committee in 2000, 2007, and 2016; a National Endowment for the Arts for Nova Singers/Monroe Crossing concerts, a workshop, and community outreach between 2016-2017; and the Harold Decker Award from the Illinois ACDA in 2018. She received the Presidential Award for Faculty Excellence in 2023.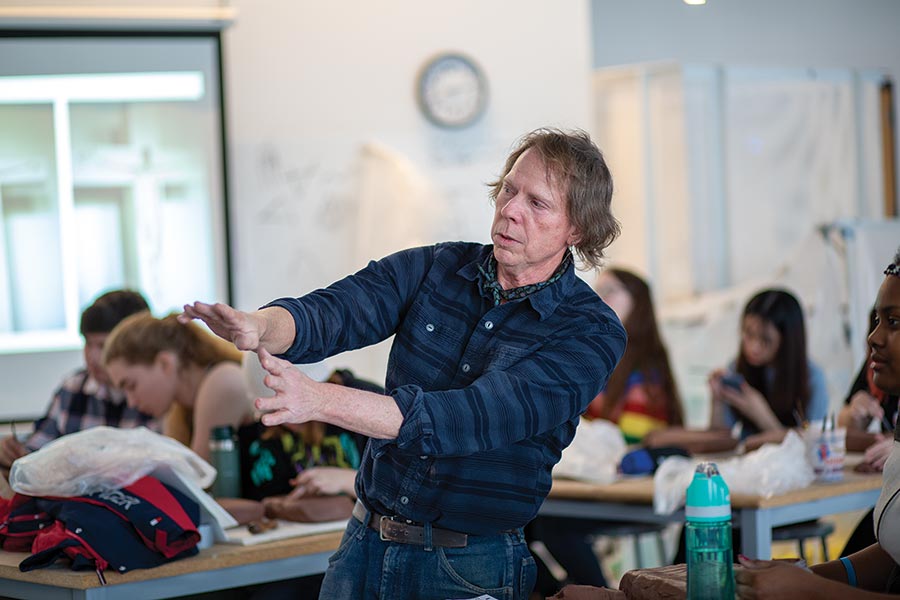 Tony Gant
Associate Professor Emeritus of Art
Tony Gant's career in teaching led many students to ponder ideas of sculpture, philosophy, African art history, printmaking, and media culture. For years, non-majors who casually enrolled in Gant's drawing class emerged 10 weeks later with their eyes opened and eager for more.
Gant's peers point to his uniquely absurdist humor as a key to his teaching success, as well as his honest and conversational approach to providing students with their first real critiques.
"Tony is like a Zen master," Mark Holmes, Knox chair and associate professor of art, said. "He comes on slowly, giving students space to ponder his questions and guiding them to take control of the conversation."
Since 1984, Gant has held exhibitions of his work from Spain to many states around America. He also helped organize over 40 art exhibits to expose the work of contemporary artists from near and far to the wider Knox community. Gant was awarded multiple Knox Faculty Research/Creative Work Grants, as well as a Knox Faculty Development Grant for travel to the Museum of Modern Art in preparation for a New York exhibit.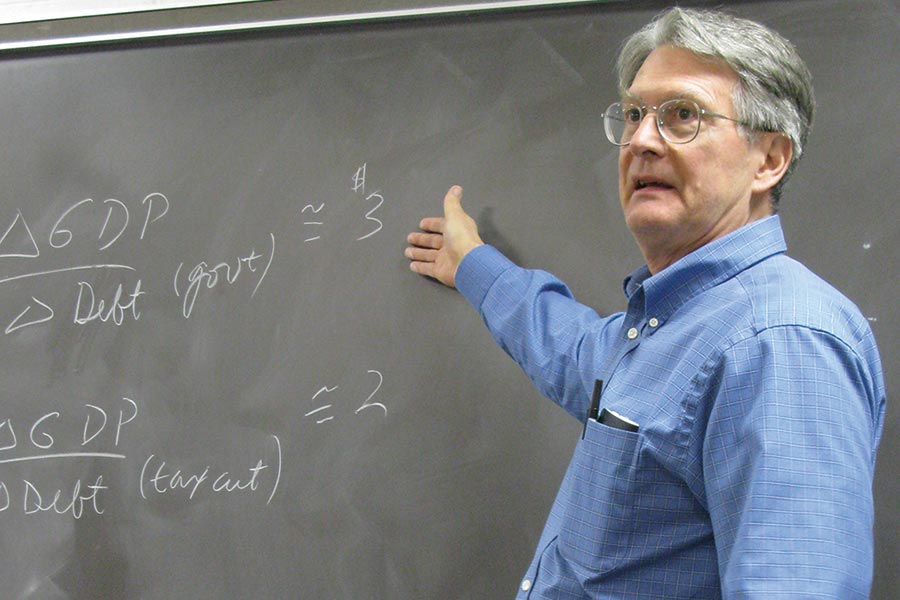 Richard Stout
Professor Emeritus of Economics
Throughout his career as a teacher and colleague, Richard Stout exemplified the importance of sound reasoning and decision-making. His approach to education was centered around useful applications of the principles of economics, macroeconomics, money and banking, law and economics, public finance, statistics, and econometrics. His interests also spanned from school performance ranking to the reclamation of farmland after surface mining, the subject of his 1998 publication Prime Farmland Variability in Meeting Post-Mining Yield Targets.
"He wants his students to excel, and for this reason, he always has time to share with you when you need it. He is very approachable," wrote one of Stout's students.
Stout had many opportunities to present his work during his career, including leading a seminar with the State of Illinois' Office of Trade and Investment and working as a presenter for the Prime Farmland Reclamation Forum, sponsored by the United States Office of Surface Mines. He served as an expert consultant in law cases involving wrongful death compensation and was the principal statistician on an Illinois school district evaluation project that received the Most Distinguished Research Award in 1994 from the U.S. Governmental Research Association. He received the Presidential Award for Faculty Excellence in 2020.