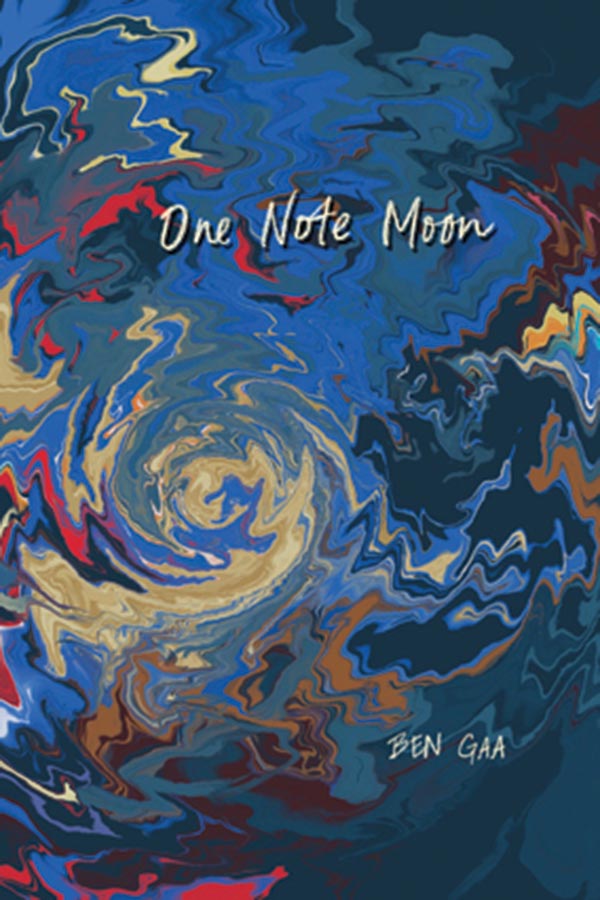 Ben Gaa '98 is celebrating the release of his sixth book of haiku and senryu poetry, One Note Moon. We caught up with Ben to get the scoop on his latest book and the art of haiku.
How did you get into haiku?
I got turned on to haiku at Knox. I was a creative writing major so I was writing all the time—long poems, mostly, focusing on rhythm and structure. Sheryl St. Germain was the poet in residence when I was there, and she gave me a book, The Essential Haiku: Versions of Basho, Buson, & Issa by Robert Hass. She had studied under him and passed his work on to me. When I first started looking at it, it immediately blew my mind. It was the first time I had seen haiku not written in 5-7-5 and I was floored. I started writing haiku but I couldn't find ways to learn more about it (this was pre-Google days), so I put it aside until 2009 when it resurfaced and I got back into it. Four chapbooks and two full-length collections later, it's the only thing I read and write now.
Tell us a bit about your writing process.
For me, the process is so much more important than the end product. I start by sitting down, in my reading chair or a pub or a park or someplace I can sit by myself and observe. And I have things with me to read—a poetry anthology, the latest issue of a journal. I read to quiet my brain. It helps me get out of my own head and helps me become attuned to receive and be aware of haiku moments. I start reading and lo and behold, something catches my eye or my ear, and I'll write a line, and then I think, okay, where does this go? How do I build this moment? And then I'm off and running. Sometimes it leads to six or seven poems I could submit. Sometimes I end up with six or seven horrible poems. Sometimes there's no writing, just a lot of reading. I am committed to the process, so I sit down every day and try to create these raw materials that I can then later refine and refine and refine until they are just right.
Early on, when I started to look into this seriously, I made the decision to get good at it, to go all in. I started with micro-goals. One of them was to pick three or four poetry journals and try to get something published in every issue of every journal. That meant that I had to subscribe to journals, read every issue, and have a stack of poems available when submission guidelines came out. I built in a process of reading and writing and submitting for those journals. And I started to have success—four journals became 15 journals, and now it's just part of what I do during the week. When I get to a point where I have a lot of published poems, I start to think about finding a home for them. It happens pretty organically.
How is haiku different from other types of writing?
When most people hear the term haiku, they think of a template, three lines with a set number of syllables (5-7-5). That's all fine and good but the heart of a haiku is that it captures a moment that happens in real time, in the present tense. Every time you read the poem, you are experiencing that moment live, in person. And the reason why I read other people's work to get out of my own head is because a haiku doesn't belong to the poet per se. When I'm doing my job as a haiku poet, you don't see me in the poem. The poem isn't complete until somebody other than the poet reads the work. The way they are constructed gives you just enough info to step into that moment. They allow you to fill in the details and white space around that poem with things from your own life. I love writing in this form because it's not about me; it's about the collective experience of being human on this planet.
What would you tell aspiring poets?
You can be a writer but writing doesn't have to be your career. Writing poetry isn't my full-time job. I think of it as my vocation, like a calling. My day job in IT gives me the freedom to be able to do all of this on my own time. And I can set my own cadence and determine my own roadmap. I would tell aspiring poets that you can make your own path. You don't have to teach. You don't have to get an MFA. You don't have to go to school for creative writing.
I honestly think part of why this stays fun is because it's not my full-time job. It does require a lot of seriousness, a lot of focus, and a lot of commitment. There's more to it than just being inspired and writing the words down. You have to write and then write some more. It's about writing a lot. And being able to recognize things that might have a chance. Focus on the process, not the product.
Ben Gaa is your friendly neighborhood haiku poet and host of Haiku Talk on YouTube. He's the author of two full-length collections of haiku and senryu. With more than 1,200 haiku and senryu published in journals and anthologies around the globe, he enjoys both giving and attending poetry readings, conducting haiku workshops, and being a part of the literary conversation. Ben works as an IT functional analyst and lives in St. Louis, Missouri, with his rascal of a cat, Anastasia.