Teachers. Students. Leaders. Listeners. Trend-setters. Game-changers. We'd like to introduce you to 18 alumni who exemplify the incredible intelligence and individuality that make Knox students unique. Though they haven't yet celebrated their 40th birthdays, this group of remarkable young alumni are out in the world doing cool stuff, repping Knox every chance they get. And you won't be surprised to know that this is just the tip of the iceberg—we could fill 50 magazines with these stories, because a Knox education is about so much more than textbooks and term papers. It's about finding yourself and then finding your place in the world. We couldn't be more #KnoxProud of these young alumni!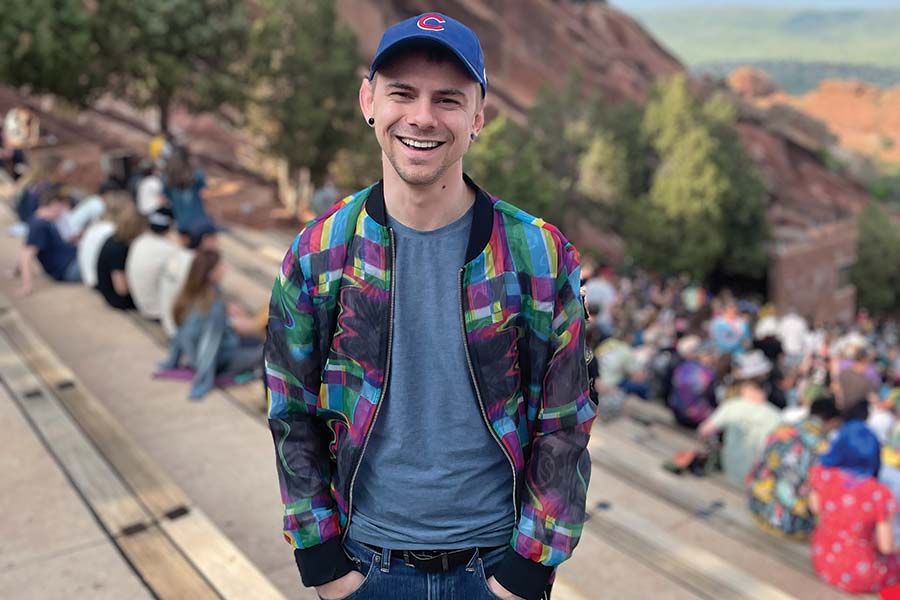 Dakota Stipp '17
CEO and Co-Founder
Amuse Technologies
Dakota Stipp came to Knox to get a degree in computer science, and he pursued that goal in earnest. He landed incredible back-to-back internships during his sophomore and junior summers, but when he returned to campus for his senior year, he brought a newfound clarity: computer science was interesting but it wasn't quite right. "I was committed to finishing that degree but I wanted to do something else," he said.
That something else turned out to be Repertory Term, during which he sound-designed one show and acted in both shows. But this wasn't his first encounter with theater; he had previously sound-designed several shows for Smith V. Brand Distinguished Professor of Theatre Elizabeth Carlin-Metz. "Designing for Liz really challenged me to take agency and responsibility," he said. "I was expected to take the initiative; no one was holding my hand." He also sang in the choir and music-directed Soulfege, an a capella group on campus. He credits leadership roles in these groups with giving him early opportunities to become a strong, confident leader.
After Knox, he headed to the David Geffen School of Drama at Yale University, where he earned a Master of Fine Arts in sound design. During the three-year program, he designed a number of shows and learned from some of the best sound designers on Broadway. And as much as he enjoyed it, it still wasn't quite right.
While at Yale, Stipp began working with applications for spatial and sensor technologies in performances and exhibitions, and that work led him to create Amuse Technologies in 2020. Amuse is a platform for dynamic short-form storytelling in museums, city centers, and just about anywhere else—a bit like a travel guide that shares fun little nuggets of information wherever you find yourself. As CEO, Stipp is still learning on the fly and taking the initiative as he and his team work toward the public launch of Amuse next year. And the mix of creative and management work is just right for him.
"Knox had a profound impact on me as a person," he said. "One of the most important things I picked up at Knox that continues to be instrumental in my work with Amuse is doing the right work. It's one thing to work effectively, but another entirely to know what work to do and do that work effectively."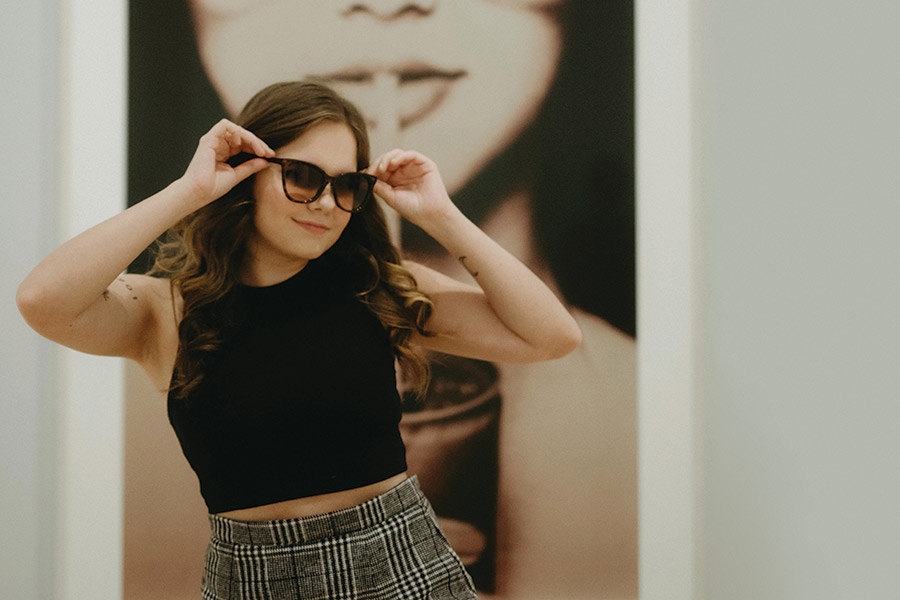 Natasha Caudill '20
Content Creator
When Natasha Caudill meets new people, she has learned to expect the awkward pause after she explains what she does for a living. Most people view social platforms like TikTok as frivolous or superficial, but Caudill is quick to praise her online community of more than 1.3 million followers. "TikTok has been an incredible bridge for me to make connections," she said.
Before she became TikTok famous, Caudill came to Knox with the dream of focusing on American Studies and eventually doing educational consulting. Although she had been quiet in high school, she flourished at Knox and filled her days with student senate, theater productions, Knox Improv Club, Alpha Phi Omega, Blessings in a Backpack, alumni ambassadors, and Admissions work study.
She started doing TikTok videos while at Knox, mostly focused on what it's like to get ready and put on makeup as a colorblind person. Caudill was born with a rare hereditary eye disorder, achromatopsia, which means she sees the world in black and white. She also has low vision in general and day blindness. Her infectious laugh and goofy personality drew viewers in and now she works with a talent agency and has landed partnerships with major beauty brands.
And though she loves what she's doing, she's also keeping an eye on that long-ago dream of educational consulting. Her upcoming partnership with the Chicago Transit Authority is an exciting step in that direction. Caudill will be working with the organization to create educational content about accessibility on its trains and buses. And after a recent stint serving on a panel at a disability film festival in New York, she hopes to eventually move into corporate speaking on disability and accessibility issues.
"Before Knox, I was not a leader," she said. "I was a follower. Knox broke me out of that shell and gave me confidence. There's no pressure to be anything at Knox. You come as you are and that's what makes the community so quirky and unique. My time at Knox transformed me in so many ways."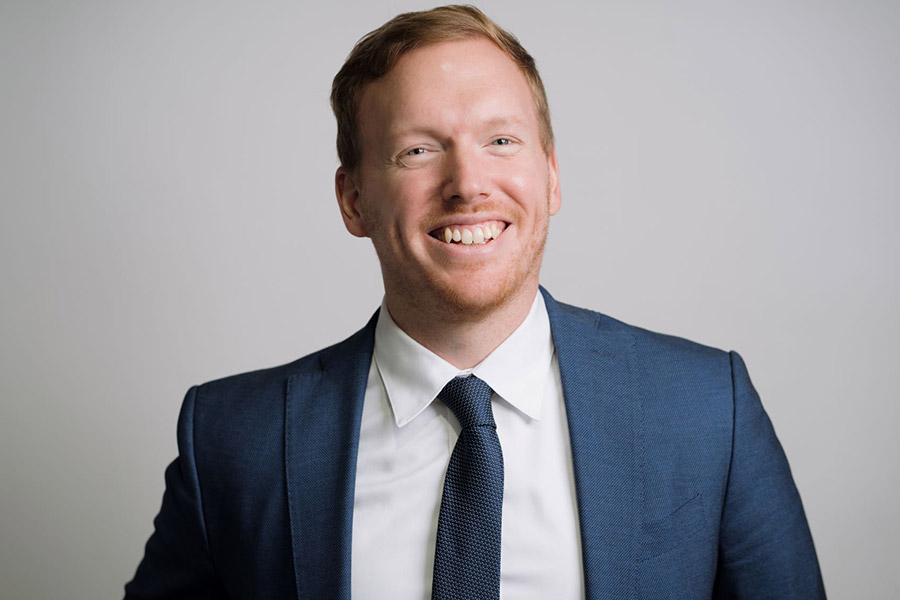 Alex Uzarowicz '13
Manager of Global Cause Partnerships
UNICEF USA
When Alex Uzarowicz visited Knox's campus, a very kind man stopped him in Old Main and asked a few friendly questions about the visit and what he was interested in studying. They chatted briefly and the man disappeared down the hall. Uzarowicz didn't think anything of it until the tour guide shared that the kind man who stopped to chat was the president of the College.
"That first encounter with President Roger Taylor painted a very welcoming image and told me so much about what Knox is about," he said. "That really stuck with me, and I still have that image of Knox."
Once on campus, Uzarowicz found his classmates and professors equally warm and welcoming. He founded the Knox Conservative Club, played Ultimate, wrote columns for The Knox Student (TKS), and did community service projects. He was chosen as the graduation speaker for his class and graduated with a degree in political science and a journalism minor, eventually going on to earn a master's in public policy.
In his current role with UNICEF USA, Uzarowicz manages faith-based fundraising for the global organization. He works closely with a wide range of faith communities to raise more than $100 million annually for children both at home and abroad, and he finds that this work ties back to his time at Knox; specifically, the time he spent working with Kathleen Ridlon, the former director for the Mark & Jeannette Kleine Center for Community Service and associate professor of dance.
"All of the opportunities to serve at Knox were so enriching because it's one thing to learn about public service and political science, but it's entirely another thing to actually serve and work with people," he said. "My time at Knox led me toward this path and I'm so proud to do work that makes a difference."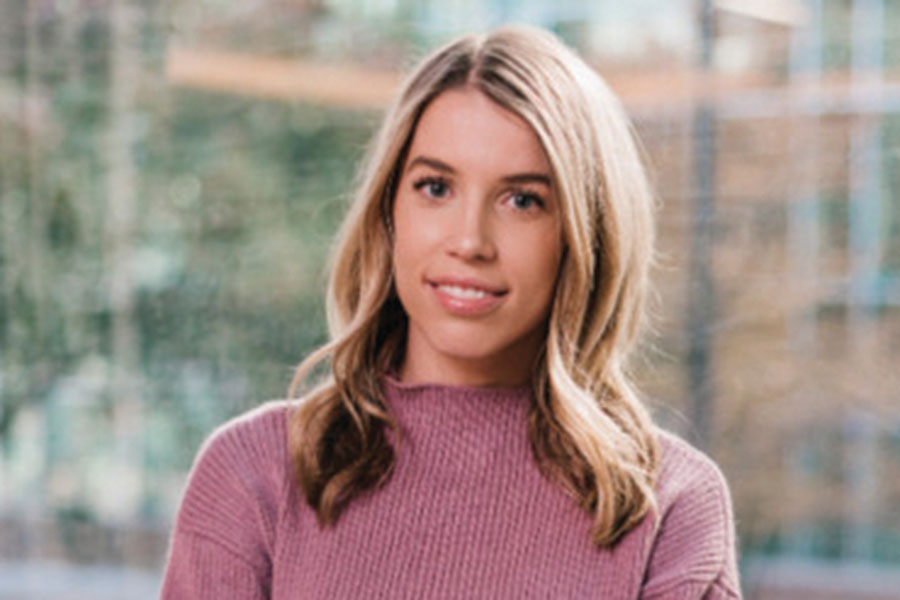 Leah Heister '08
Chief Advancement Officer
U.S. Soccer Federation
Leah Heister Burton credits her parents with encouraging her to use her time at Knox to explore different subjects and interests. She took the advice seriously, joining the soccer team and running both indoor and outdoor track. She chose a political science major and added minors in international business and French, along with serving as class president. And she joined Tri Delta, a national sorority focused on philanthropic service and self-development, which helped to propel her forward. After graduation, she accepted a one-year position with St. Jude Children's Research Hospital, the national philanthropic partner of Tri Delta.
"I was first connected to St. Jude at Knox, and loved that feeling of working for a purpose that was larger than myself," she said. She found that she loved building relationships and being part of a team. "At St. Jude, I absolutely fell in love with fundraising and that completely shifted my path," she said. That led to a master's in nonprofit management with a focus on fundraising and positions with a nonprofit consulting firm and the Solomon R. Guggenheim Foundation and Museum. And earlier this fall, she joined the team at the U.S. Soccer Federation.
Burton's role as chief advancement officer at U.S. Soccer is the first of its kind during a once-in-a- generation moment for the sport, as the organization looks to deliver an ambitious vision through the expansion of funding to drive overall impact and access to the game. "The greatest thing Knox taught me is how to think," she said. "Majors are important but there's no one way to go into medicine or business or the arts. There's so much to explore through the perspective of liberal arts, and that exploration made me into a skilled communicator, a strategic thinker, and a global citizen."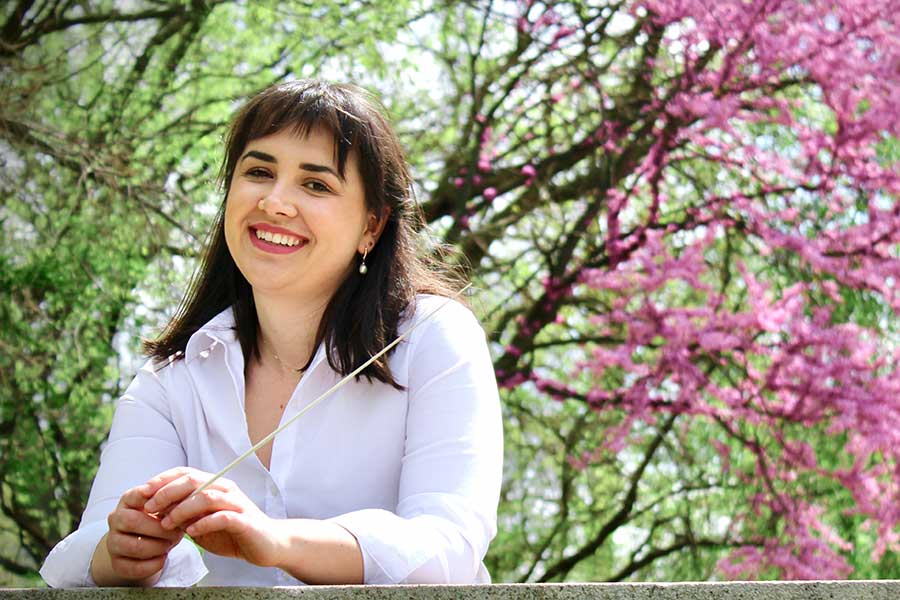 Samantha Burgess '19
Assistant Conductor
Berkeley Community Choir and Orchestra
Store Manager
Trek Bicycle
When Samantha Burgess came to Knox at 17, she had never been away from her hometown in upstate New York, and the culture shock of the Midwest was real. But Burgess knew what she wanted: a double major in neuroscience and music, and Knox was the only school that would let her do it. Once she was on campus, she found a home in the music department and a long list of music ensembles and clubs. She also found supportive professors who encouraged her to pursue her research interest in music cognition.
After Knox, Burgess headed to Ohio State University, where she earned a master's degree in music theory, continuing her research in music cognition. During that program, she decided to add a second master's in orchestral conducting. Shortly after graduation, she was selected as the assistant conductor for the Berkeley Community Choir and Orchestra, so she packed up and headed west.
Burgess has made herself at home in California, where she regularly conducts for both her own organization as well as the Berkeley Symphony. She's also working as the store manager for Trek Bicycle, a job that she sees as directly related to her work on the podium.
"This job is teaching me entrepreneurial skills and people management, both of which are really hard for young conductors to get and vitally important," she said. "I am the face of that store in our community, so I do community outreach and partnerships, but I have also learned the ins and outs of being in charge of a multi-million-dollar business."
She loves balancing her conducting work with her work at the store, and sees endless opportunity in the Bay area. "I consider myself lucky to end up in as interesting a place as I did," she said. "I'll probably have to move again for my next conducting job, but wherever I end up, I know I'll find amazing people and opportunities. Knox taught me how to be at home anywhere."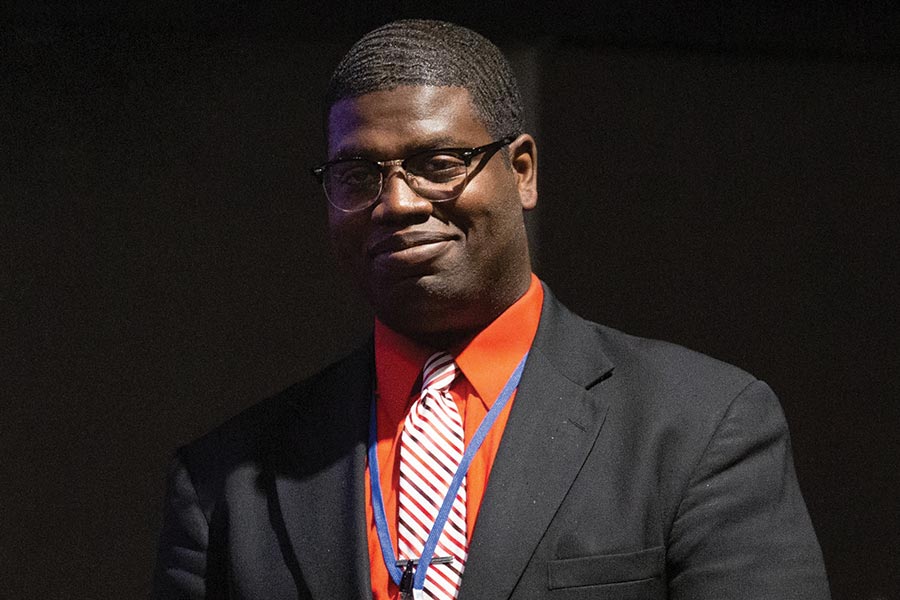 Maurice McDavid '10
Principal
Turner Elementary School
Assistant Pastor
United Pentecostal Church of Dekalb
Maurice McDavid came to Knox to play football and study political science, but four years later, he graduated with a degree in elementary education. As luck would have it, he missed registering for a political science course his sophomore year, so he took a course called School and Society. During the course, they watched the movie Freedom Writers, and one line from Hilary Swank's character struck him: "If you're defending a kid in a courtroom, the battle's already lost. I think the real fighting should happen here in the classroom." "That line cut deep," he said. "I changed my major to education the next week."
Though political science didn't stick, football did turn out to be a big part of his Knox experience. He played all four years and was elected captain his senior year. After four years of hard work building into the program, he expected to start his senior year. But a few games in, McDavid was bumped out of the starting lineup by a younger player. He was devastated, but soon saw the player's talent and contributions to the team. "One of the most important things I learned at Knox was how to lead from the sidelines," he said. "You don't have to be in front of everybody, in the middle of everything, to be leading."
McDavid is still leading from the sidelines, and sometimes front and center, too. After graduating from Knox, he taught in middle school for a couple of years before moving into administration. He earned a master's in school administration and was hired as an assistant principal. He started his current position as principal at Turner in the fall of 2020, when the world was shut down. So he learned to be a principal virtually, doing morning announcements on YouTube so his students could get to know him. He also gained notoriety for his weekly Freestyle Fridays, which featured McDavid as the rap star of a music video sharing school news.
He's wrapping up his Ed.S. with an Ed.D. on the horizon, and he's currently working on a podcast called "Black, Brown & Bilingüe," which he says got its start at Knox. "I'm incredibly grateful for the opportunities I had at Knox. They set me on a path that I would not be on otherwise."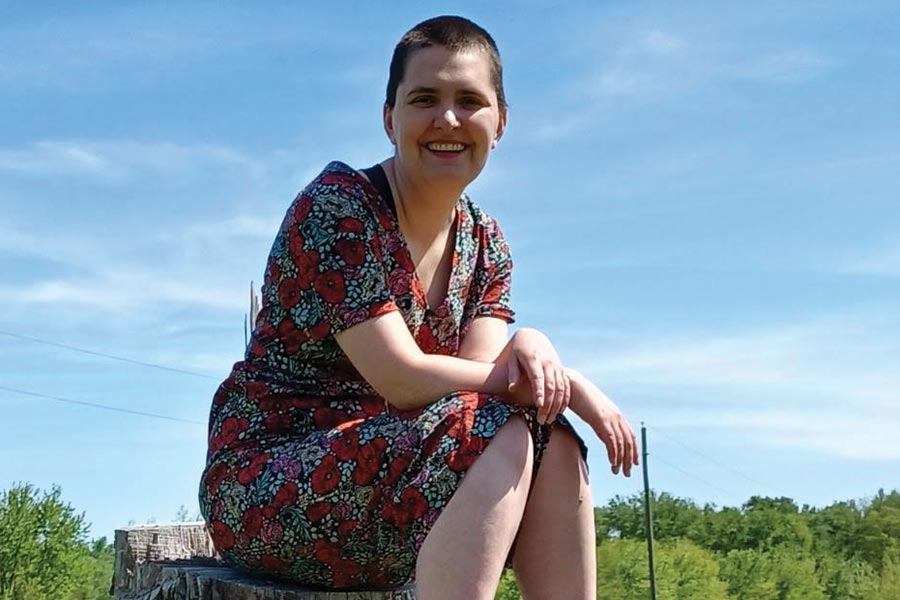 Sarah Pawlicki, Ph.D. '17
Mellon Postdoctoral Fellow
National Register of Historic Places
When Sarah Pawlicki visited Knox as a transfer student, Seymour Library was part of her campus tour, and when she saw the College's special collections and archives, she knew this was the place for her. She came to study history, and that's exactly what she did, but she did it in a way that surprised her.
"I've always loved history but it was not until my Knox classes that I became more fully aware of the broader social power behind studying history," she said. "My time at Knox taught me that history can be both a weapon of oppression and a tool for liberation."
Thanks to the encouragement and mentorship of Mary Elizabeth Hand Bright and Edwin Winslow Bright Distinguished Professor and Chair of American History Cate Denial, Pawlicki's next step after Knox was a Ph.D. program at the University of Minnesota. She's finishing that degree now, prepping for a stint in the National Park Service Mellon Humanities Postdoctoral Program. She'll be working at the National Register of Historic Places on its women's history materials, helping the organization to develop educational programming and building a more robust and intersectional collection of women's history sites. It's not an area she has worked in before, but she's not worried about the learning curve. "Honestly, fearlessness is something I learned at Knox," she said. "I am willing to take the leap into a project and learn on the fly."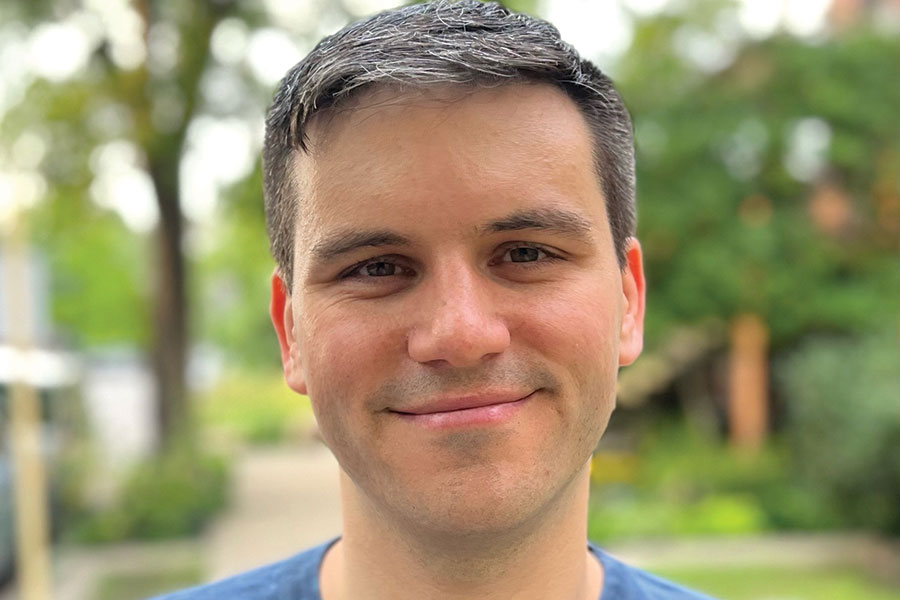 Cary Archer '09
Manager of Education
Planned Parrenthood of Illinois
When Cary Archer thought about how he would use his psychology degree, he imagined becoming a psychologist or a sex therapist. He also considered the possibility of getting a Ph.D. and going into research. But he never imagined becoming an educator.
Archer enjoyed the opportunity to take a wide range of courses during his time at Knox, and he is especially grateful he had a chance to do a clinical term his junior year, but not for the reason one might expect. "Clinical term helped me figure out exactly what I didn't want to do," he said. Turns out, he didn't enjoy the research that much, and counseling didn't feel like the right fit either. He found inspiration in an unexpected place: the classroom.
"My professors at Knox created a very dynamic and positive space," he said. "Education started to become more interesting to me; why limit your impact to just six or seven clients a day, when you can get the skills to impact hundreds of people?" After Knox, he earned a master's degree in human sexuality education and eventually landed a job as a sexual health educator at Planned Parenthood of Illinois. Twelve years later, he's managing the organization's massive education program, impacting more than 5,500 students each year.
His team of educators provides more than 700 classes each year throughout the state of Illinois, and the need continues to grow. "Kids need good, accurate sexual health information," he said. "I'm still so excited to be working in the field of sexual health education; it feels like there's always something new to learn or figure out. That's one of my favorite things about the field—it's so expansive. I will never get bored doing this work."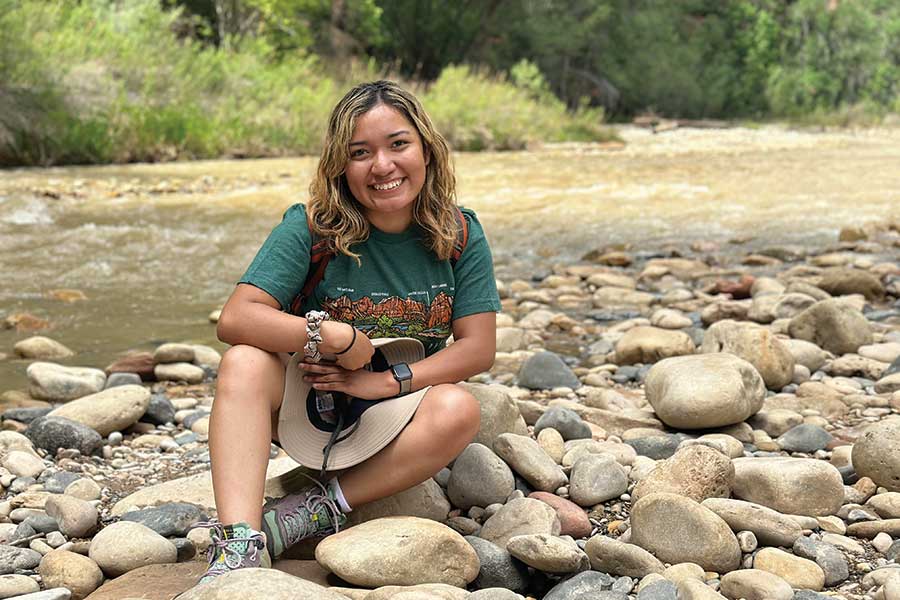 Karen Armendariz '18
Ph.D. Student
University of Wisconsin
Although she is only five years into her career, Karen Armendariz has already amassed some pretty incredible experiences. After graduating with a self-designed major in sustainable urban development, she worked at Galesburg's Safe Harbor for a year before moving to New York City to work as a research fellow for the Stanford Center on Poverty and Inequality. Next up, a move to Washington, D.C. for a stint with a regional planner doing transportation work. She then moved into the consulting field and started doing environmental and climate change planning, working to create climate action plans with an eye toward vulnerable communities in the D.C. area.
"And then, suddenly, I moved to Wisconsin to do my Ph.D.," she laughs. But her presence in her doctoral program is not necessarily a surprise, at least to her faculty mentors at Knox. When she was at Knox, she designed her own major and wound up with three "wonderful" advisors: Assistant Professor of Anthropology-Sociology Teresa Gonzales, Assistant Professor of Political Science Daniel Beers, and Robert W. Murphy Chair and Professor of Political Science Karen Kampwirth. These three played a vital role in her time at Knox and taught her about collaboration. "My mentors were my champions," she said. "I saw how they advocated for me and it made me want to do the very same thing for the people and communities I work with now."
Her current project is a partnership with the U.S. Department of Agriculture on introducing climate smart farming practices in the southern United States, and she's still using the skills she learned at Knox to explore this new terrain. "The technical work I do is so interesting and amazing but ultimately, Knox taught me to consider who we are working with and working for, so it's not just about the numbers. It's about the people I'm helping."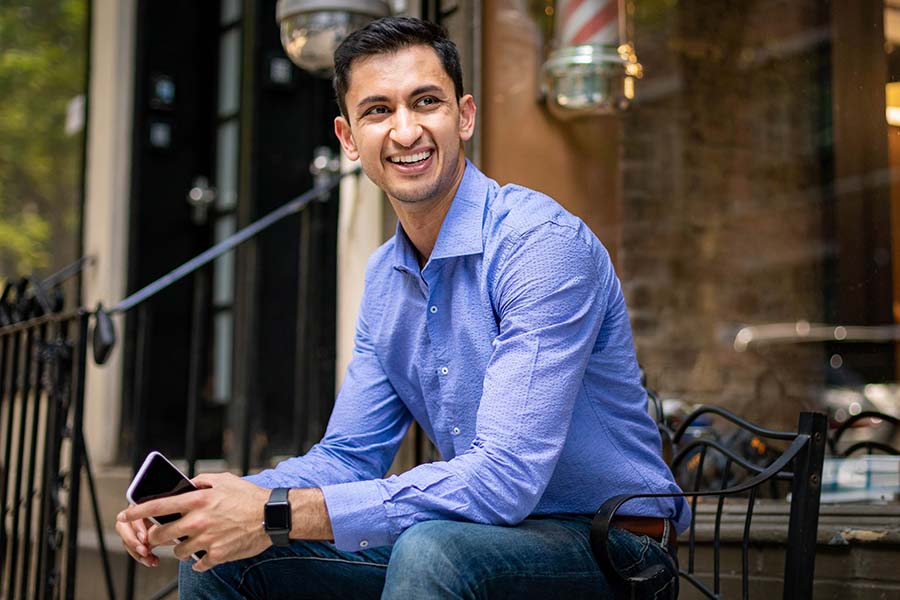 Rohail Khan '16
Vice President of Product Management
Blackrock
Most students choose a college based on what they hope to major in, but Rohail Khan chose Knox specifically because he had no idea what he wanted to do. And although he felt a bit of culture shock coming from his hometown of Islamabad, Pakistan to Galesburg, he dove into college life with great enthusiasm.
He joined the tennis team and through hard work and individual training sessions with his coach, Miriam Skrade, he earned the role of captain his senior year. Coach Skrade and his team were a key part of Khan's Knox experience, as were his brothers at Gentlemen of Quality (Alpha Gamma Alpha), a local fraternity. "I had an incredible community at Knox," he said. "There was the Knox College network, but within that, I had the tennis team network and the GQ network. These networks were a huge part of my time at Knox."
Khan eventually decided on a physics major, and when he started thinking about a career, the Bastian Family Center for Career Success connected him with Knox alum and trustee Helen Lin '94. Lin is the founder and CEO of New York City-based data analytics firm Discern.io, and she needed an intern for a financial services product. Khan took the leap and the internship turned into a full-time job and a career in financial services.
"Helen was very invested in bringing someone from Knox into the role to give back," he said. "She helped me get that internship and break into finance, all because we were both part of the Knox network. It's really cool to be part of a community like this."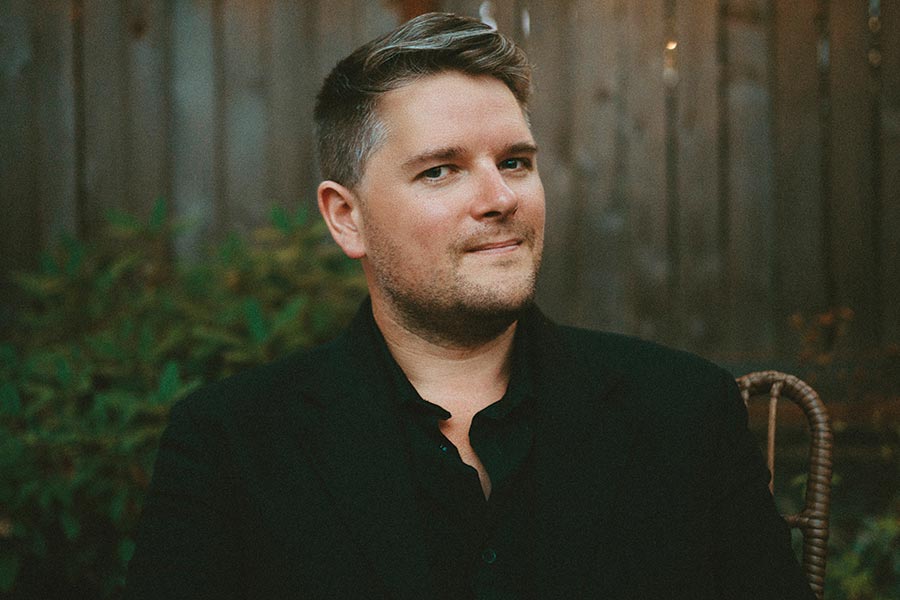 John Eisemann '10
Choral Director
Grant High School
Founder
In Medio
John Eisemann joined the choir in high school on a whim. After just a few months singing, he knew he wanted to make music part of his life going forward. And he came to Knox planning to do just that, but what he didn't expect was how challenging that would be. "I didn't really think about singing as something that could be technical until I got to college," he said. "Knox taught me that there was a technical and academic side to music that I had no clue even existed. It was a huge eye-opener for me."
The technical skills he picked up at Knox serve him well in his current role as choral director at Grant High School in Portland, Oregon, where he directs five choirs. He describes the job as "more of a lifestyle than a career," because he spends so much time with his students. "I work with most of these kids for four years, and they help me grow and change just as much as I help them," he said.
Although his days are steeped in music-making, Eisemann felt called to create a space for post-collegiate chorale singers in Portland to come together and continue to refine their craft. The result is In Medio, a semi-professional choir that he runs alongside his wife, Jen Milius '10, who he met in choir at Knox. In Medio means "in the midst" and refers to the feeling of being right in the middle of something—far enough along that you feel comfortable but far enough from the end that you aren't worried. The tight-knit group rehearses weekly and performs four concert cycles each year.
As a bonus, he finds moments of overlap between directing his younger students and the adult group. "I love being able to talk to my students about what I'm doing with the adults to show them that there is a world of singing beyond high school or even college," he said. "As a director and a singer, I always want to think about what's next. How can I make this better? That's what keeps me going."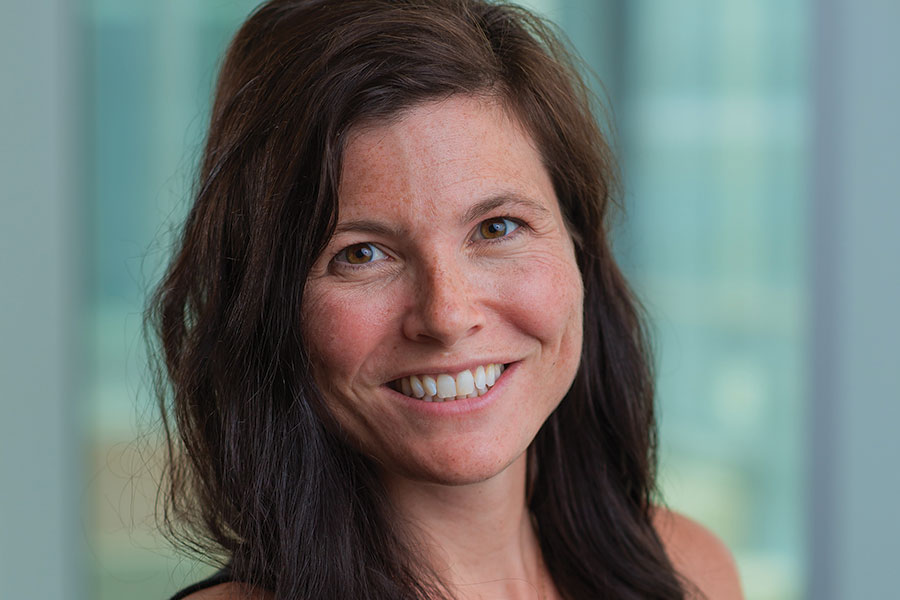 Kathleen Beeson, Ph.D. '09
Research Fellow in Neurobiology
Harvard Medical School
Kathleen Beeson arrived at Knox in 2005 with a vague appreciation for biology and a deep curiosity about the brain. So when Knox created a neuroscience major her sophomore year, she immediately chose her major. And then she met Esther Penick, associate professor and chair of neuroscience, and something clicked.
Penick encouraged her to apply for the prestigious Howard Hughes Medical Institute fellowship and helped her design a project. Beeson won the fellowship and spent the summer doing paid research. She worked closely with Penick, who taught her electrophysiology, a technique to record electrical activity in live neurons, and pushed her to think bigger.
"I had never considered being a researcher, but I fell in love with the whole process of planning and thinking about the science," she said. "There's a lot of tinkering and troubleshooting, which is so much fun for me."
After graduation, Beeson did a few different things, but she felt an itch to get back into research. She eventually landed a research assistant position in Oregon and went on to earn her Ph.D. in neuroscience. And before the ink was even dry on her diploma, she and her partner moved to Boston so she could start a postdoctoral fellowship at Harvard Medical School.
As her career moves to the next level, she has an even greater appreciation for her research experience at Knox. "My independent work at Knox is what allowed me to make a way back into research after graduation," she said. "Esther really trusted me to do the work on my own, which made me feel like I owned it. To have that kind of independence from the beginning was incredible."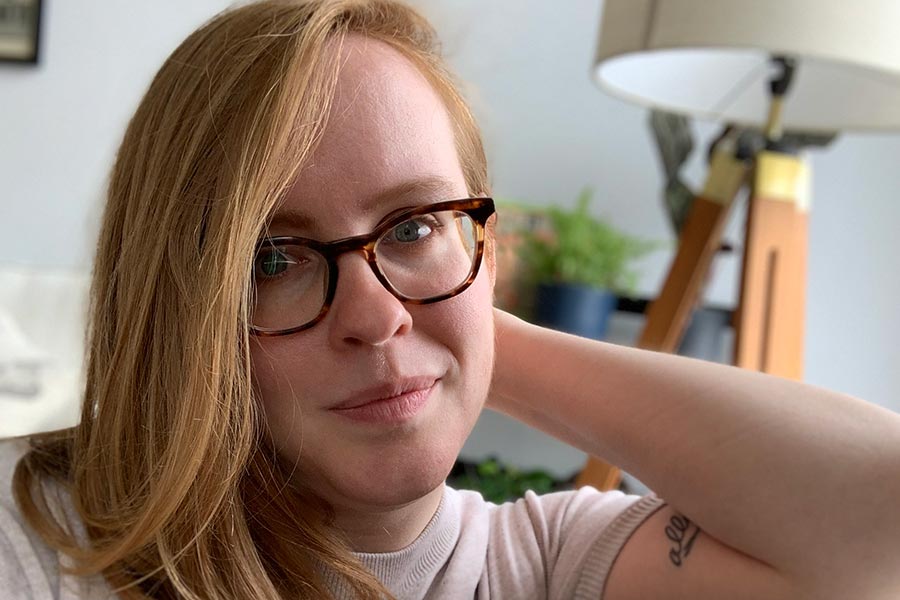 Anna Meier, Ph.D. '13
Assistant Professor of Politics
University of Nottingham
Research was not the reason that Anna Meier came to Knox, but it turned out to be one of the most significant aspects of her time in Galesburg. As a sophomore, Meier was able to do an independent study on public perceptions of terrorism. Though she felt somewhat unprepared to take on self-driven research, she jumped at the opportunity. "It was very empowering," she said. "I wasn't just writing about what others are saying. I had my own data and new things to say."
During her senior year at Knox, she served as a teaching assistant for an international relations class and found that she really loved teaching. But when she graduated with a double major in international relations and modern languages (German and French), she had every intention of following her research interests in terrorism and national security policy to D.C. But government work wasn't a good fit, so she shifted to pursue her Ph.D. in political science at the University of Wisconsin, Madison.
Shortly after graduation, she was offered a position at the University of Nottingham in the U.K., so she packed her bags and headed over the pond to start another adventure. Most of her day is spent working with students, and though Nottingham is very different from Galesburg, the lessons she learned at Knox serve her well.
"Knox taught me that discomfort could be empowering," she said. "I learned that I had the skills and abilities to do things that I didn't think I could do. Knox showed me what my future could look like, which was so eye-opening."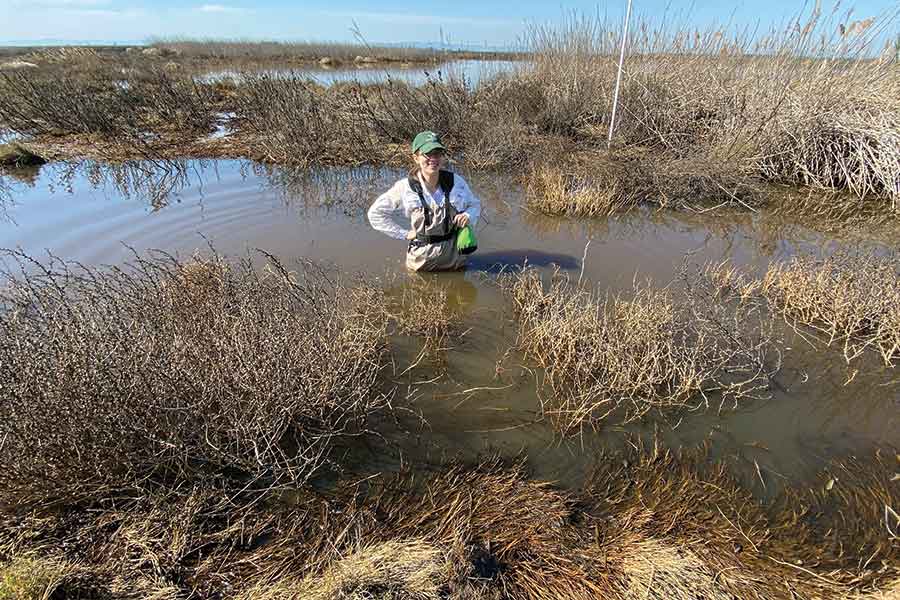 Adrienne Ernst, Ph.D. '15
Assistant Professor of Environmental Science and Studies
Berry College
Adrienne Ernst did a little bit of everything during her four years at Knox. She did research on the local food scene in Galesburg to explore the possibility of expanding local agriculture. She spent a summer in Wyoming as an intern surveying raptors and working with mining companies. She worked with Watson Bartlett Professor of Biology and Conservation Stuart Allison on a project focused on restoration ecology and did an honors project focused on how to use community science to gather data that is usable and meaningful.
"I did so many things that were fun but not quite right for me," she said. "I think that's one of the best things about Knox. You have the freedom to try a lot of different things."
After graduation, she enrolled in a research-focused joint Ph.D. program between Northwestern University and the Chicago Botanic Garden. But after serving as a teaching assistant for an undergraduate cell biology course, her focus shifted. "I loved my experience at Knox, but I had never really pictured myself being on the teaching side of things," she said. "But I absolutely loved it."
She is currently wrapping up a two-year postdoc at Utah State University and is headed to Berry College in Georgia for her first semester as a faculty member. It's not exactly the path she envisioned as a Knox student, but she is thrilled to be at Berry and cannot wait to meet her students and start forging the student/faculty connections that were so vital to her at Knox.
"I feel like Knox is a very supportive environment," she said. "Most professors encourage you to try things, and I think that's so important at that early stage in your life. I never would have done this without Stuart's help, and I am looking forward to building that kind of relationship with my own students."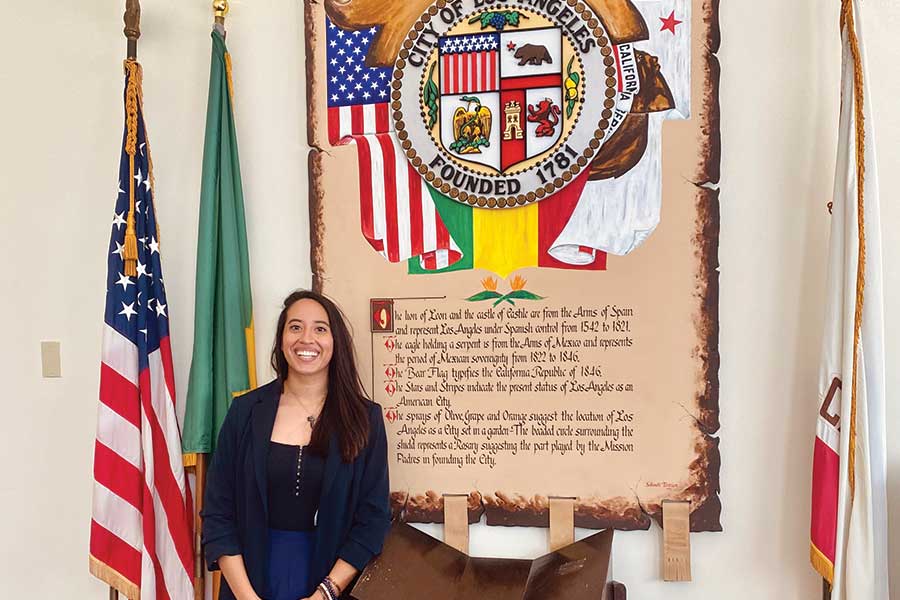 Kristal Romero '13
Deputy Director of Strategic Campaigns
Los Angeles County Federation of Labor
AFL-CIO
Commissioner to Mayor Bass' Climate Emergency Mobilization Commission
Coming from sunny California, Kristal Romero wasn't quite sure what to expect when she visited Knox as a prospective student. Her visit included the standard stuff—checking out the dorms, touring the campus, and talking to students. But when she got to sit in on Robert W. Murphy Chair and Professor of Political Science Karen Kampwirth's class, something clicked. "I knew right then. This is it. I want to be here," she said.
She stayed busy with an international relations major and a history minor, also finding time to be a founding member of Kolorworx, a club focused on colorguard. But even when things were busy and stressful, she never took a moment for granted. "As a first-generation student and the daughter of immigrants, I felt so lucky to be able to have the opportunity to go to a college like Knox," she said. "I knew I wanted to spend my career paying it forward."
Romero started her career at a nonprofit working with people with HIV and AIDS but felt frustrated because she was powerless to change the underlying power and social dynamics at work. She tried a political campaign and then a position at a public policy nonprofit focused on youth, but she felt a familiar frustration—she loved the work but felt like she wasn't getting to the root of the problem. So when the opportunity to work with the International Brotherhood of Teamsters popped up, Romero jumped at the chance.
And the rest is history. She fell in love with the labor movement and has been working with unions ever since. "For me, coming to the labor movement has been an opportunity to take all of the skills I learned at Knox, particularly the diplomacy skills I learned in international relations, and use them to fight for something I am passionate about," she said.
She currently works for the Los Angeles County Federation of Labor, the local branch of the AFL/CIO labor union. Her office is the central point of contact for unions in LA County, and she works closely with workers to provide whatever they need.
"At every step of my career, the experience I had and the lessons I learned at Knox shine through," she said. "In my career and my personal life, I want to be a strong example so that first-generation immigrant students like myself can see themselves going to a place like Knox."
Quinn Sharp '19
Engineer
Aerodynamics and Thermal Analysis Branch
Naval Air Systems Command
Quinn Sharp knew he wanted to be an engineer and he knew he wanted to play college football, so he probably shouldn't have ended up at Knox. The College wasn't known to be a football powerhouse and had no engineering major at the time, but it did have a strong physics department, which was enough to get Sharp to campus. Once he moved in, he dove into his physics coursework, adding a second major in math. The typical engineering path is a combination 3-2 program, where you can earn both a liberal arts degree and an engineering degree in five years. But Sharp knew the typical path wasn't for him.
"I chose to stay at Knox and play football my senior year," he said. "After graduation, I went into a master's program and figured there would be things to catch up on and things I already knew. It turned out to be just exactly that." He earned his master's in engineering from the University of California at Irvine and immediately found a job with NAVAIR, a branch of the Navy that specializes in leading-edge defense systems, engineering, computer science, electronics, finance, logistics, and contract management. Most of his colleagues went to engineering schools, but he stands by his liberal arts education.
"I honestly believe I am a more well-rounded engineer than most because I didn't just take engineering courses for four years. Knox taught me problem-solving skills and writing skills that I use every day," he said. He also feels that his experience as a student-athlete is relevant to the work world. "The life lessons I learned from football were huge. You learn a lot from the discipline of having to show up for your team and yourself."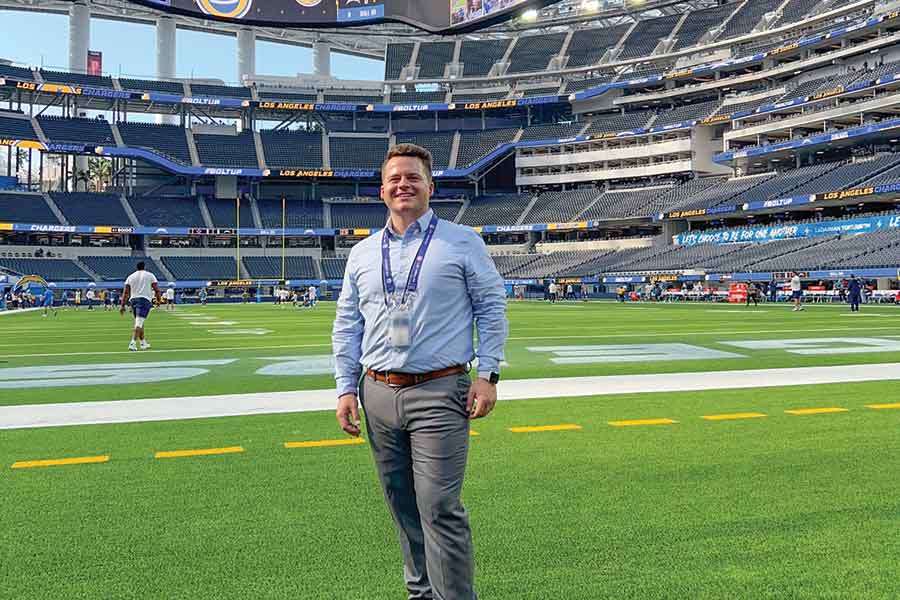 Jordan Anderson '19
Social Media Producer
NFL
When Jordan Anderson enrolled at Knox, his dream job didn't even exist. He loved football and he loved sports media, but he wasn't sure how to combine the two into a career. Self-designing a major in sports management communications was a good start.
And four short years after graduation, Anderson has found his place as a member of the NFL's social media integration team. His job is to find creative and engaging ways to work social content into NFL GameDay Morning, the Emmy-nominated comprehensive pregame show that helps fans get ready for kickoff with the latest news, expert analysis, and reports from around the league.
As the lead social producer, he also manages show-specific social handles—@NFLTotalAccess and @NFLGameDay on Twitter and Instagram—and combs social platforms for relevant content about players and teams that are active that day. He never knows what he'll find or how the hosts and analysts will respond to or engage with the photos and content he provides. "It's a very dynamic environment," he said.
Anderson sees a strong connection between his time at Knox and his work at the NFL. He finds that the "entirety of a liberal arts education" has prepared him well for work and life. Staying focused and on track while juggling football, work, activities, and classes was great practice for his role at the NFL. "Each day is different, and I'm balancing different stories and working with different teams," he said. "Knox totally prepared me to be able to adapt as things change. I use that flexibility every single day."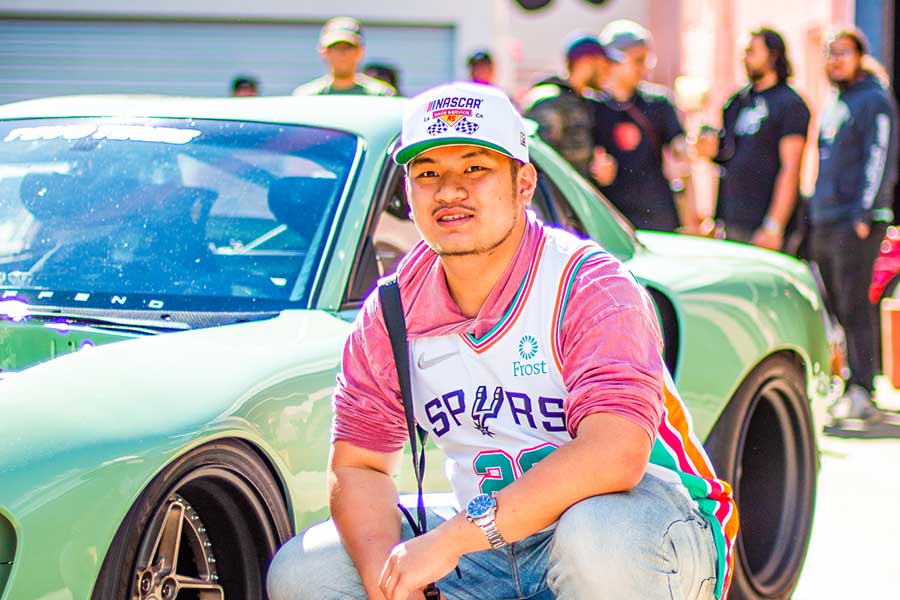 Robert Nguyen '22
MFA Student in Photography
New York Film Academy
When Robert Nguyen arrived in Galesburg, he wasn't quite sure that this "slightly sleepy small town in Illinois" was the right place for him. He missed the crowded, bustling energy of Hanoi and thought about returning home after his first year. But he decided to give Knox another chance. And, in his words, "one term changed everything."
In the fall of his sophomore year, Nguyen took his first photography class with Professor of Practice in Art Michael Godsil, and something clicked. He started taking photos around campus, eventually serving as a photographer and then photo editor for TKS, the student newspaper. He fell in love with sports photography and self-designed a major in sports communication. After graduation, he stayed at Knox and worked with the Communications team covering Prairie Fire athletics. "I loved following all of the teams," he said. "There's something so special about being on the field and capturing those moments."
During a visit home to Vietnam, he received an offer to move to Los Angeles for a marketing internship and he decided to embrace the adventure. He moved to LA for the three-month internship and things were going well—he landed a promotion and signed a new lease, but the job fell through. He used his downtime to build his freelance photography business, shooting for clients all over LA. He thought about returning home, but, just like he'd done at Knox, Nguyen decided to give LA another chance.
He applied to the New York Film Academy, intent on an MFA in photography. NYFA has a campus in Burbank, not far from where Nguyen lives. He was accepted and started this fall. "I really fell in love with photography at Knox," he said. "I know in my heart and soul that I belonged at Knox. I learned so much there that is helping me get to where I want to go."
We know these stories are a drop in the bucket, and we probably missed some super awesome stories from young (and older!) alums. Are you doing something cool? We'd love to hear about it! Drop us a line at knoxmag@knox.edu. We might use your story in a future issue of the magazine!