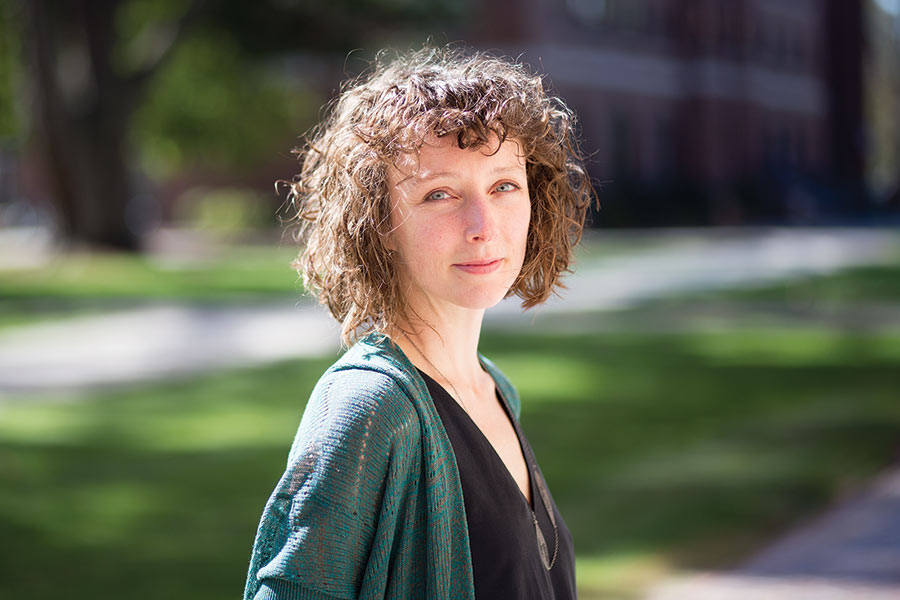 Jennifer McCarthy Foubert
Associate Professor of Educational Studies
Foubert received a Ph.D. in curriculum and instruction from the University of Wisconsin-Madison in 2017, a master's in education in curriculum and instruction from the University of Washington, and a bachelor's of education in special education from Gonzaga University. Her research examines the ways white supremacy operates in K-12 schools, particularly in practices and policies of family-school partnership.
Her book, Reckoning with Racism in Family-School Partnerships: Centering Black Parents' School Engagement, is published by Teachers College Press. Foubert serves on the City of Galesburg Youth Commission.
Do you have any favorite memories from being in school that led you to your current career?
I first became interested in education research and teacher education while completing my master's degree at the University of Washington in Seattle. I was studying multicultural education and always thought I would go back to working as an elementary school teacher. But then I took a two-week course titled Culturally Relevant Pedagogy: Theory and Practice with Dr. Gloria Ladson-Billings. It was the summer of 2009, and she was visiting from the University of Wisconsin-Madison. Her work and teaching engaged me intellectually in ways I had never been before. I admitted to my classmate that she made me want to do a Ph.D., and he encouraged me to tell her. I balked at the idea; I was too embarrassed, but also did not understand why I should tell her. I was a first-generation college student and often confused and intimidated in academic social interactions (this still happens to me, to be honest!) So, he told her-and she immediately encouraged me to apply to UW-Madison. The rest is history.
What is your most memorable moment at Knox?
In 2019 we awarded Dr. Ladson-Billings an honorary degree for her incredible accomplishments in the field of education. I planned a "fireside chat" for our students featuring a conversation about teaching between Dr. Ladson-Billings and Caroline Ware '18. I had supervised Caroline's student teaching experience the year before, and she had just finished her first year teaching in Chicago Public Schools. Witnessing one of my first undergraduate students in conversation about culturally relevant pedagogy and racial justice in education with the person who inspired it all was really special.
If you weren't a professor working at Knox, what would you be?
I would be an elementary school teacher! Or a middle school social studies teacher. Or, a baker (ha ha). My friends in Wisconsin have a fantastic bakery called Madison Sourdough. I recently got to see behind the scenes in the kitchen and now fantasize about working for them making bread and croissants every morning.
What's your favorite thing about Galesburg?
There is a lot to love about Galesburg! But if I need to name one favorite thing I'll say the Galesburg Public Library. The children's librarian, Melinda Jones-Rhoades, maintains such a fantastic selection of books for young people and is particularly committed to including books centering on Black and Indigenous and other underrepresented identities. I have learned so much from her, and the library is a great resource for my students—and my own family.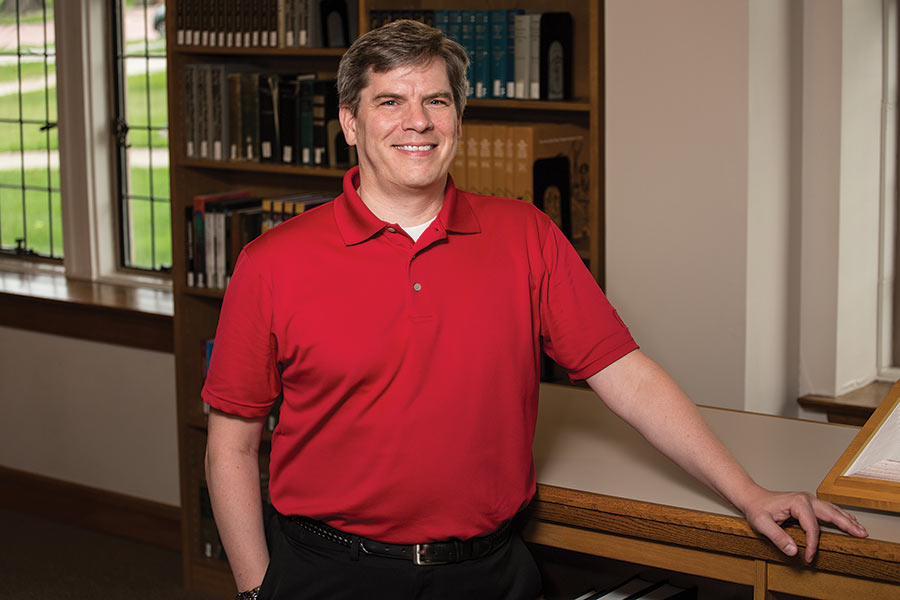 Ole J. Forsberg
Associate Professor of Mathematics; Chair of Statistics
Forsberg received his Ph.D. in statistics from Oklahoma State University and also has a Ph.D. in political science from the University of Tennessee.
What are your areas of research?
I investigate elections for evidence of certain types of unfairness using secondary data published by the governments. While election observers are excellent at finding improprieties while the ballots are being cast and counted, statistics can frequently check for problems when the ballots are not being observed. For instance, statistics may be able to detect ballot box stuffing or improper invalidation of ballots. I extend and modify statistical techniques and apply them to this purpose.
What led you to a degree in statistics?
I had just received my Ph.D. in Political Science at the University of Tennessee and was teaching at Creighton University when I decided to reread my dissertation. I came to realize that I used some particularly complicated statistical procedures without understanding them. This worried me a lot. So, I started investigating the procedures to better understand them. This led to me back in the classroom at the Johns Hopkins University, and then to Oklahoma State where I earned my Ph.D. in statistics.
What is your most memorable moment at Knox?
I will always remember the first time I walked to my office and saw my name on the door. It meant I was home.
If you weren't a professor working at Knox, what would you be?
Given that I've been teaching for 30 years, I am sure I would be doing the same thing as now, only elsewhere.
What's your favorite thing about Galesburg?
I love how small it is … nice and cozy … allowing me to get to know the people here.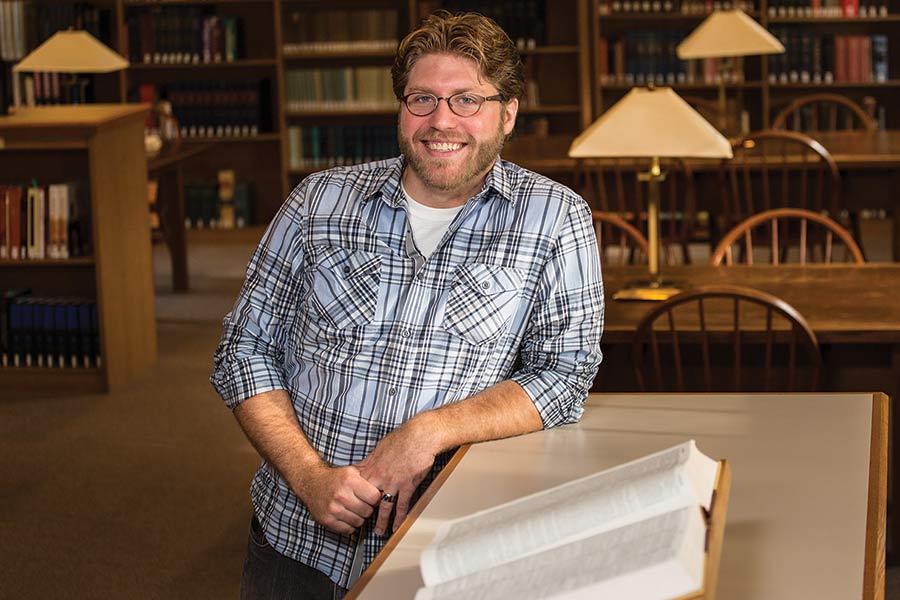 Nick Gidmark
Associate Professor of Biology
Gidmark received his Ph.D. in comparative biomechanics in 2021 from Brown University. He subsequently held postdoctoral positions at Brown, the University of Washington, and the University of Chicago, before taking a position at Knox in 2016.
What motivated you to bring a whale to Knox?
I've been building skeletons for decades and adding to Knox's anatomical teaching collection since I arrived in 2016. Once you build skeletons from a turtle, a skunk, a dog and a pig, things tend to get bigger. The horse and bison made important impacts on the collection, and the real teaching value of the collection comes with diversity of form and size range of organisms, so naturally it made sense to articulate a 60-foot fin whale. I summer in Maine, where I bump elbows with folks who respond to marine mammals (e.g., dolphins and whales) beaching. I floated the wild idea of wishing we could get a whale skeleton from one of these natural deaths to hang in the atrium of our science building (this was just before the start of the A-core renovation of the Umbeck Science-Mathematics Center). Surprisingly to me, there are proper channels that any academic institution can go through to legally do just that. After a few dozen phone calls, a federal permit, a cross-country U-Haul trip, and several thousand hours of person-time (from two dozen Knox students and three Knox faculty), I'm pretty proud of what we came up with. While the motivation initially was for the biology teaching collection, it's had some interesting impacts in lots of departments across campus, which has been fun to see. It's a lightning rod for conversation and inquiry.
What is your most memorable moment at Knox?
Oh, gosh, that's a tough one. Single most memorable moment? Nope, can't do it. The weekly meetings of my research lab have been a consistent highlight of my last six years—so much intellectual curiosity, incredible insight, and creative thinking. The student marching down the hall of professors at Commencement brings a tear to my eye every year. Seeing students come back years after graduation solidifies what I think we all know—that this place makes a lasting, positive, and growing impact. I can't get that down to just one memorable moment—apologies!
If you weren't a professor working at Knox, what would you be?
What do you mean? Like, if I were independently wealthy and didn't need to work for money? I'm pretty sure I'd be right here, doing this dream job. I love the student interactions and seeing their development over the years, and where they go after Knox. I have brilliant colleagues who reciprocally illuminate one another all across campus. My family has always been welcomed as part of the community (and my sons have even cameoed to teach laboratories from time to time!) I have no interest in being anywhere else.
What's your favorite thing about Galesburg?
Again, with the "pick one thing about _____" —that's tough! I guess it would fall under the broad umbrella of community. There is activism, altruism, solidarity, nature, and fun in so many dimensions of Galesburg. I get stretched in directions I didn't know existed, and there is elbow room to explore. Great spot for my kids to grow up.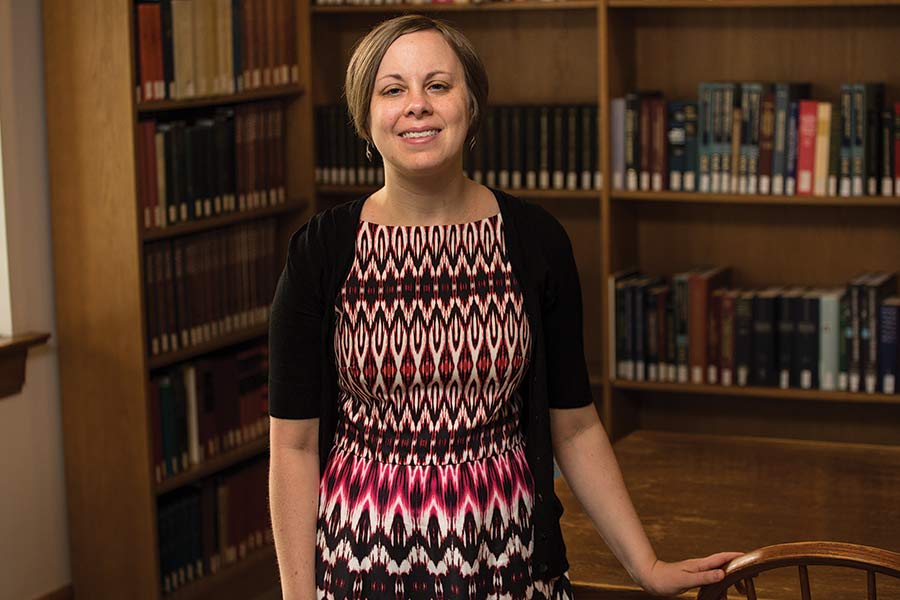 Joan Huguet
Associate Professor of Music
Huguet received her Ph.D. in music theory from the University of Rochester-Eastman School of Music. She received her master's in music theory from McGill University-Schulich School of Music, and her bachelor of arts in music and French literature from Rhodes College. Her courses treat music theory as a language to be learned, a puzzle to be solved, and an art form in and of itself. While her early research primarily focused on form and harmony in nineteenth-century music, she has more recently become interested in the Broadway musical. She enjoys teaching students about the extraordinary variety of human musical expression across time periods and genres.
Who is your favorite composer and why?
This is such a hard question for someone who spends their life engaging with music! My own relationship with music has evolved tremendously over my 15 years of studying and teaching it. I started my career as a scholar of classical music, and the music of Beethoven and Brahms will always be dear to me. I have taught a course on the Broadway musical at Knox for the past several years, so that has been a huge new area for me to explore. In that genre, I would recommend checking out Hadestown, by Anaïs Mitchell, which has some very interesting relationships between folk, jazz, and Broadway genres in its music. The most important thing for me to do, though, is to listen to music that is new to me: this might be an emerging American classical composer, a female composer from hundreds of years ago who is just now getting her due in the historical narrative, or even the new Florence + the Machine album that my students are all raving about. Continuing to challenge my ears and mind is essential to growing as a teacher and scholar.
What is your most memorable moment at Knox?
The first one that comes to mind is Senior Pumphandle. I love getting to see all of the seniors, some of whom I taught three years earlier, so excited about their graduation and the future. The second is not an organized Knox event, but a moment that I am fortunate to see frequently in my teaching: the moment at which a student realizes that they have learned to express themselves in music just as much as in words, in effect, that they are a composer.
If you weren't a professor working at Knox, what would you be?
I think I would go to pastry school! I have baked my own bread for years, I love making complex desserts at home, and I have a huge cookbook collection.
What's your favorite thing about Galesburg?
Galesburg has been a great place to settle down with my family. I had never lived in the Midwest before I moved here, and I'm still in awe six years later of how spacious and vast the prairie is, and how insanely beautiful our technicolor sunsets can be. Baked Pizza is a big draw, as well!