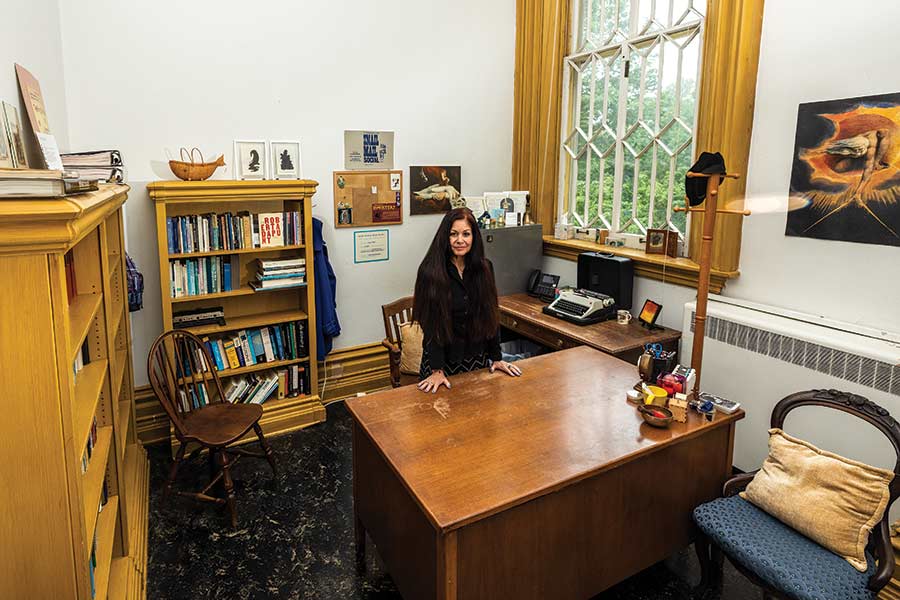 Gina Franco has occupied this office on the 2nd floor of Old Main for 18 years. Students sometimes call it the Tree House because of its high windows, views of the treetops, and cozy feel. Franco, a professor of English, is a poet and her teaching interests include literary critical writing, modern and contemporary poetry, Romantic and Victorian literature, poetry translation, literary theory, Borderland literature, women's writing, 18th- & 19th-century philosophy, and religious studies.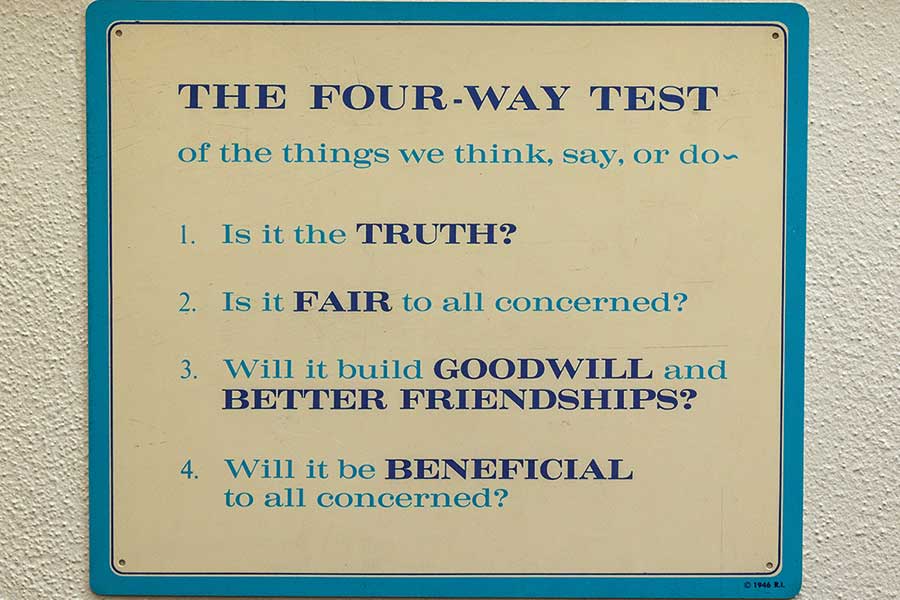 1. 4-way test. My stepfather renovated an elementary school in Del Rio, Texas, a town on the U.S.-Mexico border where he and my mother live. There were four of these signs on the school premises. He brought this one back to me. I look at this sign and I think about the nature of conversation and the fact that someone felt that these things should be posted in an elementary school. These are really hard questions to answer. They are about ethics and community, which I think about a lot in leading classroom community discussions.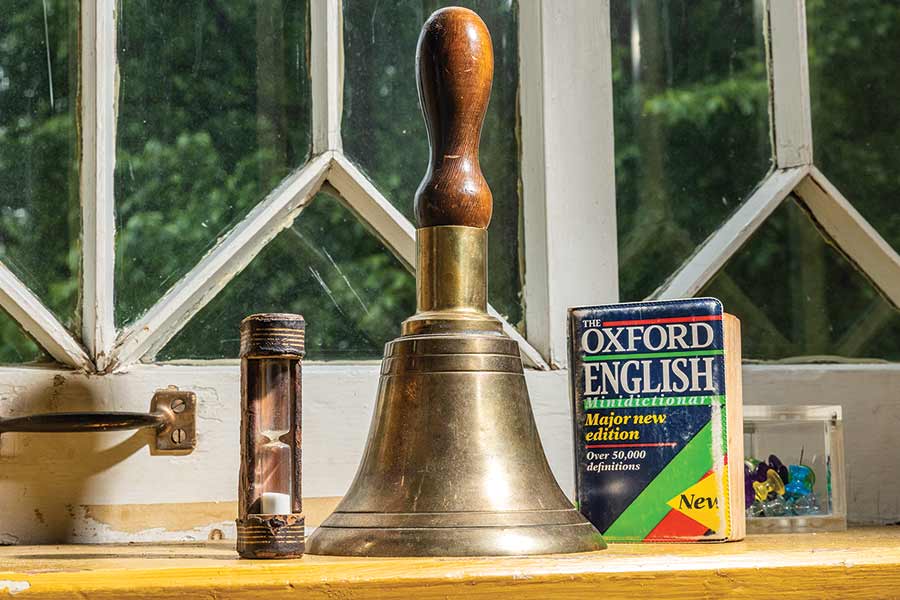 2. I'm a high school dropout, a GED graduate, and a first-generation college student. My mother and 3. stepfather are proud of the fact that I became a professor. My stepfather gave me these antiques, a school bell and hourglass timer, which he found in the school he renovated. The bell says Dick '87 on the inside of it.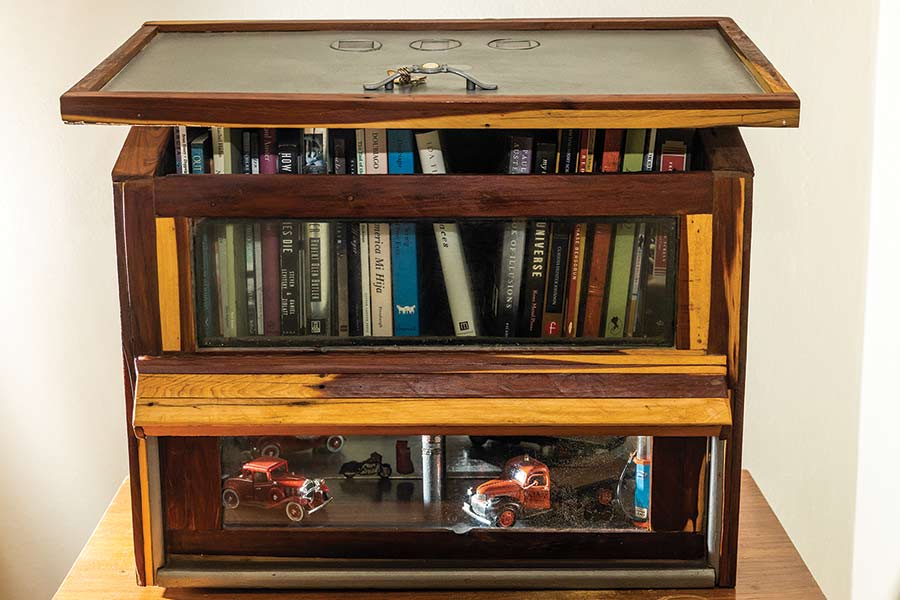 4. Little Free Library made from an old doll house. The College gave me permission to install the free library in the hall outside of my office. It was made out of the structure of an old doll house I found here in Galesburg. My stepfather overlaid it with fencing from my family's backyard in Del Rio and put lights at the top connected to solar panels. All the books and broadsides in the bookshelf are free to students—or to anyone who wants them.
5. This whale-shaped straw basket is the "Poetry Whale." I fill its belly with scraps of found text, and the students and I use the text to create erasure poems—we erase or cross out words and look for creative ways to put the texts together.
6. This Animal Gothic poster was designed by a student for the literature capstone course, Senior Symposium. The image is from Max Ernst, a pioneer of the surrealist movement. Since then, I've taught animal Gothic themes in my Victorian literature class. The Victorians worried a lot about the narrowing divide between human beings and other animals. Some serious and amazing stuff happens when animals become monsters.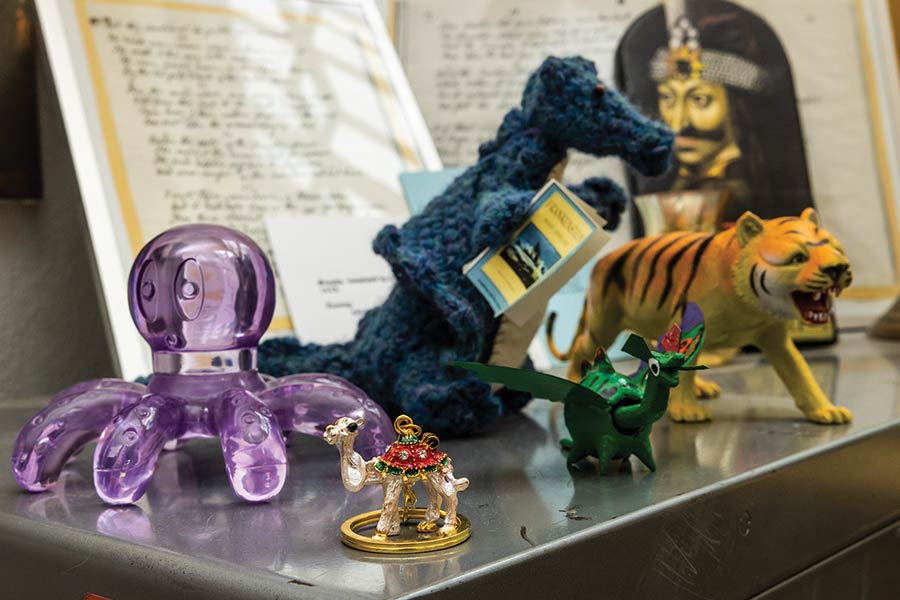 7. Animal menagerie. The first animal in the collection, the octopus, was a gift from Emily Anderson, professor of English. After that, people seemed to notice these little animals and thought I should have more. The dragon was crocheted and stitched together by a student. She printed the tiny copy of Frankenstein in its hand. I once taught an entire course on Mary Wollstonecraft Godwin Shelley's Frankenstein. The alebrije (Mexican folk art of fantastical creatures) was a gift from a student. The little camel is the most recent addition and was a gift from Shuchita Poddar '22.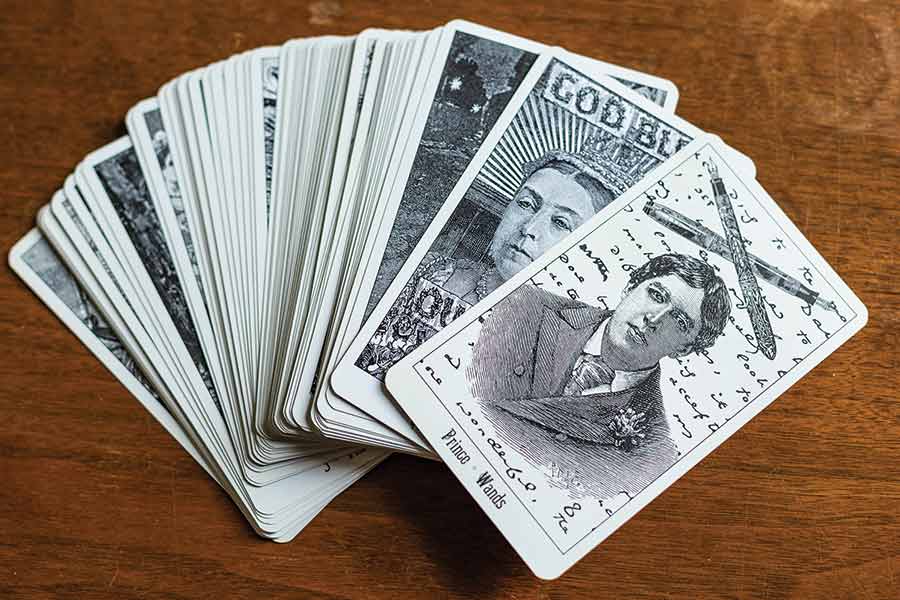 8. Victorian tarot cards. When I first got to Knox, the Pagan Club and other students were into tarot readings. I thought it might be interesting to treat the tarot deck like a literary text and teach a class on tarot and literary theory, so I was doing some work on that at the time. I received this deck as a gift. All of these images are from original Victorian engravings.