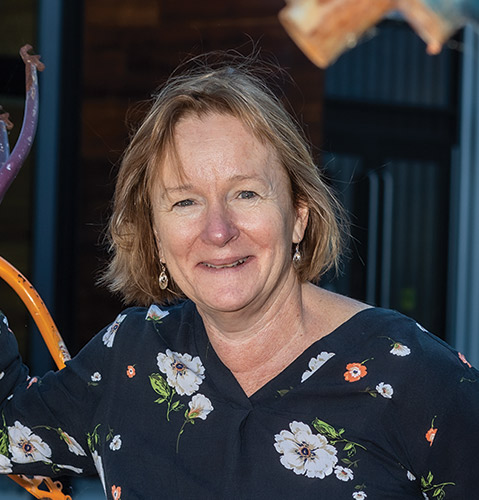 Hello! My name is Maeve Reilly and I've recently joined the staff at the Knox Office of Communications and, for the foreseeable future, have taken on the role of Knox Magazine editor.
I started at Knox in the Office of Advancement, where I was responsible for donor stewardship activities; some of you may know me at least by name. Prior to Knox, I worked for 20+ years in a variety of communications roles at the University of Illinois at Urbana-Champaign. One of my favorite jobs there was working at the public broadcasting station where I edited the monthly program guide, so I'm experienced in many aspects of putting together a publication such as this. I welcome your feedback on how we are doing and suggestions as to what can make this magazine a true reflection of all that is Knox.
Though I've only been at Knox a few years, I have been so impressed by not only my co-workers, Knox's dedicated staff, and the outstanding faculty, but also by all of you—your stories of success and your commitment to this institution. I had the great pleasure of writing a story on the 50th anniversary of Farm Term recently (Spring 2022 magazine), and it was truly a wonderful experience to talk to the participants of that program who, 50 years on, hold the experiences they had while students at Knox so near and dear to them. My friend, Laura Schmitt, contributed an article on careers in the sports field in this magazine and she commented on how much alumni love Knox. It's truly a joy to come to work and be able to listen to your stories and find ways to share those stories more broadly.
I look forward to hearing from you and, now that things are moving to a new "normal," meeting many of you in person. The Knox Magazine is just one of the many important ways we maintain this community. Meeting fellow alumni, students, or staff as they travel is another. Of course, the best way to keep connected is to come back to campus for a visit. If the magazine doesn't spur your interest in traveling the "long, long road to Alma Mater," I hope the magazine will provide you with some fond memories and reflections on your college home, and news about the exciting future plans for Knox.
With kind regards,

Maeve Reilly