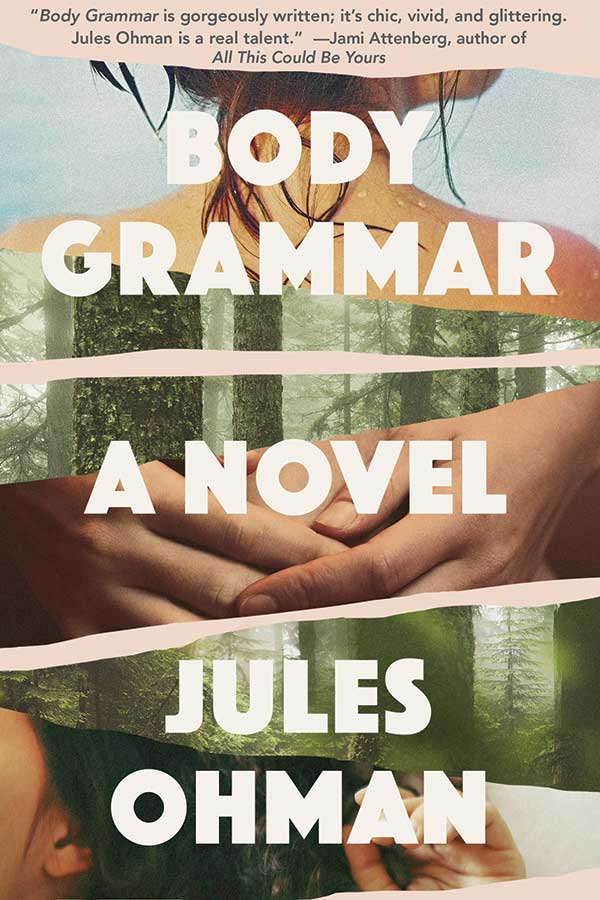 Body Grammar, the debut novel by Jules Ohman '12, grew out of a short story she was working on while she was at Knox.
"It's a queer coming of age story set in the international modeling world," explained Ohman. "I started modeling when I was 16 and had a complicated relationship with it. When I was 18, I had to decide between continuing my education or modeling professionally in New York. I decided to come to Knox and spend most of my time writing in the library, which was the right choice for me." Her novel is based on the very beginning of that experience, but her protagonist made the other choice and continued to model.
"The protagonist isn't me, but I had to really think a lot about my alternate self in order to write her. I tried to think about it in a joyful way. I think a lot has changed in the industry since I was doing it from 2007-2009, so I wanted to imagine that world in a generous way, to think about community and queerness and finding yourself amidst other people making their art. And learning to make your own." She completed a draft of the novel while she was studying for her master of fine arts at the University of Montana. While there, she won a chapbook award and published several stories that she wrote during her time at Knox. At Knox, she was the fiction editor of Catch her senior year, and involved with the creative writing community, which was "phenomenal," according to Ohman.
Who were your mentors at Knox?
Robin Metz taught these five-hour long fiction workshops that went from 7:00 p.m. to midnight, and I took as many of them as I could. It was amazing as an 18-year-old to be taken seriously as a writer. Robin was the first person who told me I would be a novelist. I remember talking to him in the Gizmo my sophomore year, when he had just read a short story of mine, and he said, "When you write a novel, you have to promise me that you'll thank Knox." It was that "when" that really got me, and that I held onto for years. The fact that this dream of mine that felt impossible to me actually felt inevitable to him, like, of course it would happen, and therefore I was able to imagine it too. So I do want to thank Knox, because it was so foundational.
Monica Berlin was my thesis advisor. She wrote a really long letter in response to my senior portfolio, and saw so much about my own writing I couldn't see then: What I was hiding from; What I could write into. I teach from Chad Simpson's story collection all the time. Monica, Chad, and Robin all gave me advice about graduate schools, and helped with my applications. Nick Regiacorte was my very wise and wonderful academic advisor. Sherwood Kiraly and Gina Franco both taught creative writing workshops that changed the way I thought about writing.
It was amazing to be taught by such brilliant writers and generous teachers at such a young age. I continue to read all the Knox professors' work. They're still giving me creative inspiration.
Are there other ways Knox has impacted your work?
I chose to attend Knox specifically because of the Creative Writing program and was a finalist for the ACM Nick Adams Short Story Contest several times, which was really encouraging. I attended as many workshops and readings as I could. Maybe most of all, I went to readings where the professors were reading their own work—being around adults who were creating their own art and sharing it with us was really impactful. It showed us a way.
One of my close friends, Kate Barrett '12, was also a Knox student and is a fiction writer, who attended Montana's M.F.A. program a few years after I did. We weren't friends at Knox, but we became really close in Missoula and would send letter poems back and forth whenever we had a dry spell, which we both learned in Knox poetry classes. I did the same with Emily Oliver '11, who is an incredible poet. It was an exercise to keep writing when we felt like we couldn't. It's a useful tool. Having the shared reference point of the Knox Creative Writing program has been a buoying part of our friendship. The same goes for my friends Alyssa Kennamer '14 and Evelyn Langley '14 who I met in the Green Oaks program. They're both making amazing art in the world, and meeting them at Knox had a huge influence on the direction my creative life has gone. All four of them read drafts of my novel, Body Grammar, for me over the years, and have supported the book in countless ways.
What was the publishing process like?
I completed a draft of a version of the novel when I was an M.F.A. student at Montana and started sending it out to agents the year after I graduated. I worked for several years on the book with an agent. I spent years revising it. That process felt like getting a Ph.D. One of my agents was a former editor so he suggested a really intensive revision, and it took years. They took me on as a 24-year-old and I think they knew that it would take me a lot of work to get to where it was ready to send out. The book was sent out to publishers a couple of years in a row, and turned down by a lot of editors, with a number of near misses. In the summer of 2020, I really rewrote the novel from the ground up, cut several protagonists, and eventually it sold to my incredible editor. It was an ongoing process with a lot of stops and starts and a lot of grief. I really struggled with the idea that you could work on something so intensely for this long and have it not work out. Knowing people at Knox who it had worked out for helped me continue to believe in the art of it, and the necessity of persistence.
Now I'm focusing my attention on a new novel.
Do you have a day job?
I work for a non-profit called Literary Arts in Portland, Oregon. I manage their Writers in the Schools program, which places professional writers in public high schools to teach creative writing. I also teach fiction workshops to students and adults.
Body Grammar is published by Penguin Random House.