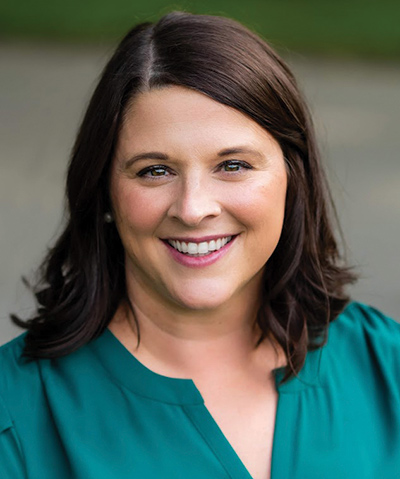 Brynna Barnhart Blodgett '03, NCAA managing director of enforcement
At Knox, Brynna Barnhart Blodgett learned how to think analytically and write clearly in all her of liberal arts classes, especially those taught by political science faculty Lane Sunderland, now the Chancie Ferris Booth Professor Emeritus, and Louisa Sue Hulett, now the Henke Distinguished Professor Emerita.
"I learned to interact and have vigorous discussions with a variety of people who are different from me, have a different viewpoint, or are in a different position of power," said Blodgett, who later earned a law degree from Southern Illinois University Carbondale after earning her B.A. in political science.
These skills have served her well during her 14-year career in enforcement with the NCAA, where she has conducted and overseen high-profile investigations involving rules violations in both men's and women's college sports.
"When I was an investigator, I could start the day interviewing a high school prospect and parents and later in the same day sit down with a university president for discussions," she said. "My Knox experience helps me connect and communicate with people on issues that can be contentious."
A four-year starter on the Prairie Fire women's softball and basketball teams, Blodgett said playing sports also influenced her personally and professionally.
"I learned how to balance my time, collaborate, and communicate with other people toward a common goal, and figure out my role on a team … while helping the team succeed," she said. "Being a student-athlete got my foot in the door with the NCAA, and my sports experience helps me relate to the student-athletes we serve now." Blodgett recalls nearly accepting an offer to study journalism at a different Division III school but settled on Knox, in part, because of the actions of legendary Athletics Director Harley Knosher.
As point guard for her high school team, she was accustomed to making assists rather than racking up big scoring numbers. One night at Galesburg High School, though, she was draining baskets in the first half. Unknown to her, Knosher was listening to the game on his car radio as he drove out of town on a trip.
When she got home from the game, there was a message on the family answering machine from Knosher saying how proud he was of her for such a stellar first half.
"That human connection—you don't get that everywhere" she said. "He personified Knox College to me. He is an amazing human, teacher, and leader; one of my all-time favorite people."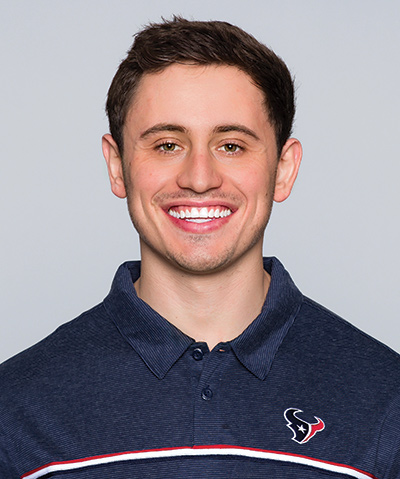 Ilir Emini '16, Houston Texans defensive assistant/nickels coach
The Knox personal connection played a role in the meteoric rise of Ilir Emini's career. As he was finishing up his B.A. degree in elementary education, Emini knew he would pursue a career in teaching, but the question was whether his pupils would be gradeschool children or college athletes.
"I was weighing my options and right before graduating, I decided to go the college football route," said Emini, a Prairie Fire wide receiver who holds the team's single-season record for receptions (88). "I was offered a coaching job at Wofford College in South Carolina based on former Knox Coach Damon Tomeo's recommendation."
Perhaps more importantly, Emini said, Tomeo instilled in his players the skills they needed to be successful in their careers on and off the field. "He taught us to treat every day like it is an interview," said Emini. "If I didn't live this way while I was at Knox, I doubt coach would have recommended me for the Wofford job."
After three years as an assistant coach at Wofford, Emini landed an assistant coach job at the University of Illinois under Coach Lovie Smith. Several years later, after Smith was named defensive coordinator of the Houston Texans, he invited his young protégé to make the leap into NFL coaching.
"I learned so much from Coach Smith throughout our years together at Illinois and will never forget his call asking me to head down to Houston with him to help build a strong defense for the Texans," Emini said.
Emini is entering his second season as an assistant defensive/nickels coach in Houston, where he teaches defensive schemes and strategies to specialized position players called nickels—defensive backs who come on the field in place of linebackers when an offense has three or more receivers on the field.
Using individualized learning techniques that he studied in courses that he took from Department of Education faculty members Joel and Diane Estes, Emini tailors his instruction to each athlete's learning style—visual, auditory, or kinesthetic. For example, he'll do more on-field instruction and demonstration with a kinesthetic learner, while he'll watch more game films with a visual learner.
"My background in education helps me to really understand how my players learn, what motivates them, and how we can help them achieve success on and off the field," said Emini. "Overall, I've been able to turn a passion into a career rooted in both education and athletics. It ended up becoming a dream come true."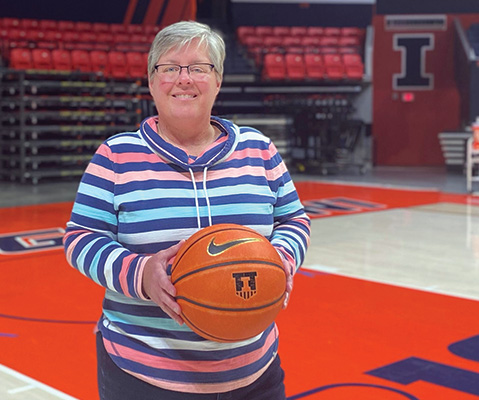 Sara Burton '91, University of Illinois executive senior associate director of athletics, sports administration/senior woman administrator
As the highest-ranking woman executive in the University of Illinois at Urbana-Champaign's athletic department, Sara Burton oversees the sport administration team, is the sports administrator for the softball, gymnastics, and women's basketball teams, and chairs the Illini Way steering committee, which focuses on the cultural health of the Division of Intercollegiate Athletics at Illinois.
"It's really critical for us to protect what is at the heart of our organization, which is our student athletes," said Burton, a four-year starter for the Prairie Fire women's soccer team with a B.A. in anthropology-sociology. "Every decision we make impacts their experience, so we want our people to have a championship mindset and complete integrity."
Burton assists in leading a staff of more than 300 people, including student interns, veteran administrators, administrative staff, and a variety of coaches—some of whom earn millions of dollars per year for high-profile sports like men's basketball and football. She works hard to instill a culture of trust, respect, and belonging throughout all athletics.
According to Burton, the knowledge she gained from a broad selection of courses at Knox prepared her well for the Illinois position.
"The generalist piece of my education is an important facet with administration," she said. "I have a broader view of the big picture and I have familiarity with many aspects of our operation."
For example, Burton took a course on women, race, and power from MaryAnne Borelli, former assistant professor of political science. She later helped Borelli further develop the course as an undergraduate research assistant.
"That was a phenomenal opportunity to take on a leadership role in an academic space with a brilliant faculty member," she said. "I learned about power dynamics in relationships and leadership."
Playing for Coach Amy Reifert while she led the Prairie Fire soccer team also positively influenced Burton.
"She taught us how to compete, what leadership looks like in critical moments, and how to work through adversity," said Burton, who launched her professional career as an assistant soccer coach for Reifert at the University of Chicago after graduating from Knox.
"Playing soccer was the key that opened the door for me for a professional career in athletics," Burton said. "I was fortunate to get that call and be willing to take that risk."
Burton's coaching career spanned more than 20 years, primarily at the University of Wisconsin-LaCrosse before she transitioned to administration.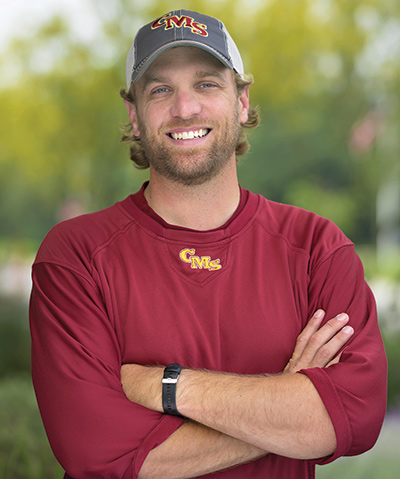 Jake Ayers '06, Claremont-Mudd-Scripps (CMS) director of athletic facilities and sports operations
A first-generation college student, Jake Ayers didn't know much about Knox College when he committed to playing baseball for Coach Jami Isaacson even though he grew up in a small town only 40 miles southeast of Galesburg.
"On my first recruiting trip to campus, I walked into Seymour Library's Red Room and that ignited the inner history nerd in me," he recalled. "It felt familiar, and I felt like Knox was a place where I could be successful. I would not be where I'm at now if I hadn't gone to Knox and taken that leap."
Today, Ayers is the director of athletic facilities and sports operations at Claremont-Mudd-Scripps (CMS) Colleges, a consortium of D-III schools about 30 miles east of Los Angeles. He manages the athletic facilities and game day operations for all 21 of the schools' sporting teams, works to attract NCAA championship events, oversees NCAA championship tournaments on campus, and collaborates with CMS capital planning officials on the development of a new $140 million athletics complex.
He attributes his success, in part, to his Knox liberal arts education. He specifically recalls taking the History of Sports in America from Matthew Raffety, former visiting assistant professor of history. That class helped him realize for the first time that it was viable to pursue sports as a profession.
"
"In the classroom, I learned how to be flexible and adaptable. On the field, I learned how to lead and how to follow."
Jake Ayers '06
A multi-sport athlete, Ayers started as catcher on the Prairie Fire baseball team all four years and even saw some action as quarterback for the football team. He earned the baseball team's most valuable player award his senior year.
"In the classroom, I learned how to be flexible and adaptable," said Ayers, who majored in social science education. "On the field, I learned how to lead and how to follow."
After Knox, Ayers played a season in the Israel Baseball League in Tel Aviv, catching for the league champion Bet Shemesh Blue Sox team. He also played two seasons for an independent baseball team in Lincoln, Nebraska, before transitioning into coaching and collegiate athletic administration.
Attributes learned at Knox help him navigate the collegiate administration waters each day.
"My athletic director says that my staff and I are more interested in getting things right than being right," said Ayers, who is overseeing CMS volleyball facility upgrades in preparation for hosting the D III national championships in 2023. "In my job I need to know a little bit about every sport and be able to adapt, learn, and figure things out quickly, which my Knox education provided."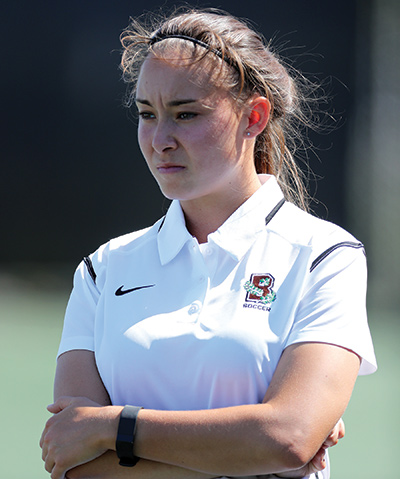 Raleigh DeRose '14, Brown University associate head soccer coach for player development
Growing up in Peoria, Illinois, Raleigh DeRose had always envisioned herself playing soccer in college at a school on one of the coasts. However, when she visited Knox on a blue-chip weekend, staying with the players, touring campus, and speaking with the coaching staff, she began to change her mind.
"The players were very welcoming and took a lot of pride in the school and soccer program," she said. "Their overall love and pride for Knox was contagious. I knew being in the Knox learning environment would be exponential for my growth and who I wanted to become."
An American studies major, DeRose recalls being particularly influenced by three Knox faculty because of their passion for teaching and their expertise in their subject matter.
"Lane Sunderland in political science, Catherine Denial in American history, and James Thrall in religious studies loved what they did and communicated well, which was inspiring to me," said DeRose, the associate head soccer coach for player development at Brown University. "As a soccer coach, I've tried to copy their passion for learning and positivity."
Outside of the classroom, DeRose had surgery following her freshman soccer season to repair chronic knee pain and cartilage damage from a high school injury. While she healed and rehabbed for 18 months, she channeled her energy into the Knox Student Athlete Advisory Committee (SAAC), participating in service projects and athletic engagement activities.
"I loved my team and took a lot of pride in … being a student-athlete, so I did not want my injury to sideline me from being involved in the athletic community," said DeRose, who continued to participate in SAAC after returning to the pitch for her junior and senior years. "I learned to balance so many things as a student-athlete, and that has helped me in my coaching career. I'm grateful for the experiences and platforms I had to hone leadership skills, which has prepared me for my job now."
As the associate head soccer coach for player development at Brown University, she performs a variety of duties that include helping with on-field coaching, enhancing players' skills and overall fitness, organizing prospective students' visits and summer camps, and recruiting at tournaments and showcases.
"I teach our athletes that life doesn't stop because you're having a bad day," she said. "You have to push, walk, or exist through. Knox helped me not just exist through [my injury], but I was able to thrive."